Paul George: 'I'm just getting tired of the media and these stories'
Indiana would like everyone to stop speculating about off-court issues, please.
• 2 min read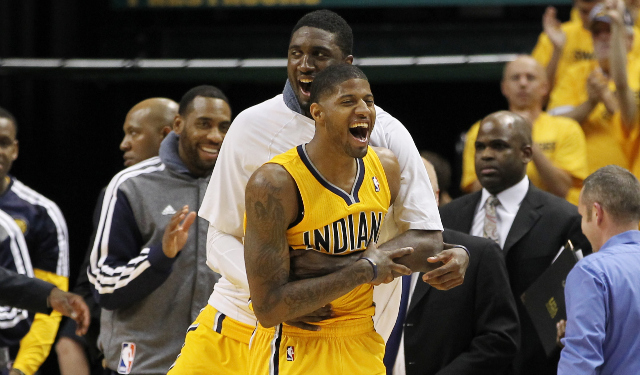 More postseason coverage: Playoff schedule, results | Latest news, notes
The Indiana Pacers are sick of hearing about their supposed chemistry problems. There have been rumors of off-court distractions and endless discussion of center Roy Hibbert's continued struggles, and they would like everyone to know they're doing their best not to let any of it affect them.
At shootaround for the second game of their series against the Washington Wizards on Wednesday, forward Paul George and guard George Hill spoke up, via ESPN's Brian Windhorst:
"I'm just getting tired of the media and these stories," [George] said. "I'm just putting everything to bed and to rest."

…

"You guys keep making up stories," Hill said. "We're just trying to focus and letting Roy know through all this B.S. that is going on, the rumors and everything like that, that we're all brothers. This locker room is a tight group, and we're going to continue to be there for each other even when people are trying to break it apart."
Guard Lance Stephenson also denied that anything on the outside was contaminating the locker room, via the Indianapolis Star's Candace Buckner:
"Everybody, including myself, I've had criticism my whole life," Lance Stephenson said. "I just don't look at it at all. I just try to focus on basketball and what's going on in the locker room with us.

"I don't think there's no problems with us. I just think this last game, they played better than us and they came out more aggressive than us. Tonight we just got to throw the first punch and not let them."
On Tuesday, George posted a photo to Instagram of Hill, Hibbert and himself on a fishing trip:
Unfortunate allusions to being "gone fishing" while still playing in the postseason aside, the image and the caption -- "These rumors have got to stop! Its gettin old now and all you that believe them are ignorant! #Brothers" -- were obviously meant to demonstrate unity. They can say and share all they want, though -- the only way they're going to prove they're together is by winning. Indiana has been in a bewildering downward spiral on the court for the past two months, and people are going to try to find ways to explain the collapse. Regardless of the validity of any reports, the product the Pacers have been putting on the court doesn't make them look like a harmonious bunch.
If there's any justice, the basketball gods will give us the Golden State-OKC playoff series...

Pachulia fell onto Westbrook in a questionable manner during Saturday night's game

Butler suffered the injury on Friday night against the Rockets
Pachulia fell onto Westbrook after they both got tangled up with Nick Young

The extent of Butler's meniscal injury isn't yet known, but there's reason for Wolves fans...

No timetable was provided for Butler's recovery