Paul George injury invites questions about NBA involvement in FIBA
Who should bear the risk of NBA players competing in international competition? Paul George's injury renews the debate.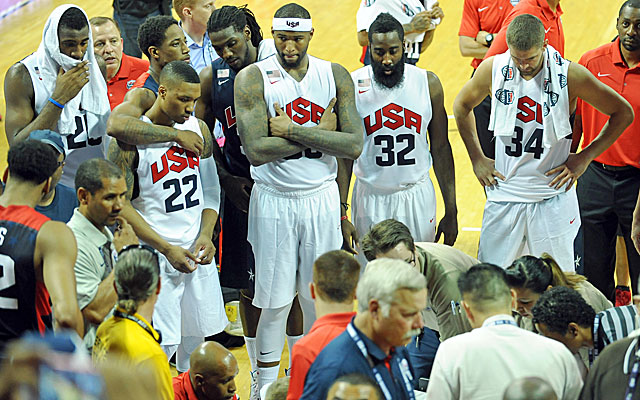 Offseason: Pacers' odds drop | Free Agency | Latest from Ken Berger | Rumors
It had been such a good week in Las Vegas for Team USA, and for Paul George, in particular.
On Wednesday, he stood on the practice court and spoke passionately about how important it was for him to represent his country in the FIBA World Cup. He spoke with conviction about how he wanted to be the team's defensive stopper in Spain. He was all in.
Now, George is out -- for the World Cup, and possibly the entire 2014-15 NBA season with the Indiana Pacers -- after a horrific leg injury suffered in a USA Basketball scrimmage Friday night. An open fracture to George's right tibia and fibula was repaired in emergency surgery, an incomprehensible outcome to the first week of Team USA's preparations for the World Cup.
What was supposed to have been a showcase of the Americans' talent and depth, a celebration of the USA Basketball program's strength so many years after the Dream Team, turned into a disgrace. 
For more than two decades, the legacy of NBA players participating in international tournaments conjured the everlasting images of Michael Jordan, Magic Johnson, Larry Bird, Charles Barkley and the rest becoming rock stars in Barcelona as they stampeded through the competition and soaked in their celebrity. 
Now, that iconic imagery has been replaced by the eerie, unsettling photograph of George -- a two-time All-Star and third-team All-NBA performer last season with Indiana -- being strapped to a gurney and carted off the floor at the Thomas & Mack Center.
An abundance of questions, naturally, have been raised -- the most pointed of which is whether NBA stars should be playing internationally anymore in the first place. This is not a new issue, as Dallas Mavericks owner Mark Cuban for years has questioned the sanity of owners lending players in whom they've invested millions to a tournament -- be it the Olympics or world championships -- in which they have no financial stake or protection.
George is the first NBA player to suffer a serious injury during international competition or preparation since the Dream Team ushered in the era of American pros competing in these events. As much as this was nothing more than a freak accident -- George soared out of bounds after contesting a shot on a fast break and jammed his right foot into the basket's support stanchion -- it only underscored the argument Cuban has been making for a long time.
"If you look up stupid in the dictionary, you see a picture of the USA Dream Team playing for free for corporate America so the US Olympic Committee can make billions of dollars," Cuban said in 2012, one of the many times he has raised this issue.
Contacted Saturday, Cuban said he had "nothing new to say" on the topic. There was no need to. George's injury unquestionably will spark dialogue among owners, team executives and the league office about whether the agreement with FIBA makes sense.
Players selected by USA Basketball to participate in these international tournaments have the prerogative to withdraw, as Blake Griffin, LaMarcus Aldridge, Kevin Love and Kawhi Leonard did this summer. Griffin has a back injury, but Aldridge, Love and Leonard are all entering the final year of their contracts and are due for big pay days. Patriotism is great, but why would a professional athlete with so much to lose risk his future earnings to participate in an event that is beyond the scope of his employment?
And since we're asking that question, why should an NBA owner who has invested millions in guaranteed salary in a player accept the risk of losing him to a serious injury -- in an event that has nothing to do with his team?
George is entering the first season of a five-year, $92 million extension he signed in September 2013. Not that it makes the injury any less gruesome or the rehab any easier, but the money is all guaranteed. Under the NBA's agreement with FIBA, a team may withdraw one of its players from a FIBA event only if there is a pre-existing injury concern -- as was the case with the Spurs and Manu Ginobili.
"The owners are the ones taking all the risk," one Western Conference executive said Saturday. "The players have no risk, so that's why they play. If you told players you'd have to eat their contract [if they got injured], you wouldn't have one guy playing."
The Pacers are protected from the standpoint of disability insurance, which another team executive said kicks in after 41 games at 80 percent of George's salary. But George's full $15.94 million salary counts on the Pacers' books next season against the salary cap and luxury tax -- as will any money spent on an injury exception that Indiana will be granted by the NBA. 
After making a series of moves to maximize whatever time they have left with George, David West and Roy Hibbert playing together, the Pacers are within about $3 million of the tax line. Simply put, if they use the injury exception to replace George, a $5.3 million mid-level player would wind up costing them nearly $7 million -- and they'd still most likely have a losing record. According to one team executive who has studied the issue of what happens when a team loses its best player to a season-long injury, 80 to 90 percent of them end up below .500.
Add the fact that Hibbert and West can both become free agents after next season, and it isn't farfetched to suggest that George's freak injury didn't just cost him next season -- it also may cost the Pacers whatever is left of their window to contend.
Bird, an original Dream Team member and now president of the Pacers, issued a statement Saturday saying, in part, "We still support USA Basketball and believe in the NBA's goals of exposing our game, our teams and players worldwide. This is an extremely unfortunate injury that occurred on a highly visible stage, but could also have occurred anytime, anywhere."
Ahead of the London Olympics in 2012, then-commissioner David Stern said he was open to the idea of fielding a 23-and-under team for the Olympics and world championships, citing pressure from owners. (George is 24.) The issue has now landed on his successor's desk, as commissioner Adam Silver has another serious matter to deal with in what has been an extraordinary first six months on the job.
If owners aren't successful in pulling the biggest stars out of FIBA competitions, perhaps a reasonable compromise would be to exclude a player's salary from the cap and tax calculations if he suffers a season-long injury in FIBA activities. At the very least, the injured player exception should be excused from tax payments. Of course, the owners are the ones who insisted on these massive luxury-tax rates, so the issue isn't one of simple winners and losers.
"If the possibility of something like this happening exists, that's fine," one Eastern Conference executive said. "But it should be zero dollars against the cap and tax."
George's injury also has put the spotlight on the issue of player safety. The league has held dozens and dozens of meetings over the years on the issue of courtside camera people and photographers endangering player safety because there is such limited landing space on the baseline. NBA athletes are bigger, stronger, faster and more athletic than ever, and the area surrounding the court has only gotten smaller.
George didn't land on a photographer, but rather got his foot jammed in the stanchion supporting the basket. NBA regulations require the stanchion to be positioned at least four feet behind the baseline in its arenas, but one league official said the gap is comfortably wider in the vast majority of arenas. At the Thomas & Mack Center, the official said the stanchion was "about an inch" shy of the four-foot requirement.
Bear in mind that it's only a requirement in NBA-sanctioned events, which this was not. But it raises another issue about NBA players competing in arenas where NBA regulations are not the norm.
Even so, accidents can happen on courts where NBA standards are in place.
In Orlando this summer, Dairis Bertans of the Celtics' summer league team suffered a frightening neck injury when he collided face-first with the stanchion at the Amway Center practice court. A CT scan was negative, and Bertans was OK. If the issue of player safety didn't rise to the level of action then, it surely will now with George, one of the best players in the league, going down in such gruesome fashion.
The presence of photographers on the baseline has been a frequent topic of conversation at league meetings, but one person involved in them could not recall a single instance of any team official suggesting that the stanchions should be moved back. Doing so would present numerous logistical issues in several arenas, including the potential loss of high-revenue seats.
As of a couple of years ago, the NBA allowed 10 photographers or camera people on the baseline on each side of the basket. That was reduced to seven on the non-bench side and five on the bench side at each end -- and further reduced to six and four, respectively, during this past postseason. Restrictions also were established for what type of media outlets could position personnel on the baseline.
None of these discussions could save Paul George or the Indiana Pacers from the unthinkable.
"Certainly, it's no one's fault," another team executive said. "It's a random event."
The idea of NBA players competing internationally has done wonders for spreading the league's product and its ambassadors all over the globe since the Dream Team first took the Olympics by storm. Everyone has benefited -- the owners, the players, and the league.
Now, for one All-Star and his team, the concept has done immeasurable harm.
Does the image of a fallen star being carted off on a stretcher change anything? Does that image, the aftermath of a freak accident, become the legacy of NBA involvement with FIBA? At the very least, it will frame all future discussions about whether NBA stars should be participating, and about who should bear the risk.
The Knicks forward is a bucket-getter in the truest sense of the term

On the TNT broadcast, even Shaq finally admitted that he likes Joel Embiid's game

The Warriors new Nike classic uniforms will be revealed Thursday
Joel Embiid doesn't want to call what the 76ers are doing a minutes restriction

The Mavs played a tribute video to the American flag prior to their opening game on Wednes...

The Suns stink, but this was cool!