Paul George is happy in Indiana, but if the Lakers called ...
Paul George says he's happy to stay in Indiana, but the Lakers calling him in free agency would be very tempting.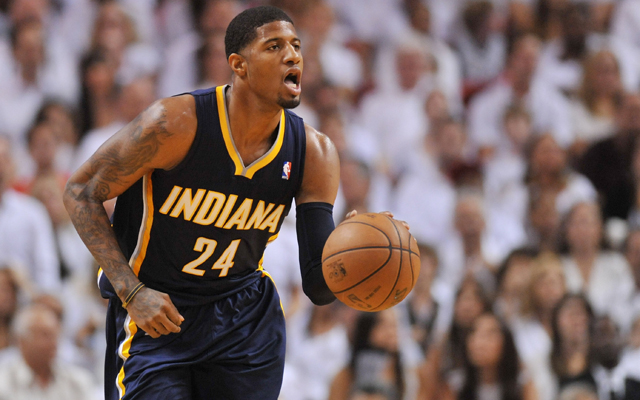 Paul George is coming off his big arrival-on-the-NBA-scene party (despite having been phenomenal in the 2011-12 season as well). He's in the last year of his deal. And if no extension is reached, he'll be a restricted free agent next summer. Pacers.com transcribed an interview with George on ESPN, and the topic of switching teams came up. 
Great news, Pacers fans! George wants to remain a Pacer! 
"My heart is still in Indiana," the 23-year-old said. "… I'm still a Pacer, and hopefully I remain a Pacer. I'm happy where I'm at."
via Paul George is happy where he's at, not looking for real estate in L.A. | Pacers Blogs.
He also talked about how loyalty is so important to him. So, really, nothing to worry about. This will all end well, for once. No small-market superstar forcing his way to a big market because ... aw, crap.
George said that him hypothetically joining the Lakers would certainly be a "family-favorite team."

"Of course it would be tough (to say no to Kobe). You're talking about playing [at] home." (George is from Palmsdale, California.)
Sigh. 
Here, let me get ahead of both sides on this one. Pacers fans, you absolutely can't dismiss this outright. The one thing, the biggest thing that we have learned over the past five years is that stars want to play together and want to play together in big markets. If you told me that, in five years, George will force his way out of Indiana and to the Lakers in a trade that devastates the Pacers, I wouldn't bat an eye. I've seen it time and time again. 
So, this could happen. 
But not next year. 
There has been one constant in the chaos, and it is this: Star players re-sign with their clubs for the max extensions coming off their rookie deals. It sets you up for the first eight to nine years of your career with huge money and gives you a baseline of cash to protect you against injury. You can worry about your legacy, your career goals, everything else later. You take that first extension. Kevin Love took huge issue with pretty much everything the Timberwolves did in his first four years with them, and he still not only took the extension but wanted more years. 
And he's a restricted free agent. George could hope against hope that the Pacers would let him leave under a max offer sheet from the Lakers. The Pacers would simply say, "Cool story," and then match the offer sheet. They're protected from losing George next summer by not only his loyalty but restricted free agency. 
This isn't the first time that George has expressed his love for Indiana, and he has made it clear he wants the max deal from the Pacers. 
Just don't be surprised if we have to revisit this down the line. The Lakers are in George's mind, and he's happy in Indiana. The two are not mutually exclusive concepts. Not anymore. 
CBS Sports HQ Daily Newsletter
Get the best highlights and stories - yeah, just the good stuff handpicked by our team to start your day.
Please check the opt-in box to acknowledge that you would like to subscribe.
Thanks for signing up!
Keep an eye on your inbox for the latest sports news.
Sorry!
There was an error processing your subscription.
Leonard reportedly could be willing to sit out the entire season, but there would be serious...

Drake's appreciation for DeRozan seems to be greater than the Raptors showed after the tra...

Toronto may only have less than a year to make trading for Kawhi Leonard appear like a smart...
Cousins, facing a lengthy rehab from a torn Achilles, joined the Warriors on a one-year deal...

Keep checking back for the latest updates as NBA free agency continues

Here's a hint: Toronto is still looking up at Boston, at least