Paul George learned to attack the middle to move near the top
Indiana Pacers' star Paul George figured out ways to attack the middle of a defense, which helped make him the offensive star we see this season.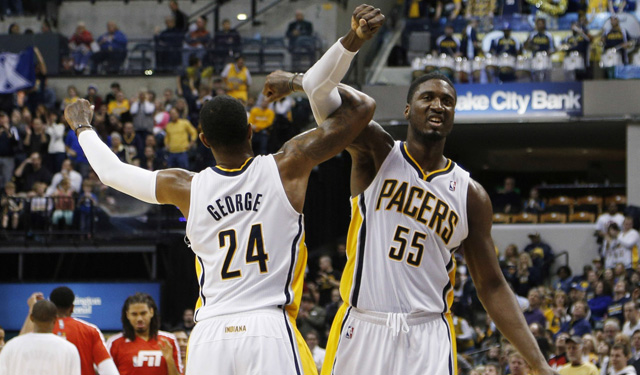 Paul George's meteoric rise from a nice two-way player with a lot of potential to NBA star seemed to happen overnight.
When the Indiana Pacers lost Danny Granger before the start of the 2012-13 season, George was thrust into the role of being one of the offensive leaders for the team. He took more field goal attempts in his third season than in his first two seasons combined. He wasn't just asked to do more; he was thrown into the fire for a Pacers' team that was looking for its own rise up the NBA ranks.
While George had a breakout season with his first All-Star selection and his first All-NBA Third team selection, it wasn't until a furious finish in the second half of Game 2 of the Eastern Conference finals (including this malicious dunk on Chris Andersen) that George was finally recognized as a new star of the NBA. From then on, we had LeBron James give him the infamous dap, an invite to Team USA mini-camp, and an offseason of hard work that turned George into a destroyer of worlds on offense.
In trying to analyze what exactly George is doing better this season, there seems to be two conclusions in which I could find. First, he's turning the ball over far less because of an improved comfort with the ball in his hands. His dribbling wasn't necessarily a problem last season but his limited ability in handling the ball kept him from getting to better spots on the floor when creating his own shot.
George's usage rate has risen from 23.5 percent to 28.0 percent. He currently has the ninth highest usage rate in the NBA, but as his usage has increased, his turnover rate has plummeted. In 2012-13, George turned the ball over 15.2 percent of the time. It was the eighth highest turnover rate for someone with a usage rate of at least 23.0 percent. This season, George's turnover rate has dropped to just 11.9 percent. Only Kyrie Irving, Carmelo Anthony, Kevin Durant, and LaMarcus Aldridge have a comparable usage rate while turning it over less often.
The other thing that has marked the dramatic improvement of George is his ability to attack the middle of the floor. In his breakout season, George was a lot of feast or famine in the way he made shots. His midrange game was decent but he mostly relied on 3-point attempts and shots at the rim for his scoring chances. This season, we've seen a change in where George has opened up his game. Take a look at the .gif below of his shot chart from last year and this year. Take notice of the middle of the floor that is highlighted. It almost looks like a hook.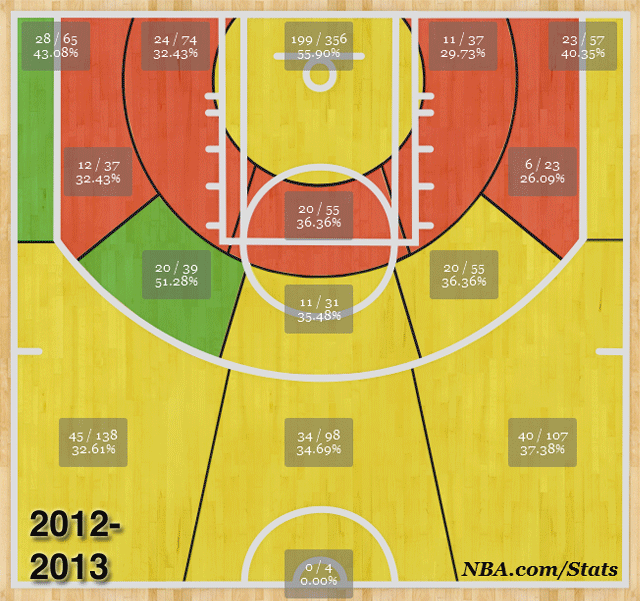 This "hook zone" has become the bread-and-butter for George's attack and is what makes him virtually unstoppable on offense. As a right-handed player, he's often forced to the baseline on the right side of the floor. You try to keep him out of the middle of floor and move him toward the baseline. Last year, this was a problem for George. You could force him toward the hook on the right side and he was a disaster. 
In this area of the floor starting from the left of the key and moving across toward the right baseline inside the 3-point line, George made just 32.2 percent of those shots. That zone accounted for 16.1 percent of the shots he took on the floor. He's now taking more shots from that zone as the defense attempts to move him into tougher shot attempts off the 3-point line and away from the hoop. That percentage of the "hook zone" shots has increased to 20.9 of his overall attempts but he's making them at a rate of 42.1 percent.
He's certainly improved of other areas of the floor as well. He's shooting nearly 60 percent (59.6 percent) on corner 3-point attempts and he's increased his percentage in the restricted area to 64.0 percent. He's also a much better free throw shooter at a career best 86.1 percent. But his attempts both in the corner and in the restricted area have decreased since last season. He's relying more on the midrange -- in this "hook zone" primarily -- to make the defense pay.
Part of the success is probably being much more sure of himself with the ball in his hands. He no longer looks like he's dribbling a football with his left hand and he's confident moving to his right, rising up for the jumper, and keeping his great shooting motion intact as he keeps his body under control. It means that your best chance of success is keeping him above the break for 3-point attempts. Because if he gets anywhere else on the floor, your defense is toast.
It's helped him become a superstar with a PER of 22.0 and a true shooting percentage of 58.2 percent. He's one of 10 players in the league with a PER of at least 22 and a true shooting percentage of at least 58.0 percent. 
It all starts with George being able to keep control of the ball and turn a weakness in the middle of where the defense forces him to a strength. That's how you become a superstar in the NBA "overnight."
An Alabama native, Barkley campaigned for Jones leading up to Tuesday's election

Kerr knew just what to say after Jones pulled off an upset in Alabama

The future of the league was on display on Tuesday night
Check in throughout the night for the latest news and highlights from NBA games

The Lakers legend details why the NBA popularity will continue to rise

SportsLine's Mike McClure, a DFS pro with more than $1M in winnings, gives optimal lineup...