Paul George saves the Pacers' season in Game 5
Paul George poured in 37 points to keep Indiana alive on Wednesday.
• 2 min read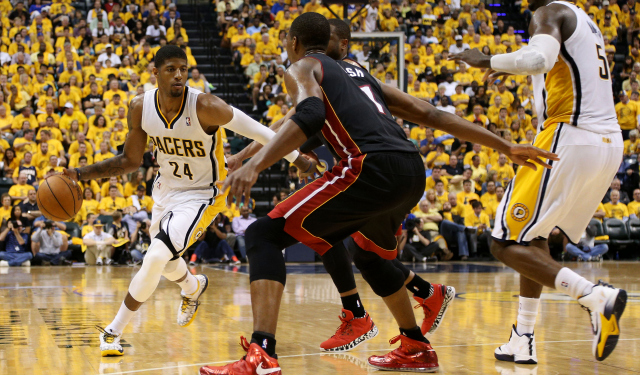 More postseason coverage: Playoff schedule, results | Latest news, notes
Paul George refused to let the Indiana Pacers go away. The first half of Wednesday's Game 5 of the Eastern Conference Finals was ugly, slow and poorly played. Down 3-1 in the series, it looked like Indiana's season was over in the most anticlimactic way possible. Despite LeBron James' foul trouble, the Miami Heat held a nine-point halftime lead, with George having scored six points on 3-for-9 shooting. Everything changed a few minutes into the third quarter, though, as a George layup started a 16-2 Pacers run. In the final frame of a helter-skelter 93-90 win that mirrored the Pacers' crazy season, the All-Star forward delivered when his team needed him most.
George recorded 21 of his game-high 37 points and three of his six steals in the fourth quarter, shooting 8-for-10 from the field and 3-for-5 from behind the three-point line. Indiana's offense had been stuck in the mud for most of the night — the team scored just 11 points in the second quarter — and he knew he had to make an impact to save the season. 
"I knew we was facing elimination and coach told me, 'Green light, stay on green,'" George said. "And [David] West kept telling me, 'Don't keep no bullets in the chamber.' So I really just came out and just fired. My teammates found me and I got hot."
This was George looking like a genuine superstar, being aggressive at every opportunity, starting and finishing fast breaks, hitting contested shot after contested shot, answering every Heat run. The game went from one of the postseason's worst to one of its best, with Miami's Dwyane Wade, James, Rashard Lewis and Chris Bosh all hitting huge three-pointers. Each time it seemed the Pacers might collapse, George was there. He said he was in the zone, and he it was an unbelievable feeling.
"I thought he carried us for stretches," West said, understating it. West and George were the only two Pacers to score in the last 14 minutes.
.@Paul_George24 drops 37, erupting for 31 of those points in the 2nd half on 12/19 FGAs. His 2nd half shot chart: pic.twitter.com/irbLPa62ye

— NBA.com/Stats (@nbastats) May 29, 2014
George's 31 points in the second half were the most in a playoff game in six years, via the AP's Tim Reynolds, and the performance was a reminder of why he was considered an MVP candidate mere months ago. At just 24 years old, he has all the tools you could want from a wing player, and the Pacers ask him to do an awful lot with them. Against the Heat, he's had to expend all sorts of energy guarding James, and up until this game, he wasn't able to truly erupt offensively. 
During the regular season, he had nights like this, too, but he was unable to sustain his superb shooting. George has flaws — his much-improved dribble still needs to get tighter, elite defenses can bait him into making passes he shouldn't — but there are times where his game seems almost perfect. With so much going wrong for Indiana, and its season on the line, anything less wouldn't have been enough.
Before accounting for revenue-sharing payouts, 14 of league's 30 teams reportedly lost money...

Howard considered calling it quits after his second season with the Houston Rockets

Bogut, coming off a broken leg he suffered with the Cavs last season, reunites with Luke Walton...
The incident occurred in Phoenix when the twins were both playing for the Suns

Fredette's shoe is with the Chinese brand 361

There's been some weird things happening with Durant's social media accounts