Paul George struggles in Game 2, costs Pacers 2-0 series lead
Paul George couldn't score the ball in Game 2 against the Miami Heat, which cost the Indiana Pacers a 2-0 series lead.
More Game 2: Doyel: LeBron takes over| Wade carries Heat | George struggles
Paul George is the superstar of the Indiana Pacers. 
Some people scoff at the idea of George being a star in this league because he hasn't done enough to warrant it. That's not always how stardom works though. He's popular. He's becoming a household name. He has national commercials through major companies. And he's an All-Star/All-NBA player. He's a star and he's the star of the Pacers. Indiana needs him to play like it too if it wants to make its first NBA Finals since 2000.
In Game 2 against the Miami Heat, all Pacers outside of Lance Stephenson and Roy Hibbert struggled to score effectively. They needed George to match LeBron James or Dwyane Wade in the scoring column, and he couldn't find a way to get free for easy buckets. His 14 points on 4-of-16 shooting were horrendous, and the six assists couldn't make up for the fact that he couldn't put the ball in the basket. 
He was 2-of-5 from 3-point range, but just 2-of-11 from inside the arc. His only other two shots that he made were in the restricted area and he missed everything in between. This was a game in which the Pacers needed scoring. They managed just 83 points in a game the Heat only managed to drop 87. This was a game they could have taken if their star player had been able to step up and score.
It's not always that easy, and he didn't even attempt a shot after his collision with Wade in the fourth quarter with just under seven minutes remaining in the game. He said he felt woozy after taking Wade's knee to the back of his head, and maybe that affected the way he closed out the game. But it doesn't change the fact that he couldn't score before that hit to the head and the Pacers just flat-out need him.
Stephenson's 25 points were great but he's a complementary player. Complementary players need a star to complement and they didn't have that Tuesday night. It wasn't just George who was a virtual no-show. David West had a horrible time scoring the ball, Luis Scola and C.J. Watson combined for 1-of-10 shooting, and the bench scored just nine points total. There was a lot of bad on the court for the Pacers' offense, but George simply can't be such a big part of that.
With the accolades and the fame come the responsibility of coming through in an Eastern Conference Finals game on your home floor. It's not always fair but that's how the game is played. For George, he has the undeniably tough task of having to match whatever LeBron does or at least keep pace. Until LeBron turned it on in the fourth quarter, George had kept pace with him, except it was more by default than by great play.
The Pacers will only go as far as their star takes them. If he takes them for a couple more shooting nights like this one, he'll be taking them right out of the postseason.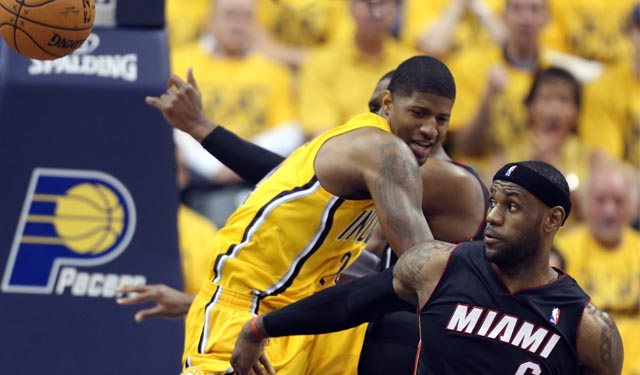 Wade opted in to his $24 million player option earlier this summer

Barkley spoke to the NFL Today crew about the response the president received in his home...

The restricted free agent has a deal in place that will keep him with the Bulls after a st...
James' support continues his trend of social activism on social media

The newly-acquired All-Star thinks the addition of Anthony boosts the Thunder in the NBA's...

The Knicks were asking for the house in discussions for Carmelo Anthony