Paul Pierce could miss Friday vs. Wizards due to illness
Nets forward not feeling great, Jason Kidd making plans in case he can't go.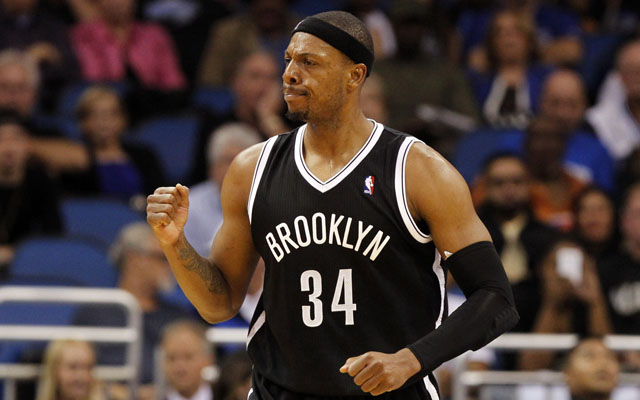 Brooklyn Nets forward Paul Pierce is dealing with an illness and could miss Friday's game vs. the Wizards. 
Paul Pierce could miss Friday night's game against the Wizards after skipping the Nets' morning shootaround with an undisclosed illness.

Nets coach Jason Kidd said Pierce began feeling ill Thursday night, but the hope had been he would recover in time to be ready for shootaround.

"We'll see," Kidd said when asked whether Pierce would play against the Wizards. "We've got plenty of guys to step up and take that position. Right now we're planning on Paul playing. We'll see how he feels, but if we have to make that adjustment, we will."
via Paul Pierce could sit with illness | New York Post.
Pierce is off to a terrific start, averaging 15 points, five rebounds and three assists on 56 percent shooting from the field. The Nets have been 4.1 points per 100 possessions better than their opponents with him on the floor. 
The Wizards have been struggling, but Pierce has been an unexpectedly big part of the Nets' offense. Their bench hasn't been so good that they can adjust comfortably without Pierce. 
Galin Dragiev has his finger on the pulse of the Mavericks and just locked in a play for Thursday's...

The Crimson Tide point guard has been impressive so far and joins the top tier of prospect...

The speculation has been rampant, but seeing James in purple and gold is far from a sure t...
Andrew Bogut and Corey Brewer talked to CBS Sports about Ball's reserved personality

Instead, the Hornets eventually moved to New Orleans

Galin Dragiev has his finger on the pulse of Cavs basketball and just locked in a play for...