Paul Pierce goes down like the Truth, but LeBron is greater than attitude
Nets forward wanted to guard LeBron James. James scored 49 in Game 4.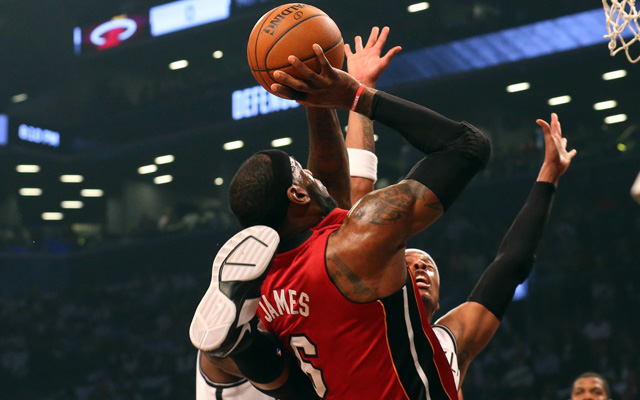 For 48 minutes, well, roughly 47 minutes anyway, Paul Pierce did everything he could to try and transport the Barclays Center back to 2010, before this arena existed and he was starring for the Boston Celtics. He tried every trick, every word, every piece of dramatic flair he could to take his team, this time in black and white not green, to a place where he could beat LeBron James. It was noble. It was heroic. 
It was (almost) a fairy tale. 
In 2010, Pierce's Celtics defeated James once again, ending his title hopes, changing the course of his ever-rising career, and sending his talents to South Beach. Pierce and current Nets teammate Kevin Garnett's Celtics team got into his head, bullied him, and overwhelmed him.
It was the last time Pierce and Garnett would beat James in a series. 
After Game 3 of this series, Pierce said the Nets aren't scared of James and the Heat. He told Jason Kidd he wanted the assignment of guarding James after Game 2, and let it be known after Game 3 he called for it. He called for the thunder. 
He got the whirlwind. 
"This is very difficult to swallow," Garnett said after the Nets fell back 3-1. "Hard to take, but it's what it is. Coulda, shoulda, woulda doesn't help us at this point."
Pierce's tricks, the desperation and-one floater that fell for him followed by screaming to the crowd, the constant bodying of James trying to frustrate him, the trash talking, all that might have worked in 2010. ... 
It might have worked in 2011. ...
It might have worked even in 2012, before Game 6 in Boston. But that night James put the Celtics to bed in his career path, and put away Pierce and KG with them. 
You've got to give it to Pierce. Even outmanned and outgunned despite Mikhail Prokhorov's $200 million team, Pierce fought and didn't coast. Pierce went out his way. He didn't defer. He went out gunning and taking bad 3s and driving and always playing with swagger and bravado. It was a classic Pierce performance: Zero quit. 
And yet there was something sad about it. The once-great player trying to drag the best player in the world back to the past, and James just embarrassing him. James scored 49 points, including shooting 11 of 12 at the rim. And the Nets could do nothing about it. Pierce guarded him most of the game. They tried Andrei Kirilenko. They wisely abandoned the Mirza Teletovic plan almost immediately. Joe Johnson, Alan Anderson tried and failed, too.
"He's tough," Pierce assured. "Especially with his strength, his speed, when he ducks his head to try to go to the basket, it really took away a lot of my aggressiveness in the first quarter when I picked up two fouls. So I was trying not to pick up my third foul there in the second quarter, and he realized that, and he just kept going to the hole. At the end of the day, he's tough to guard one-on-one. You got to try to slow him down, you've got to try to send multiple guys at him, make him kick the ball, and we didn't do that tonight."
via Nets on brink after James's historic night » The Brooklyn Game.
"He's a great player," Pierce said of James, as painful as it was for him to say it. "You can't take nothing away from him. He stepped up when his team needed him to."
via LeBron punishes Pierce, Nets in Game 4 - Brooklyn Nets Blog - ESPN New York.
Double-teams. Triple-teams. 
Nothing worked. 
James played 43 minutes Monday, including all 12 in the fourth quarter. 
"He asked me and I didn't know if he was serious or not, and what I told him I cannot say again," James said postgame. "So I wanted to finish out the game. I felt like it was a must-win for us."
Part of Pierce's plan did work. The Nets weren't scared of the Heat. They muscled up and intimidated them. They won the battle of the mind games. 
But the basketball game? 
LeBron made sure the Heat won that, erasing most of Brooklyn's hope along the way. 
2010's over. And soon, 2014 will be over for the Nets, too. 
West was a huge piece in building the Warriors into the super team they became

The annual rookie survey is in, but if previous years are any indication it won't mean muc...

Annual NBA rookie survey yielded some surprising results, but none more stunning than this...
Iverson says the King always has a shot to win it, and gives him the upper hand in 2017

Could be an awkward meeting, whether Melo suits up for the home team or the visitors

If Chicago was fleeced -- the prevailing thought -- when dealing its star, so were a lot of...