Paul Pierce thinks the Celtics need to get back to 'grinding it out'
Paul Pierce wants Boston to return to its defensive, gritty ways.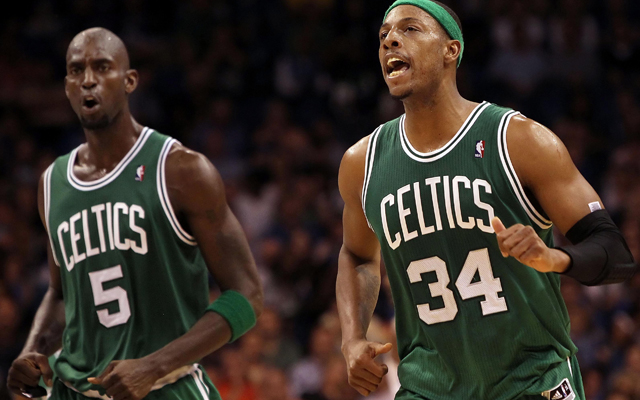 Aging Celtics stars Garnett and Pierce no longer 'grind it out.' (US Presswire)
If you were really paying attention the last three seasons, you'd know that the Boston Celtics really weren't very good offensively. And if you wanted, you could take the "very" out of that. They were somewhere between mediocre and bad offensively. They had a plodding offense with poor shooters and relied almost entirely on Paul Pierce's dwindling isolation skills, Rajon Rondo's creativity and Kevin Garnett's lethal efficiency from mid-range. They sacrifice offensive rebounds for transition defense and have watched an aging core do what they do: age. 
So how did they win all those games? By uglying it up. 
The Celtics have hung their hat on their defense, which has been the consistent part of their game. But it's not just that. They've slowed the pace down and made every game into a scrapping streetfight. Take teams out of their element, remove the basketball part of a basketball game and make everything difficult. 
This season, they've gotten completely away from that. They're a high-powered offense that can't stop anyone so far. And while everyone under the sun is quick to say that there's no cause for alarm until March at the earliest, Pierce is unhappy with the model of the team and wants them to get back to what they've done so well the past few seasons: 
"We're a grind-it-out type of team," he said. "We can play in the hundreds, but we're a team that likes to grind out wins. We don't mind playing a game in the 80s, 90s, or getting defensive stop after defensive stop. So we have to go back to that, understand who we are.

"For us to do damage here in the Eastern Conference, that's the type of team we've got to be. It's got to come from everybody. We've got to all look each other in the mirror. It's not just one in particular person. It's the starters starting out, it's the guys on the bench, it's the team game, so we've got to take it personal as a team and go out there and do something about it."
via Pierce takes loss to Spurs personally.
There's a weird combination of things happening with this team. One, the older guys look old because, here's a shocker, they're old. Pierce can't lock down wing players anymore, Garnett is still terrific overall but there are a handful of weak spots in his rotations, Rondo doesn't appear locked in, mentally. 
And second, they have so many new pieces that they can't get everyone on the same page. That's the easy answer: "Once they figure things out, they'll be fine."
But it needs to be noted that there are legitimate personnel issues with this club. They rely on heavy minutes from an athletically-challenged forward in Jared Sullinger. They need Jeff Green, who has missed a full year of basketball, to carry them on the wing. Jason Terry has never been a lockdown guy, but that's OK, because at least he's in his mid-30's. 
The Celtics are going to figure this out, but the odds of it suddenly correcting itself are low. It'll probably take till January. It's great that their offense is playing so well, but they honestly need to not worry about it as much. They need to take the fun out of basketball again and start making things miserable for anyone watching them who doesn't bleed green. That's the only path to the title the Celtics have. 
Mirotic and Portis combined for 49 points as the Bulls won their fifth straight game, beating...

Gobert, who missed 11 games earlier this season with a knee injury, will have an MRI

Get all the latest scores, news and highlights from Friday's NBA games
Porzingis is questionable for Carmelo Anthony's return to MSG on Saturday

The Spurs and Rockets will renew their in-state rivalry on Friday night

Anthony will play at Madison Square Garden on Saturday for the first time since being trad...