Pelicans' Jrue Holiday looks to be more efficient under Monty Williams
New Orleans Pelicans point guard Jrue Holiday is looking to become a much more efficient player with his change of scenery this season.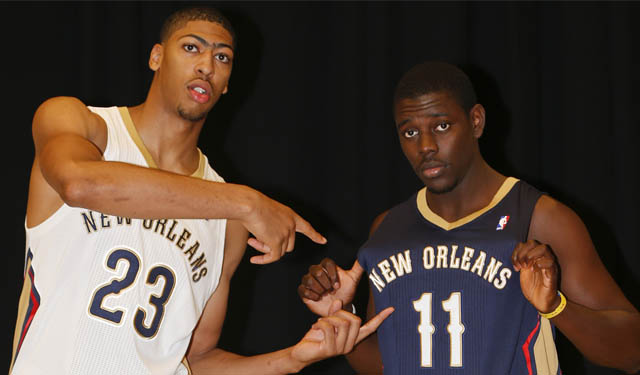 The advanced statistics boom over the past decade or so has preached one idea over anything: efficiency is king. The idea of avoiding "wasted" possessions with poor shot selection or sloppy play that leads to turnovers is the best way to maximize your talent and system on the basketball court. We've seen more and more front offices and coaching staffs begin moving toward this idea of making sure you get quality shots and quality possessions that lead to efficient offense.
The next step would seemingly be to get more and more players to recognize the importance of playing in an efficient manner. There are plenty of players that already are cognizant of the idea of efficient basketball, but that percentage could certainly go up. New Orleans Pelicans' point guard Jrue Holiday seems to be another player on the efficiency bandwagon. He told Alex Kennedy of HoopsWorld that being a more efficient player under Monty Williams is a goal for this season. 
Holiday says that he's determined to "be more efficient" next year, which is a good goal for the young point guard, who last season averaged a career-high 3.7 turnovers and had an efficiency rating of just 16.74 (barely above the league average of 15.0). He believes that the change of scenery, another year of his experience and his work with Coach Williams should help him achieve that goal.

"He had Chris Paul," Holiday said of Williams, who coached Paul in New Orleans during the 2010-11 season. "So from a coaching standpoint, he can help make me more efficient and better as a point guard. I'm just going to continue learning every day."
A change of scenery for Jrue Holiday after being traded for Nerlens Noel and a 2014 first round pick on draft night could be something that continues his upward trajectory even further. Going to a team like the Pelicans that is looking to be a lot more competitive and has playoff hopes for this season is going to drive a player to be better a lot more than a team like the Philadelphia 76ers that is trying to rebuild everything from the ground up. Holiday knows that being as efficient as possible for his team can only benefit the team as a whole.
Holiday had a breakout year of sorts with career-high averages in points (17.7), assists (8.0), and rebounds (4.2). But he also had a career-high in turnovers per game (3.7) and career lows in field goal percentage (43.1 percent) and free throw percentage (75.2 percent). He also had the second lowest 3-point percentage of his career at 36.8 percent. He earned his first All-Star selection last season but taking the experience of being a much more productive player and trying to couple that with efficiency could make it hard to skip over him for future All-Star selections.
Is this rock bottom for the Cavaliers because it sure feels like it is

Wade, as he's done so many times in his career, threw it up to LeBron for the thunderous f...

The Warriors coach added there should be no shame in being picked last since everyone's an...
We've got all the scores, highlights and news from all of Saturday's games

The two teams have reportedly not had any substantial discussions to this point

Oladipo may be getting most of the shine, but this second-year big man has been phenomenal...