Pelicans need ultra-talented Anthony Davis to help them find wins
Anthony Davis is coming off of an impressive second season for the New Orleans Pelicans, but how does he get his talents to translate to team success?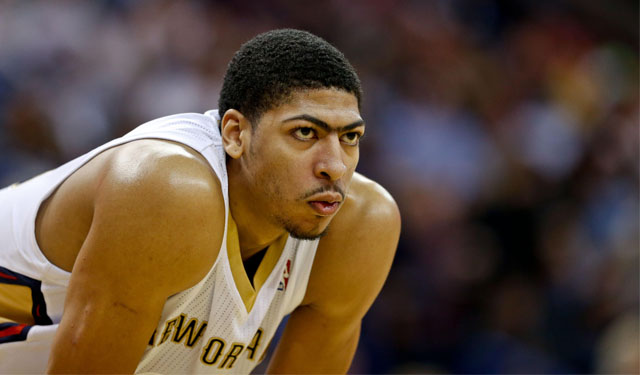 Anthony Davis is an astounding basketball talent.
As an individual, it's hard to fathom just how good he's become after only 131 career games. In 2013-14, the New Orleans Pelicans' franchise player became just the sixth player in NBA history to average at least 20 points, 10 rebounds, and 2.8 blocks in his second season of play. The other players on that list? David Robinson, Bob McAdoo, Alonzo Mourning, Shaquille O'Neal, and Hakeem Olajuwon. That's a historic list of players to be on for any reason. Four of those guys are in the Basketball Hall of Fame and Shaq will be once he's eligible.
What does that mean for Davis heading into his third season, and more importantly, what will it mean for the Pelicans?
Try as he did last season, The Brow just couldn't find a way to get his team to win. The Pelicans were riddled with injuries throughout the season. Eric Gordon missed his customary 18 games. Ryan Anderson had a scary moment in a collision with Gerald Wallace that helped limit him to just 22 games. Jrue Holiday was only able to give them 34 games after trading Nerlens Noel and the 2014 first round pick to the 76ers for him. Davis, himself, missed 15 games.
He played most of his minutes with Gordon on the floor, despite the injuries to both players. The teammate he played the second-most minutes with was Al-Farouq Aminu. The teammate he played the third-most minutes alongside was Brian Roberts. The players brought in to help Davis learn how to win and fight for a playoff spot simply weren't there next to him. And the Pelicans were left fighting their way to 34 wins, which is admirable but ultimately meaningless in the Western Conference.
The Pelicans were a half point better per 100 possessions on defense when Davis was on the floor. The league's leading shot blocker couldn't even impact the defense significantly, and yet it's hard to deny his defensive wizardry is significant. The addition of Omer Asik, acquired in your annual Houston Rockets' salary dump, should help Davis shore up the Pelicans' defense. Asik's presence protecting the basket will allow Davis to play free safety around the rest of the floor. Letting him freelance on that end will likely lead to more weak side blocks and turnovers forced with his length.
Holiday's presence on the defensive end of the floor will be a significant upgrade over what Roberts gave last season when he offered up the same resistance as the finish line tape at the end of a marathon race. That help right there should allow the impact of Davis' defense to finally come through after two seasons of looking good but producing few positive results. But that only comes through if he can remain healthy after missing 33 games in his first two seasons.
Offensively, Davis has been very good but has so much room for improvement. The beauty of how he scores his points is how spread out it is in different aspects of the game. Pick-and-rolls make up 18.5 percent of his offensive possessions that end in him taking a shot, a free throw, or turning the ball over. Post-ups (14 percent), spot-ups (13.4 percent), put backs (12.8 percent), isolation (10.5 percent), cutting to the hoop (10.3 percent), and transition (9 percent) are the other main ways in which he scores his points. He's not a one-trick pony; he's a fluid adaptation of what the offensive set brings.
He's not great in all of those things either. He was good in many of them but below average as a spot-up shooter. Early indications from his play for USA Basketball show that the spot-up jumper on pick-and-pops is something he's trying to establish as another weapon. He made just 38.7 percent of his spot-up shots last season and was a 38.1 percent shooter on catch-and-shoot attempts. He was so odd with his jumper in those scenarios that he actually shot better on guarded jumpers (38.4 percent) than unguarded jumpers (37.6 percent) on catch-and-shoots. It could have been a rhythm thing with him because was in the 88th percentile for jumpers off the dribble (43.4 percent).
Davis was fine in the post and he was good cutting to the basket. But even his success shows so much room for improvement. He also made 79.1 percent of his free throws, showing he's not just some big man who can be hacked and tremble at the line. A counter move or more comfort with both hands on the low block will make him a threat you have to double. When that happens, a passing game could flourish even though he hasn't shown to be much of a creator for others.
However, that's the excitement in watching Davis' game grow from year-to-year, even after just two seasons. His unending wingspan and his adaptation to the situation shows the possibility of adding whatever his team needs him to add. But adding skills to the repertoire and making those skills translate into bringing the team more wins can be a tricky thing. 
For Davis, entering his third season means he's running out of time for being judged as a remarkable basketball entity who could turn into one of the best players in the league in a very short time and moving toward the eventual criticism of whether or not his skills produce enough wins. It's an unfair distinction to throw at such a young player, but the results in this league always matter more than the results of the individual's stat line. With the competition in the West continuing to grow stronger by the offseason, it means the Pelicans' margin for error or games missed is minimal at best.
That will ultimately be the tricky part of evaluating what Anthony Davis means for his team. The obvious answer is "everything" but that's never enough if the process and talent surrounding him can't help him get to the results people crave -- wins and playoff berths. There is no denying his talent and impact, even if the impact doesn't come through right away in injury-plagued seasons for this organization.
If Davis averages 20 points, 10 rebounds, and 2.8 blocks for the second straight season, he'll be the third player (next to Olajuwon and Robinson) to put up those numbers in their third season in the league. The individual acuity of Davis' game puts him in a basketball realm few players have ever ventured. Eventually those kinds of performances on a nightly basis should lead to victories and enough victories to satiate the 24/7 sports conversation of constant comparisons.
Being a great player is one thing but being a great player who can find ways to lead their team to success is a standard in which all players are held to. We can see Davis has it in him to do that; we're just waiting to see it.
The younger Ball brothers are heading to BC Prienai, but that could spell trouble

Keep it right here for all of the news, notes, scores, and highlights from around the Asso...

SportsLine's advanced computer model simulated Tuesday night's Lakers-Knicks game 10,000 t...
The Reno Aces are concerned about the new WNBA franchise stealing their thunder

Hinkie parted ways with the 76ers in 2016 after drastically changing the direction of the...

SportsLine's Mike McClure, a DFS pro with more than $1M in winnings, gives optimal lineup...