Pelicans' Tyreke Evans out 6-8 weeks after cleanup knee surgery
New Orleans Pelicans' wing Tyreke Evans is out 6-8 weeks after having surgery to clean out his right knee.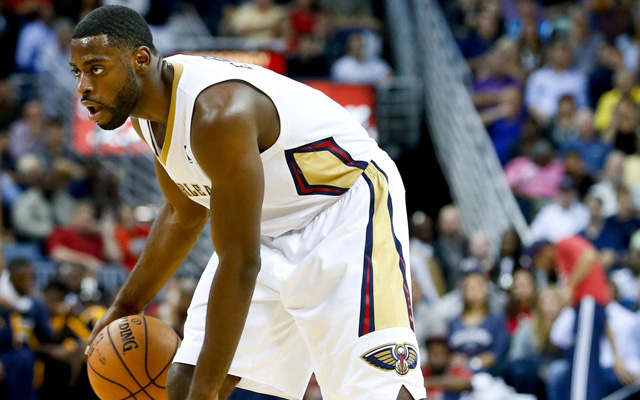 More postseason coverage: Playoff schedule, results | Latest news, notes
The New Orleans Pelicans acquired Tyreke Evans in a sign-and-trade last offseason in an attempt to add a dynamic scoring option to their rotation. With Anthony Davis entering his second year and the team trading two first-round picks for Jrue Holiday, the Pelicans were going all in on trying to return to the playoffs. Unfortunately, injuries derailed that attempt and they were left in the lottery without a pick. 
Evans managed to play in 72 games, but that doesn't mean he didn't have his own injuries as well. The former Rookie of the Year had successful knee surgery on Wednesday to clean out some scar tissue from his right knee and is going to be out for the next six to eight weeks.
Pelicans guard Tyreke Evans had arthroscopic surgery yesterday to clean out scar tissue in his right knee and is expected out 6-8 weeks.

— Marc J. Spears (@SpearsNBAYahoo) May 15, 2014
Tyreke had a solid individual season in terms of his own numbers but he didn't quite have a positive impact on the team. He averaged 14.5 points, 5.0 assists, and 4.7 rebounds in 28.2 minutes while shooting 43.6 percent from the field. He also shot an abysmal 22.1 percent from 3-point range. When he was on the floor, the offense and the defense was worse for the Pelicans, although some of that can be attributed to the fact that he played so many minutes and games without the injured stars of the team.
Westbrook's late layup gave the Thunder a 109-108 victory

LeBron became the seventh player in league history to reach the milestone

There were a few things that stood out from Tuesday's All-Star selections
Here are three players from each conference who had legitimate claims to make the game

LeBron achieved the milestone in the first quarter Tuesday

Here are the full lineups for the 2018 NBA All-Star Game