Phil Jackson confirms he will not coach Knicks
Knicks president says he won't take over coaching duties for the New York Knicks.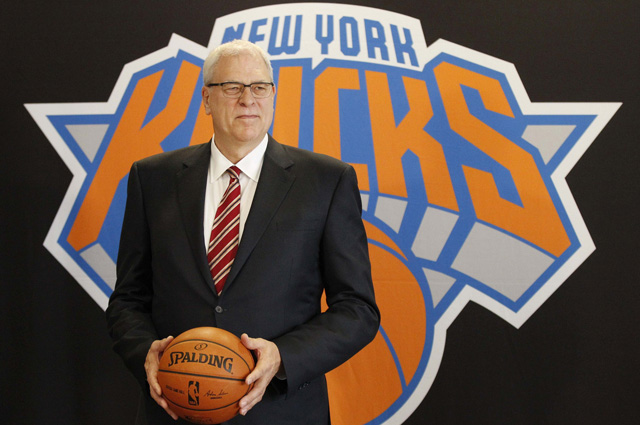 More Knicks: Feinstein: Honeymoon over | Kerr best fit?|Doyel: Phil should coach
Phil Jackson met with the media Wednesday, two days after firing coach Mike Woodson as Jackson begins taking control of basketball operations for the New York Knicks. After Woodson's firing, there has been widespread speculation and media desire for the near-70-year-old to return to the sideline. Jackson squashed that on Wednesday: 
Phil said he "made up his mind" and he will not coach. Also cited physical reasons.

— Al Iannazzone (@Al_Iannazzone) April 23, 2014
Jackson also said the search for a replacement could take a while:
Jackson says there's no timetable on the coaching decision other than fact that he'd like to have someone coaching the summer-league team

— Chris Herring (@HerringWSJ) April 23, 2014
Jackson denied a recent report that James Dolan has clashed with him by blocking Jackson's desire to remove some staff members. 
Phil says Dolan "has been very true to his word" in terms of leaving bball decisions up to him.

— Chris Herring (@HerringWSJ) April 23, 2014
Jackson did tell reporters he met with Steve Kerr in January, but wouldn't comment on Kerr's, or any other coach's candidacy. Kerr is widely considered the favorite, listed at a 2-1 favorite by Bovada.lv on Tuesday.
It make sense that Jackson wouldn't coach. He's past that point in his life and hasn't been all that interested in it since retiring in 2011. He almost took the Lakers job, but always expressed an interest in taking on more of a role like he has with New York. Factor in his health condition (bad hip, back, knees) and the travel involved with coaching on top of the stress, and it's not worth it. 
Plus, right now he gets paid $15 million per year to make general decisions and wax poetic, so that's a pretty great gig. 
The Cavs were supposed to honor their ex-star but ended up not showing the tribute video

James has a plan for his oldest son if they were ever to meet in the NBA: 'I'll foul the s---...

NBA players expressed their emotions after seeing Gordon Hayward suffer a gruesome ankle i...
No kneeling or protests from either side but the King issued his own statement

Gordon Hayward fell awkwardly in the first quarter.

Kyrie Irving is back in Cleveland and his welcome was not exactly a warm one