Phil Jackson, Derek Fisher -- can no experience equal great success?
The Knicks are taking a big gamble that Phil Jackson and Derek Fisher can get the franchise on the right track. Will it be a winning gamble?
Only in professional sports, and more so in the NBA than anywhere else, can two people be hired to do two jobs they've never done and be paid a combined $85 million to do them. That's where the Knicks stand, as Phil Jackson's five-year, $60 million deal combines with Derek Fisher's five-year, $25 million deal to reach a number that would make Midas blush. Jackson has never been in charge of personnel decisions. Fisher has never coached or been an assistant coach -- he's still technically on the Thunder cap for another 21 days.
But here we are. The Knicks way. Overspending is a luxury they can afford, and while you may think overspending is an inherently bad business strategy, the NBA and many of its fans scoff at this notion. It doesn't count against the cap, after all, and the Knicks are a multi-billion dollar business. So who cares how much money they spend? Pay the ushers $900 an hour. Who cares? It doesn't count against the cap! Never mind the basic principle that paying more than the market demands is a bad idea. When you've got it, flaunt it.
But did the Knicks make the right call? They hired Fisher, a former player making the jump to coach with no prior experience. All snark aside, how's that worked out recently?
The most obvious comparison is Jason Kidd, who the Nets hired the week he retired as a player. Kidd started off a complete disaster, and the Nets were on the verge of implosion before January's burst helped them to the sixth seed and a second-round appearance, brief though it was, against the Heat. So Kidd's first year didn't end up a total disaster, even if you can draw a line from Kidd to many of Brooklyn's issues.
Fisher just finished his playing career working for Scott Brooks, who makes for a good comparison. A role player for several teams, Brooks found himself in the right position at the right time when P.J. Carlesimo was fired, and guided the Thunder into championship contention.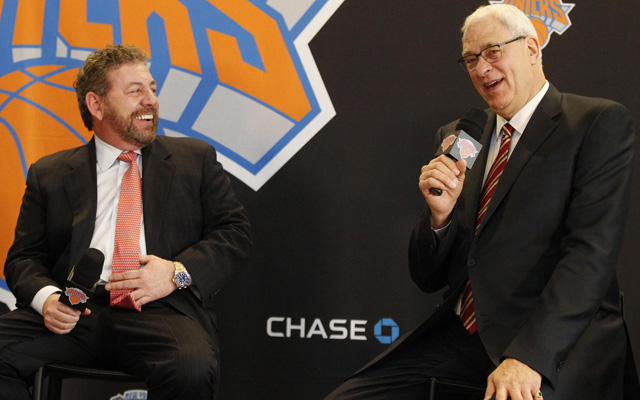 There's Mark Jackson, who like Fisher had never spent a day as an assistant, but was an ESPN analyst in the years before he took his sermon to the Golden State mount. The relationship with the Warriors went from fine to great to inexplicably a tire fire despite consecutive playoff appearances. Jackson clashed on a personal level, but connected with his players.
The Suns' Jeff Hornacek made the jump last year, but only after spending several seasons as an assistant with the Jazz, easing his way into the process. Hornacek, who led the overachieving Suns to 48 wins in 2013-14, has credited that time as an assistant in helping his transition.
Maybe the player Fisher most closely resembles is Jackson himself, a role player on a championship team. But Jackson got to hone his style in the obscurity of the CBA before the Bulls took a chance on him. Fisher will have no such luxury.
Doc Rivers, Lionel Hollins, George Karl, Steve Kerr -- the league is full of former players who were given coaching opportunities, but most of them have been the product of some level of assistant experience. Learning the job, learning how to guide players and manage X's and O's and be a basketball CEO on the court while being a team player in working with the front office.
It's maybe in this area that Fisher's ahead of the game. Kidd and Mark Jackson were fiery, temperamental point guards. Great teammates, to be sure, but prideful and tunnel-visioned, as veterans become as they try to survive in the NBA.
Fisher, meanwhile, has long been a relationship guider. He was the bridge between Kobe Bryant and the rest of humanity, between the Thunder's youth and vitality to their experience, and he was also president of the NBPA for years. He's taken a leadership role among players that goes beyond how to execute a pick-and-roll or how to handle the media, and into how to be a part of something greater. That's a key for success as a coach, and it might be the reason Fisher can break the mold for first-time head coaches -- even as he breaks the mold for what they're paid. 
The third member of the club might come as a surprise

LaVar said Lonzo won't lose again this week, and Marcin Gortat found that pretty funny

Eric Bledsoe is going to be traded at some point and these tweets will explain how it got...
Curry's outburst will cost him some money, but he won't miss any games

A look at the ups and downs for various suitors as Bledsoe has left the team.

Mike McClure, a DFS pro with more than $1M in winnings, gives optimal DraftKings and FanDuel...