Phil Jackson hopes Carmelo remains 'true to his word' that he'd take less
Carmelo Anthony said a few months ago he'd consider taking less money in free agency if it helped the Knicks. And Phil Jackson wants him to keep his word.
More postseason coverage: Playoff schedule, results | Court Vision
Remember when Carmelo Anthony said he'd consider taking less money in free agency to help the Knicks? 
Phil Jackson does. And told reporters on Wednesday he hopes Anthony will remain "true to his word" and not push for every last dollar.
"There are some obvious examples that are out there that everybody can point to," Jackson said. "

Tim Duncan

making the salary he's making after being part of a dynasty — not a dynasty, I wouldn't call San Antonio a dynasty — a force, a great force. They haven't been able to win consecutive championships, but they've always been there. San Antonio has had a wonderful run through Tim's tenure there as a player, and he's agreed to take a salary cut so other players can play with him so they can be this good. And that's the beginning of team play.

"The group down in Miami agreed to take less money to play together so that's, I think, a precedent that's been set. Because the way things have been structured now financially for teams is that it's really hard to have one or two top stars or max players and to put together a team with enough talent you've got to have people making sacrifices financially. So we hope that Carmelo is true to his word and we understand what it's going to take and we will present that to him at that time."
Anthony can re-sign with the Knicks and make about $33 million more in his contract than anywhere else because the salary structure in the NBA. Assuming Anthony opts out of his final year this summer, the Knicks can offer him a max deal for five years worth almost $130 million. Other teams can only offer four years at $95 million.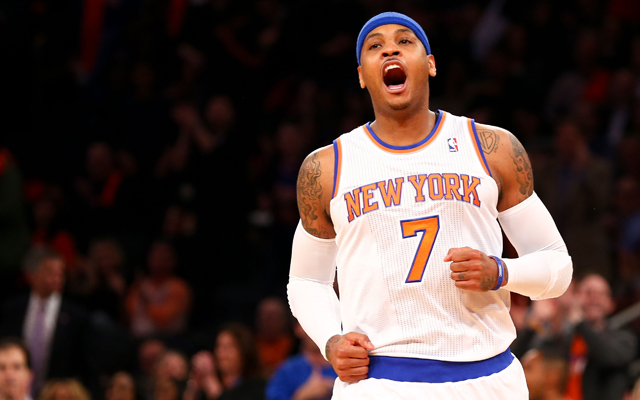 "As far as the money, it don't really matter to me,'' Anthony said in February. "If I go somewhere else, I get paid. If I stay in New York, I get paid. As far as the money goes, it's not my concern. My concern is to be able to compete on a high level, a championship level, coming in this last stretch of my career. I want to compete at that level."
There's a problem for the Knicks, though. Even if Melo signed for a dollar (which he can't), the Knicks still have about $70 million committed next season, assuming Amar'e Stoudemire and Andrea Bargnani don't opt out of their contracts, which they almost assuredly won't.
So him taking less could help in the future, but not this summer. And Anthony has made his point clear that winning is his priority at this present moment. The Knicks can offer him the most money, but I'm not sure they can offer him that.
Miami is on Irving's list, but this package still wouldn't be enough to get a deal done

Some teams want to fight the Warriors, others want to 'fight' for the right to draft Michael...

Oklahoma City has reportedly offered the MVP a five-year extension worth over $200 million
The big man was a big part of the Warriors' championship run last season

The Cavs jokes were out in full force after Golden State reportedly agreed to sign Antonius...

New York seems to be at the top of Irving's list of preferred destinations