Phil Jackson joins Knicks' front office as the team's latest savior
With an agreement in principle for Phil Jackson to oversee their basketball operations, the Knicks are venturing down the same road to futility with a different leading man.
More NBA: Power Rankings | Expert Picks | Latest news, notes
The Knicks could use a little Zen, without a doubt. Not to mention a hefty dose of competence, which is something they've needed for a long time.
Enter Phil Jackson, the latest incarnation of a burning phoenix rising over Madison Square Garden to save the franchise from years of neglect, largesse and an exaggerated sense of self-importance that would be amusing if it weren't so sad.
Welcome to the next era of false hope, misspent resources and tragicomedy -- likely without the customary feel-good ending.
A league source confirmed on Wednesday that the Knicks have an agreement in principle with Jackson to become their Zen Master (and, in some nebulous form, their team president). Once it is finalized, the franchise's latest brush stroke of futility will be completed with it. This is a PR move from the jump, a repackaging and reinvention of a sports entity that has long suffered from the otherwise enviable condition of deep pockets and an inflated self-worth that has time and again been its undoing.
What will be different now? Just the main character. Add Jackson's historic name to the list of leading men who've tried and failed to extinguish the Garden's smoldering pathology. As much as Jackson might believe he's penning a new chapter to his book, Eleven Rings, he's simply becoming the next chapter in the Knicks' futile anthology. 
Larry Brown lasted one miserable year. Isiah Thomas had more staying power, owing to the mystical powers he used to lord over the Garden's emperor, James Dolan, but ultimately suffered the same fate. Donnie Walsh was next in line, and quickly learned that the way he had successfully run a professional basketball team for 30 years wouldn't fly at the corner of 33rd and Eighth.
So here comes Jackson, a two-time champion as a player for the Knicks and an 11-time champion as a coach. What little description is available at this point of Jackson's role and duties sounds about right: He'll oversee the Knicks' basketball operations, inheriting two classic company men, GM Steve Mills and assistant GM Allan Houston -- and with them, the very culture than needs to go if Jackson is to succeed.
Jackson's living arrangements and the extent of his day-to-day role have been the final sticking points in the agreement, league sources say. And that should tell you everything you need to know about why this partnership is doomed from the start.
"You have to live the job to really make an impact," a rival executive said.
It doesn't sound like Jackson, 68, is going to fully immerse himself into the tangled web that is Madison Square Garden on a full-time basis, unravel it, and start from scratch. That is what the Knicks need. That is what Jackson needs to do if he hopes to succeed.
Though he has never before served as an NBA executive, Jackson is part of the old guard in the sport -- a dying breed of basketball men who coach and/or make personnel decisions using their guts and their instincts. Larry Bird does it this way in Indiana. So does Joe Dumars in Detroit. I think you can put Danny Ainge in that category. And of course, Pat Riley.
But the difference is that all of the aforementioned live the job. Sure, they have younger, more energetic stagehands who orchestrate the day-to-day minutiae -- field the dreaded calls from agents and put out the luxury-tax fires. But you will not find any of them in a long-distance relationship with his team. They are there, watching in person, exerting their power and projecting their images on the teams they are building.
You will find Bird and Dumars scouting college games together, but always with their trusted day-to-day men -- Kevin Pritchard and George David, respectively. Younger executives watch in amazement as Bird and Dumars freely discuss their opinions of prospects. Aren't they afraid someone will steal their opinions and ideas? No; no, they're not.
Riley, soon to be 69, is out on the road, too -- also with his trusted right-hand man, Adam Simon. One thing that distinguishes Riley is the importance he places on being around his team. Regardless of which college phenom is performing where, if the Heat have a home game, Riley will be there. He understands his influence and how important it is to be seen.
How will Jackson manage these demands and his desire to split his time between Southern California, Montana and New York? Will Jackson venture to the Portsmouth Invitational with Bird and Dumars next month, hunting for second-round picks on the off chance the Knicks ever have any?
That would be going all in. If Jackson doesn't, there's little reason to believe his influence will carry the weight that it should.
The one area in which Jackson could have a Riley-like influence, in theory, is free agency. The first free agent Jackson will be expected to woo is the Knicks' own Carmelo Anthony. He's an expensive emissary, but Dolan must believe the Knicks are desperate enough to keep Melo to make it worthwhile.
After that, what's Jackson's next job? The Knicks have no first-round pick (it goes to Denver from the Anthony deal) and no cap room until the summer of 2015, when they will be licking their wounds from another disappointing season. At a time when the Knicks need another Walsh-like rebuild, they are getting a caretaker who will hand out motivational books and whose job description and working conditions likely won't permit him to do much else.
Someday, perhaps Jackson will write a motivational book of his own about why this was such a mistake. I would buy it; but I'm not buying Jackson as the Knicks' latest savior.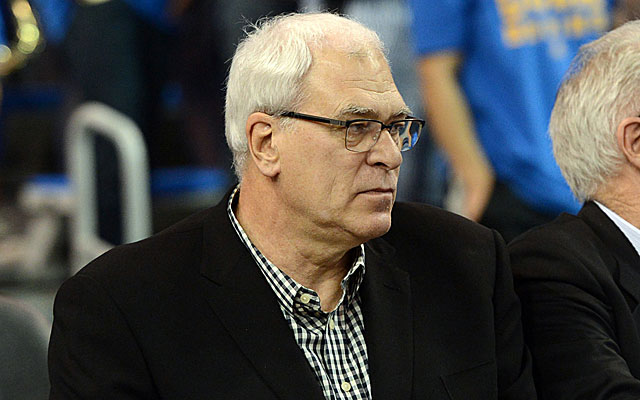 The Ball brothers better put their heads down and focus on basketball, according to Billy...

Paul George returns to Indiana for the first time since his trade to the Thunder

Also, LeBron James' historic season continues, while Kevin Durant reminds us who he is
The Rockets are looking for 11 in a row

Indiana hasn't hosted the NBA's star-studded event since 1985

Is the hype fair, or are these three men really above their peers as the NBA's best sideline...