Phil Jackson: Lakers are improving, need Dwight in the post more
Former Los Angeles Lakers coach Phil Jackson says that while the Lakers are improving, Dwight Howard needs the ball in the post more.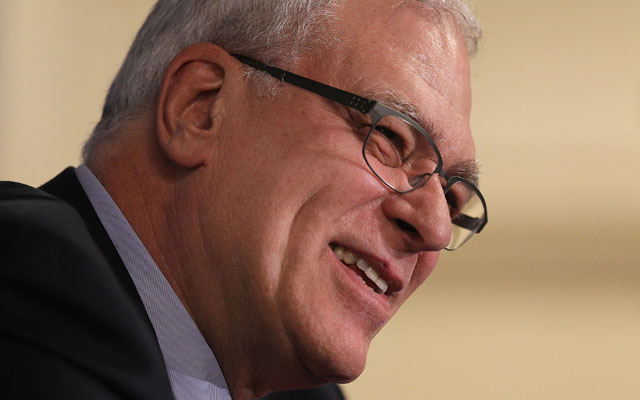 Phil Jackson thinks the Lakers are getting better.
(Getty Images)
Former Chicago Bulls and Los Angeles Lakers coach Phil Jackson has won a ring or two or 11 during his coaching days, so when he talks about basketball, people tend to listen. It's why when the Lakers fired Mike Brown from coaching the team after just five games, people seemed eager to find out if Jackson could pull yet another team together and return the Lakers to their championship ways.
Phil still watches the Lakers, even though he was passed over for the job in November when the team ultimately decided to give Mike D'Antoni the job. Even with the Lakers struggling this season (four games under .500 and 3 1/2 games back from the eighth seed), he thinks the team is improving. Via Sports Illustrated: 
SI: As far as the Lakers go, haven't they been improving?

Jackson: Yes, I think they are finding a way to play. And that's nice to see. Steve has had to sacrifice because Kobe is dominating the ball, but Kobe is showing he can be both playmaker and scorer. Now it's about defense. And I think that's coming around. They make the playoffs, I think they've shown they're going to be in it with every team.
The Lakers have played much better basketball over the last 12 games. Since falling eight games under .500 on Jan. 23, the team has gone 8-4. In this stretch, they've had quality wins over the Jazz, and Nets. They survived the two-week long road trip, while the city of Los Angeles prepared for and hosted the Grammy Awards, by going 4-3 away from Staples Center.
But how could the Lakers get better on offense? 
SI: When you look at the Lakers now, considering that they've had a lot of personnel changes and injuries, what do you see?

Jackson: They just don't put the ball in the post. They'll use a screen-roll to get the guy in the post. But there's no consistent plan to do it. Yes, Kobe will go in there. But Dwight [Howard] just doesn't get any touches. They've basically eliminated his assets.

SI: But wouldn't his assets be rolling off the screen-roll, with either [Steve] Nash or Kobe?

Jackson: You want the ball 10 feet away from the basket. Throw it into the post, make them double-team and have everybody around to make shots. That's what Shaq could do. That's where you have the Robert Horrys, the Derek Fishers and the Rick Foxes sitting out there getting wide-open jumpers.

SI: But Dwight is not Shaq in that aspect of the game, drawing the double team and finding people. Isn't that true?

Jackson: I think he can be. But he is not where he needs to be physically because of the back surgery. He needs a year to recover from something like that. He's starting to come around, but he has a massive upper body to carry around. He's a terrific athlete, but he still has to get all that back. He's looking better all the time, but his problem right now is turnovers. He's got to have a little better recognition, and that will help him gain the confidence of his teammates and coach, which he does not have now.
This is where Phil's comments confuse me. Dwight Howard has been a destructive force to his opponents in the pick-and-roll for years. He's one of the best roll men in the league because of his hands and athleticism, allowing him to dominate at the rim when he gets a step on defenders. And while he's not a bad post player by any means, he still struggles to score the ball in the post when you compare it to his numbers in the pick-and-roll.
This season alone, Howard is scoring 1.22 points per possession as the roll man in pick-and-roll possessions that end with him taking a shot, turning the ball over, or getting to the free-throw line. He makes 75.9 percent of his shots on these possessions and is ranked 12th in the league in points per possession. On post-up plays, he's making just 45.4 percent of his shots and scoring 0.75 points per possession, which is 95th in the NBA.
He had a similar discrepancy in post-ups vs. pick-and-roll last season when he scored 0.88 points per post-up possession (55th ranked, 49.9 percent from the field) and 1.36 points per pick-and-roll man possession (2nd ranked, 74 percent).
This leads me to wonder if Phil Jackson is playing mind games with a Lakers team that possibly led him on when it came to rehiring him in November or if the game has passed him by in terms of what works on offense these days or if he has better ways to get Howard post touches that would benefit him on offense. I doubt that many of us, if any of us, know more about the game of basketball than Jackson does. However, I do wonder what he sees differently regarding Dwight Howard's offensive game.
Blockbuster deal doesn't change the Thunder's projected finish in the West

The Thunder strike again this offseason, and Knicks, entering a new chapter, also make out...

The Warriors have responded to the White House rescinding their invitation
Carmelo Anthony has to change his game in Oklahoma City

Thunder were 66/1 to win the title back in June

The Kristaps Porzingis era begins as New York sheds its only superstar