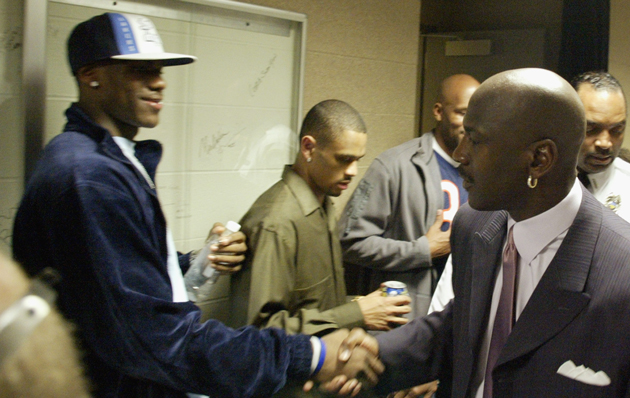 Phil Jackson says LeBron James could be better than Michael Jordan.
(Getty Images)
The moonshine must be good up in Montana.
Phil Jackson, legendary coach of the Chicago Bulls and Los Angeles Lakers, told an ESPN Chicago radio station that Miami Heat forward LeBron James has the potential to be better than NBA legend Michael Jordan, as long as he stays healthy for the rest of his career.
SportsRadioInterviews.com has Jackson's comparative assessment between the NBA's current best and the Greatest Of All Time.
"He's got all the physical attributes. I think we all question the prepping that went into LeBron. His defense was shaky when he was a younger player and finding his way through that direction. He is a player that can play four positions. Except for perhaps the center spot, which he hasn't given a shot at yet, he can play those other four positions quite well. This is unique; Michael could play three and was very good at all three of those. But as a power player that LeBron can become, I think he has an opportunity to explore and advance some of the status that he has already gained.

"Winning six championships is an elusive thing out there, and they haven't won two yet. But he's kinda got the smell of it and even the Olympic experience this summer, he was the granted leader of that team and was the critical player when they needed something to happen in the final games. I think he's there. I think he's at that position. He's got good things ahead of him, and a lot of it depends upon if he's gonna be healthy for the remainder of his career.

"I have a hard time judging that best player, but I do think that Michael had more moves in the post and he had more of a, perhaps, shooting touch with his back to the basket and all these kind of things that were part of his game. LeBron has this train out of control when he gets the ball in transition that he can go coast to coast without anyone getting in his way. And if they do, he's going to over run them. And he's got the power with the body, and he's developed a left hand that's extremely good.

"There's a lot of things that you are seeing in the development of this player that leads towards that, but the ideal and the whole reason behind this is what kind of championships are you gonna get from a player like this? Can he match what Michael has done?"
Jackson's assessment is right in line with a recent breakdown by Hall of Famer Charles Barkley, who said James is "bigger, stronger, faster" than Jordan, according to USA Today. The comparisons really ramped up in August, when Heat guard Dwyane Wade said James was "on that level" with Jordan.
James is 27 and coming on like a freight train. As noted when Wade first made his comments, 27 was a critical age for Jordan, as it represented the high-water mark of personal production for his career. He went on to win ring after ring after ring, but his personal accumulations started to slack at that point, receding from his impossible to maintain early-career standard and briefly disappearing when he tried his hand at minor league baseball and then hung it up for a second time before launching an unfortunate comeback with the Washington Wizards that everyone has agreed to forget.
The main thrust of Jackson's argument, then, is spot on, even if he's granting James this massive stage a bit too early. James has the capability to accumulate accomplishments that could eventually far exceed Jordan's standards. If he doesn't get bored with basketball, doesn't take time off, continues to put up the same absurd stat lines that he has managed throughout his career and stays healthy, his final career numbers could blow Jordan's out of the water.
That won't be nearly enough for him to win the final "Jordan vs. James" argument, though. That will be all about rings. Jordan exists at the nexus between personal accomplishments and team glory. Going 6-0 in the Finals is the modern NBA's most pristine mark. James has already lost two Finals, and he has alienated a solid portion of the basketball intelligentsia along the way, especially for the forgettable summer of 2010. Even if James continues on a Wilt Chamberlain-esque course of statistical domination, he's facing an uphill battle for public opinion. Is six rings definitely enough if he has two Finals losses already to his name? Would 7-2 in the Finals be enough to topple the Jordan mythology and the now untouchable 6-0?
Lakers guard Kobe Bryant has faced the same dilemma, and he's an excellent case study here. Bryant, too, has lost on the NBA's biggest stage, where Jordan did not. Should the new-look Lakers take the 2013 championship, giving Bryant his sixth title, will anyone outside of Southern California believe that achievement pushes Bryant past Jordan? Of course not. The nit-picking -- Bryant had way more help; he wasn't perfect in the Finals; he wasn't the No. 1 guy during the early championship years, etc. -- would rule the day.
That's the obstacle for James. To top a legend, you need to destroy it handily. We all know that history will grant Jordan every benefit of the doubt and every 50/50 call.