Phil Jackson may have confused Rockets, Astros while talking Dwight
Phil Jackson says Dwight Howard will be able to show off his defense and power when healthy. Then confuses the Rockets and the Astros in Houston.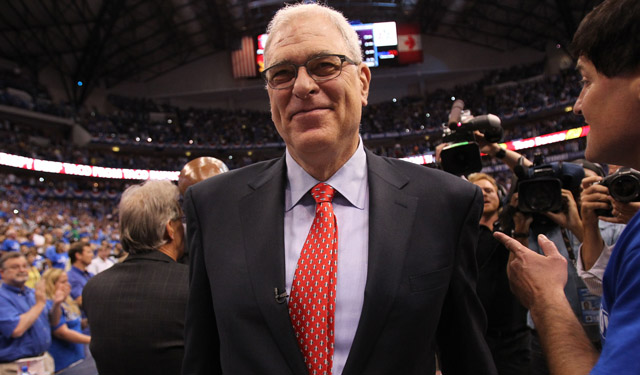 Hall of Fame coach Phil Jackson still has an unofficial consultant role with the Los Angeles Lakers. Considering his fiancée Jeanie Buss is running the business side of the organization, he definitely has ties to the Lakers even when he's not coaching or consulting them. Even with a very aggressive pitch to keep Dwight Howard in Los Angeles this offseason, the Los Angeles Lakers ended up losing the free agent center to the Houston Rockets.
This isn't something that should be earth shattering to the Lakers but it definitely makes the next phase of their franchise's history a little murkier. Jackson knows that what the Lakers saw with Howard in an injury-riddled season wasn't the center's best to offer. The Hall of Fame coach knows that he'll be better off with the Rockets in Houston. Or the Astros. Whatever that team is called:
What DH brings to the game is power and D. This past year didn't show due it to rehab and confusion. If he is better of an Astro, so be it.

— Phil Jackson (@PhilJackson11) July 7, 2013
Jackson has always been a master of the verbal salvo and is so good at lobbing them at his opponents through the media. If he intentionally was able to slight the Rockets by confusing them with the worst team in baseball, he may be mastering the art of firing at people through social media as well. 
With the ties to the Lakers, Jackson certainly wouldn't be shy about starting a little something with a "typo" like Astros instead of properly calling them the Rockets. With only 140 characters at his disposal for one tweet, it certainly would have been tight by saying their proper name, but he could have made it within the limitations of tweeting. 
KCP can't leave California for 25 days due to the terms of his pleading guilty to a misdemeanor...

Keep it right here for all of the news, notes, scores and highlights from around the leagu...

LeBron tried to keep what he said a secret, but one mic on the court picked it up
SportsLine's Mike McClure, a DFS pro with more than $1M in winnings, gives optimal lineup...

'It's not just about me, it's for the next crew as well,' LeBron said

Kobe the rookie had no fear facing off against Michael Jordan the legend. Then he gave up a...