Phil Jackson says he never wanted Knicks job, slams team in interview
Legendary coach blasts Knicks' team, says he wouldn't have wanted job he wasn't offered in interview.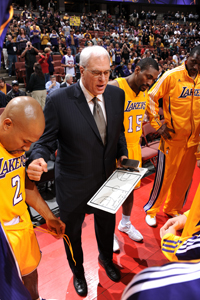 Phil Jackson has strong words about the Knicks.
(Getty Images)
From pretty much the moment Phil Jackson walked away from the job with the Los Angeles Lakers, there was talk of him joining the Knicks. Even with Mike D'Antoni having lead the team back to the playoffs and respectability, the talk was D'Antoni finishing his contract, then Jackson, having taken a year off, returning to finish his professional basketball career where it began, leading the Knicks back to the championship. 
Instead, the Knicks hired Mike Woodson.
So, you know, a different approach. 
And in an interview with HBO's Real Sports premiering this weekend, the legendary coach takes out a tied-dye flamethrower and torches the job, the organization, and its star. From the presser: 
PHIL JACKSON: They never called. And I kinda appreciate that. Because if they called, it would open the door and they didn't wanna open the door.
ANDREA KREMER They didn't wanna open the door or you didn't wanna open the door?
PHIL JACKSON: Well, I mean, I wasn't gonna take the job, that's for sure. But…

ANDREA KREMER: You wouldn't have taken the Knick job?
PHIL JACKSON: No. I wouldn't take…
ANDREA KREMER: Why? This is—the ties to this job go back as far as your whole career.
PHIL JACKSON: Yeah, it's great. It's great.

ANDREA KREMER: And you've always said New York is special to you.
PHIL JACKSON: New York is special.
ANDREA KREMER: Why do you dismiss it then, possibility, even?
PHIL JACKSON: Well, it just-- there's just too much work that has to be done with that team. You know? It's just not quite-- it's clumsy. It's a little bit of a clumsy team. It's not, you know.—
ANDREA KREMER: What's "clumsy" mean?

PHIL JACKSON: Well, they don't fit together well. (Amare) Stoudemire doesn't fit together well with Carmelo (Anthony). Stoudemire's really good player. But he's gotta play in a certain system and a way. Carmelo has to be a better passer. And the ball can't stop every time it hits his hands. They need to have someone come in that can kinda blend that group together.

ANDREA KREMER: But wouldn't you have been the perfect person to come in and blend all that talent together? You sort of have a good history of that.
PHIL JACKSON Yeah. Well, it didn't happen.
Ouch. Stoudemire is inflexibile and unable to play outside of a system... and he's the one Jackson was nice to. Hard to argue with Melo, and it makes you wonder if that was part of the problem. All the Knicks want to do is give Melo the ball, all the time Melo with the ball. That doesn't go with the Triangle. It's a shame because Melo on the wing, Chandler down low, and Amar'e at the elbow with Lin as the top-key-wing option and Shumpert in the corner actually works really well. But it won't be happening.
There's a lot of talk about whether Jackson is just grousing because he didn't get the offer due to Dolan's (and CAA's) alternative priorities. But the fact remains it wasn't the fit for either team. 
The dream is dead. But hey, the Knicks got Mike Woodson, who's a good coach. 
And Melo gets the ball!
LeBron appears to be one of the two team captains for the 2018 All-Star Game

We've got all the scores, highlights and news for Thursday night

Arron Afflalo was involved in an altercation with Timberwolves big man Nemanja Bjelica on...
Fergie and Canadian rock band The Barenaked Ladies will sing their respective national ant...

Based on Gentry's tongue-in-cheek price, Boston is highly unlikely to acquire the big man

Larry Hartstein is 22-11 in ATS picks for or against the Timberwolves and has a play for T...