Phil Jackson says he's been in talks with teams for front office jobs
Phil Jackson says he's been talking to NBA teams about a front office job.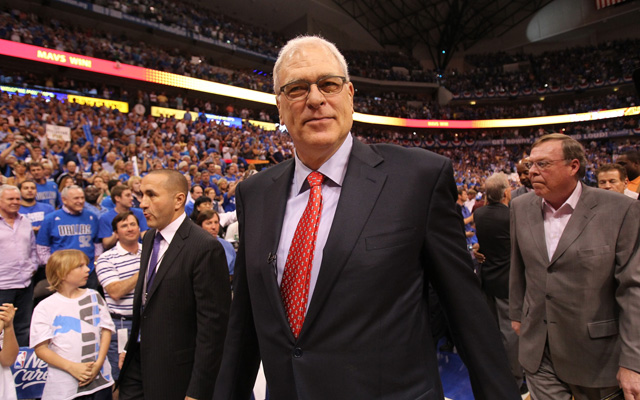 With coaching vacancies coming open, the most prominent name in modern pro coaching has of course been a hot topic: Phil Jackson. But in an interview with the San Francisco Chronicle, Jackson was, shockingly, up front about his intentions. People have been interested in his services, but not for a coaching vacancy. 
"I've had some talks with people," Jackson said, "and there are some interesting situations that are presenting themselves, but I really haven't made up my mind yet what I'm going to do. None of it involves coaching. ... There are three or four teams that have been interested." 

...

Jackson said he would be interested in a developing team "where you'd have the influence in (selecting the) coaching staff and the kind of culture that goes along with it. It goes all the way down to -- not down to, but includes -- trainers and the people who are doing the hands-on work with players, that have to be really embedded with how you put a team together. ... The support group is important; guys who get an opportunity to hear and talk and influence the players. "It would be a real opportunity to implant the game, a culture that I believe in -- that's the intriguing part." 
via Phil Jackson: Zen master to general manager? | SF Chronicle
The scuttlebutt about Jackson for quite a while has been that he's not looking for a spot on the sidelines, but in the GM's office. He wants to guide a culture, the same way Pat Riley has in Miami. After all, that's less work, more accolades, and no travel. It's basically being the spiritual head of his own Shaolin basketball monastery. 
If we're looking at available jobs, the pickings are slim. The Nets are the biggest one that he's been linked to, which would lead to the question of "What about Billy King?" but in reality, King can act as the every day GM with Jackson as president and there's no issue there. Owner Mikhail Prokhorov is willing to pay $700 for a granola bar, so I think he'll probably shell out for the services of the Zen Master. 
Meanwhile, there's another intriguing option on the periphery, but you have to consider it unlikely. 
The Bobcats just fired coach Mike Dunlap after one year. They have a young roster and loads of cap space. Jackson could set the table there. It's unlikely Rich Cho has cemented his position enough to keep control should Jackson express interest.
Especially with Michael Jordan his owner. Is there anyone Jordan would trust more to guide the franchise to respectability (and profitiablity) than Jackson? 
Something to keep on the radar. Jackson's going to have a number of options, though. 
The NBA broke its silence with a statement related to the Lakers-Paul George tampering cha...

The Clippers big man thinks LeBron will reunite with the banana boat crew at some point

Have the Clippers reportedly found their next GM?
The NBA stayed to the point in their response to the Greek basketball federation

The Pacers believe the Lakers tampered with Paul George before they traded him

Among the questionable decisions by Jackson was signing Noah to a long-term, lucrative dea...