Phil Jackson says he's still talking to teams about a front-office job
Former Lakers and Bulls coach still interested in a team-building front-office position.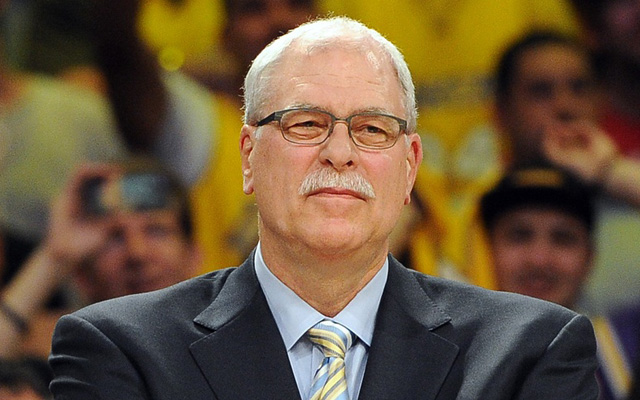 In a wide-ranging interview with USA Today, former Chicago Bulls and Los Angeles Lakers coach Phil Jackson says that he continues to have conversations with multiple teams, including the Pistons, about a front office position. 
Q: With that in mind, the natural question is what does that mean going forward? That was a unique situation, but do you see opportunity elsewhere that you like?

A: There are a few (opportunities), but I shouldn't name them. It wouldn't be right to talk about it, name anything. But yeah, there are some. There are winners and losers in the NBA, and a lot of people are trying to reclaim their position or change their culture or whatever. So yeah, there is. I've had conversations. Some of them are feelers. "Are you interested?" type of thing. I did go out to Detroit last year and sit with (Pistons President) Joe (Dumars). I guess we weren't successful, but I really encouraged (Pistons owner) Tom Gores that the general manager has to be able to pick his coach so they can win it together. And Joe wanted Maurice, so it didn't work out, unfortunately for Maurice. I developed a relationship with the owner, who lives in LA. We have conversations.

Q: So is that still an ongoing relationship?

A: I'm just like an adviser, an unpaid adviser. So far, my advice hasn't been too great (laughs).

Q: Well at least they're not wasting their money on you ...

A: Tom is a generous guy, but I really don't want to make him feel like it's more than it is. It's a professional kind of opinion that I have. But I like their chances as they go forward. They had some curious free agent (selections) but I like their young guys. (Andre) Drummond is good.
via Phil Jackson Q&A: 'Jesus could probably coach' Lakers.
Jackson was listed as an adviser for the Pistons' coaching search but intimated that Mo Cheeks was not his choice. Cheeks was fired in January as the Pistons have fallen into terribleness. 
There's been talk that Joe Dumars could be on his way out as well. Considering owner Tom Gores' insistence on instant results and close relationship with Jackson, the Zen Master has to be considered the no-brainer choice to take over the organization, whether Dumars stays on as GM or not. 
It would provide Jackson with a team flush with talent that struggles to "play the right way" an area he could provide help in, even if he's not coaching. Remaking their bench would be a priority and likely something he would enjoy. Whether that means retaining Brandon Jennings and Josh Smith is another question. 
If the Pistons decide to move on from Dumars this summer, keep an eye on Jackson as a candidate to takeover. 
It's also possible that Jackson could take on a role that doesn't involve being the "main guy" for operations, particularly day-to-day. Lakers legend Jerry West plays a huge role in the Warriors as an adviser, but isn't the active GM. That kind of role might be the best fit for Jackson, letting him have a strong voice without having to handle the minutiae (or winters). 
Steven Adams believes he's the problem with the Thunder struggles in the clutch

LaVar claims that Luke Walton has been 'soft' on Lonzo so far

Allen has filed an emergency motion in an Orange County court in response to an accusation...
Larry Hartstein has been crushing NBA picks and just made a play for Bulls vs. Lakers on Tuesday...

He also apparently knows how to navigate the city risk-free

LeBron's minutes are a common point of discussion this season