Phil Jackson serious about Knicks' front-office offer if 'setup is right'
Phil Jackson is seriously considering the Knicks' front-office offer and is leaning toward taking the job if the structure is right, a person briefed on the talks told CBSSports.com on Saturday.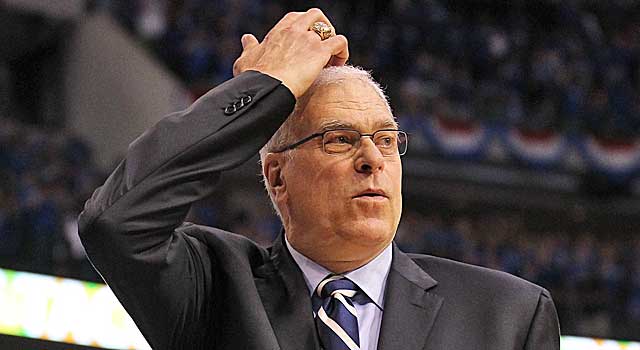 More NBA: How much less would Melo take to leave? | Latest NBA news
Phil Jackson is seriously considering the Knicks' offer to join their front office in a role that would give him final say on basketball decisions, a league source told CBSSports.com on Saturday.
Jackson, 68, is said to be leaning toward taking the job if the structure is right, said the source, who has been briefed on the Knicks' conversations with the 13-time NBA champion.
Jackson is considering a front office structure with Steve Mills and Allan Houston handling the day-to-day duties while reporting to Jackson, the person said. At this point, it is not clear whether the rest of the Knicks' front-office lieutenants would stay if Jackson were to take the job.
Jackson, an 11-time champion as a coach -- and two-time champion as a player for the Knicks -- has stated he is finished on the sideline. The Knicks' front-office job is extremely appealing to him "if the setup is right," the person briefed on the discussions said.
But that, according to league sources, may be a big obstacle given Madison Square Garden's complicated corporate structure and the overbearing influence of owner and Garden chairman James Dolan.
Jackson recently told USA Today that he was speaking with several teams about various front office roles. Indeed, the Knicks' opportunity is not the only one he is considering. Jackson was expected to head up basketball operations for the Kings franchise if it had moved to Seattle last year. He also has served in an advisory role this season with the Detroit Pistons.
Despite his heightened interest in the Knicks' job, Jackson is said to be interested in less day-to-day involvement than, say, Pat Riley has as president of the Miami Heat. One league source described Jackson's potential role as "a very expensive consultant who would have final say."
But Jackson, with his championship resume and stature in the game, would fill at least one role similar to what Riley has done with the Heat -- attracting free agents. Mired in one of their most disappointing seasons in a quarter century, the Knicks desperately need a sweeping change of leadership that would send a message to prospective free agent Camelo Anthony -- and any stars who may want to play with him -- that the Garden is finally serious about turning the Knicks over to capable, unencumbered hands.
The timetable for Jackson's decision is not known, but the New York Daily News reported that he's expected to decide this week.
No kneeling or protests from either side but the King issued his own statement on the ongoing...

Gordon Hayward fell awkwardly in the first quarter.

Kyrie Irving is back in Cleveland and his welcome was not exactly a warm one
Mirotic was hospitalized following the incident and needs surgery

Thomas recently said that he may never speak to Ainge again after being traded by Boston

LeBron said he'll give 'passion, commitment, and inspiration' while he's wearing a Cavs un...