Phil Jackson thinks the Lakers overpaid Kobe Bryant
Phil Jackson is OK with the Lakers re-signing Kobe Bryant. He just thinks they paid too much.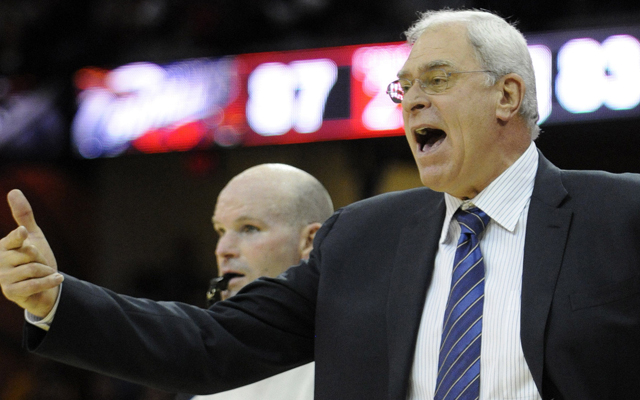 Phil Jackson no longer coaches the Lakers. Nor has he for almost four years. But he still gets asked about them, and still has opinions about them. 
In a recent interview with NBA TV, Jackson was asked about Kobe Bryant's recent two-year extension. Jackson said he supports it, but just not for the money it's worth.
"Yeah, I would've. They paid him more than I would've gone for, But what he's given to the organization, what he gives back, he brings a sense that 'we are going to win,'" said Jackson. "We have to have a guy on our team doesn't settle for 2nd. That's one of the area where the value of Kobe, even at his age, is terrific."
Bryant signed a two-year, $48.5 million contract, keeping him the highest paid player in the league until he's 37. The fact the Lakers re-signed Kobe wasn't controversial. It's just that the total dollars have taken what would've been a very financially flexible offseason and made money a bit tighter, at least in terms of the salary cap. 
Another thing: Jackson was asked about his interest in coaching again, a top that keeps coming up year after year. 
"I have no intention of coaching again…physically, I have to reconcile a fact that I'm in a position after 5 operations in 3, 4 years, [and] at my age it takes a little bit more to recover from it," Jackson said
But he left the door open just a little bit.
"But who knows, maybe I will have a regenerative tissue that will get me back at it."
LeBron's minutes are a common point of discussion this season

Kevin Garnett thinks a one-and-done rule change would benefit schools more than anything e...

The Warriors are light years ahead, but James Harden is off to a red-hot start with the Ro...
Victor Oladipo is playing the best basketball of his career, and it all came together against...

McCollum hurled a clever insult at the French forward

Hosts Bill Reiter and Reid Forgrave are joined by Blazers guard CJ McCollum