Phil Jackson worried lanky Kristaps Porzingis is the next Shawn Bradley
Is the Knicks' president stuck in the 90s or are his concerns about the young phenom's core strength legit?
In the latest dispatch on ESPN.com from Phil Jackson and his trusted advisor Charlie Rosen, the Knicks president reveals that he really hadn't decided on who he wanted to draft with the No. 4 pick last spring, before trusted scout Clarence Gaines sold him on Kristaps Porzingis. Even after, however, Jackson has concerns about Porzingis long-term, mostly because of his frame and strength issues, which were notable limitations on his scouting report. Jackson goes so far as to compare him to one of the NBA's all-time stiffs (and yet a very productive player) in Shawn Bradley. 
Jackson projects that Porzingis will add at least 10 pounds of muscle before his first season commences, yet concerns still linger over his prize draft pick. "Like Shawn Bradley, who was nevertheless a pretty good player, KP might almost be too tall for the game. What I mean is that his core strength might never be good enough, and that he might not be able to get low enough to get himself into prime defensive position to body power rebounders or drivers."
Source: The Phil Files, Part 8 -- draft day. 
Now overall, Jackson is still backing his pick and is positive about the young man's upside. He's not saying that Porzingis will have a similar career to Bradley, but the specific element of his game is in play. This is however, another indicator that Jackson's thinking might, not for sure, but might be a little outdated. Yes, it's true that Bradley has several YouTube mixes of nothing but clips of him getting dunked on: 
But Bradley also had a solid career, topping out at 13.2 points and 8.4 rebounds with 3.4 blocks per game in 1997. In 2001, he actually had nearly the same defensive win shares mark as Shaquille O'Neal. There are worse fates for a pick than winding up as Shawn Bradley. 
Moreover, the game has evolved to where Porzingis' value isn't really dependent on his ability to withstand brutal post-up backdowns. That part of the game has largely been filtered out, and if the Knicks are smart (and they seem to be given their insistence on LaMarcus Aldridge playing center when they pitched him and later signing Robin Lopez), they'll know to simply avoid matchups where Porzingis is facing players like DeMarcus Cousins or DeAndre Jordan. Meanwhile, Porzingis' ability to shoot from the perimeter is what truly sets him apart from others, as he showed recently in his workouts with Carmelo Anthony. Porzingis is a stretch four, and that carries both more value and different priorities than the traditional big men that Jackson seems to be comparing him to. 
Still, the core strength is a legitimate concern. Porzingis' training staff told CBS Sports draft expert Sam Vecenie before the draft why that strength issue should go away with time, however. An excerpt: 
Porzingis is skinny. Almost eerily so in his upper body. His lower body is strong, but one only has to get a single look at him with his shirt off to get concerned about how he will take the physical grind and punishment of the NBA. There just aren't many guys in the NBA with his mix of easy, explosive athleticism in conjunction with a frail upper body, and that likely leads to some questioning how his body will hold up.
"It doesn't worry me, but I know (my body) is something I need to work on," Porzingis said when I asked about the physical nature of the NBA game. "Guys are very strong out there, so I'm going to be in the weight room every day lifting hard and getting stronger to make sure I can fight with those guys.
Despite the skinny frame, Porzingis does have strength that shows in different aspects of his movement, particularly in his torso and legs. Instead of working on making him look physically stronger in his upper body -- something that will naturally just come along as he fills out and ages -- physical trainer Larry Sanders (formerly with the Detroit Pistons for three years) and the team at Sevilla started from the ground up and made him work on his balance and coordination at his size. The team wanted to make sure he had a strong base with which to work with. In fact, they had to slow him down from lifting and working out during the season so that the strides he made with his body were healthy and sustainable.
"When you grow (as fast Kris has), your body has a whole new neural field, basically," Sanders said. "Your body doesn't really know where it is in space, so it's really hard to take contact or deliver contact when your body doesn't really know where you are. So for him, we had to get him used to his body before we could work on getting him stronger. Any kind of excess weight is just not functional. You try to make the body as efficient a machine as possible."
Source: The top 5 prospect you may not know: Latvian 7-footer Kristaps Porzingis - CBSSports.com. 
Whether Porzingis can or will add the necessary weight as he gets older to handle more physical assignments remains to be seen. At worst he projects as something similar to Andrei Kirilenko, who had no problem with such assignments, and given the NBA's emphasis on pick-and-roll defense, Porzingis being lighter of foot seems much more important than being able to muscle up to anyone. 
We'll see if Jackson's concerns are correct, but overall, it's a little concerning that Jackson continues to think inside such a narrow 90s-and-2000s-type basketball box.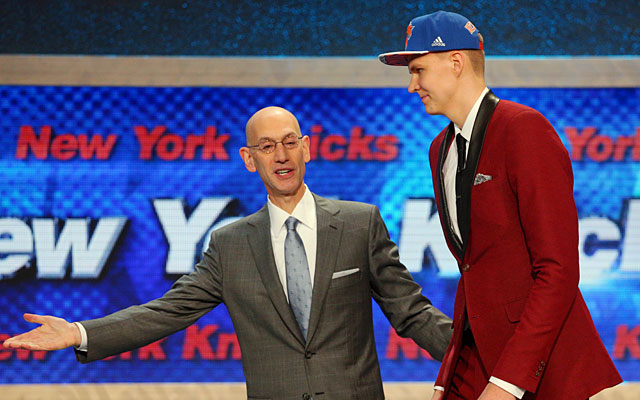 CBS Sports HQ Newsletter
We bring sports news that matters to your inbox, to help you stay informed and get a winning edge.
Please check the opt-in box to acknowledge that you would like to subscribe.
Thanks for signing up!
Keep an eye on your inbox for the latest sports news.
Sorry!
There was an error processing your subscription.
The eight inductees of this year's Hall of Fame class were officially unveiled on Saturday

CBS Sports confirms Hanks' physician was sent an experimental drug for possible 'compassionate...

The 2020 class, officially announced on Saturday, is one of the best we've ever seen, but where...
The players involved would compete remotely, but other details are scarce at this time

Trump on the sports leagues around the country: 'We have to get back. We want to get back soon.'

The NBA 2K tournament continues Sunday after four players, including top-seeded Kevin Durant,...
The Lakers beat the Clippers for the first time this meeting on Sunday afternoon

Giannis and the Bucks failed to best Los Angeles in their matchup LeBron and the Lakers