Phil Jackson would have helped LA recruit Dwight Howard if asked
Phil Jackson tweets that he was 'amenable' to talking to Dwight Howard about staying with the Lakers, but for whatever reason, it didn't happen.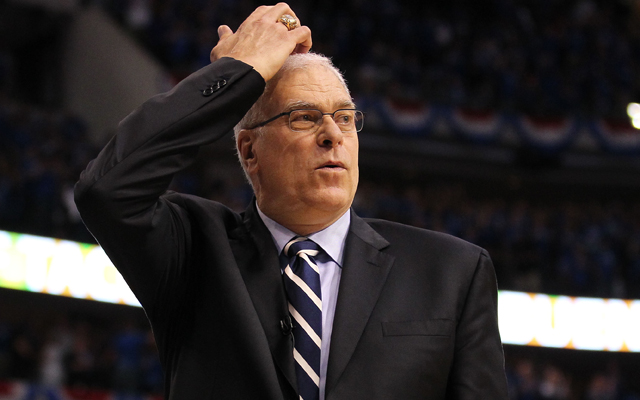 When the Lakers met with free agent center Dwight Howard this week, owner Jim Buss was there. GM Mitch Kupchak, also there. Coach Mike D'Antoni was there. Point guard Steve Nash was there. Shooting guard Kobe Bryant, definitely there. 
Jeanie Buss was not in attendance, giving her brother a wide berth to handle discussions. And one other name was notably absent. Jeanie's beau, Phil Jackson. 
In recent weeks, Lakers management has revealed that Jackson has maintained a consultant role with the team. So why wasn't he there? Did he not care enough? Were the fish running too strongly in Montana for him to get away? 
Jackson took to Twitter to end the discussion that he chose not to attend the meeting. 
Error in reporting about my involvement with @DwightHoward meeting. I was amenable to talking with DH, but the meet never came to play.

— Phil Jackson (@PhilJackson11) July 4, 2013
Jackson could mean that a scheduling conflict came up. Or that the design of the meeting, which was said to be focused around not focusing on the Lakers' past, meant that they wanted to keep it focused on their future. 
But repeatedly, it was reported that Howard felt strongly about wanting Jackson to replace Mike Brown, and wanted a relationship with the Hall of Fame coach. Couldn't his presence have helped, in some way? 
But that's all gone. Jackson did tweet at Howard to stay, though it was in the same demanding, expecting tone Kobe Bryant took that reportedly didn't go over great. Jackson has since deleted the tweet (or had someone delete it, most likely). 
The inaugural BIG3 season comes to a close Sunday with the championship game

Thomas was traded to Cleveland yet some fans are taking it out on him ... and his jerseys

The Celtics dealt the No. 1 pick to Cleveland as part of the Kyrie Irving-Isaiah Thomas tr...
Thompson was rumored to have been a point of discussion with the Cavs regarding Kyrie Irvi...

What the Celtics and Cavs look like after the Eastern Conference powers swap point men

Simmons was the No. 1 pick in the 2016 NBA Draft but did not play last season