Phil Jackson's greatest opponent yet: the enemy within
Before Phil Jackson can fix the Knicks and wage psychological warfare on the opposition, he has to repair what's long been broken at Madison Square Garden.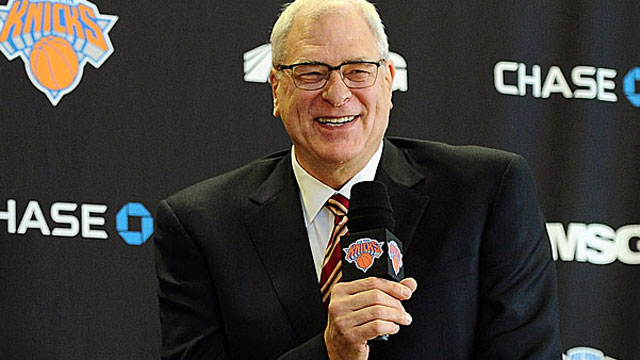 NEW YORK -- From his familiar, bemused grin to his one-liner about eschewing scouting trips to the Ukraine to his common-sense talk about ball movement and fundamentals, there was nothing not to like about Phil Jackson's introduction as president of the Knicks on Tuesday.
The sunlight poured in from Madison Square Garden's exterior on the Seventh Avenue pavilion where Jackson, 68, was welcomed home. And along with Jackson, his 11 championships as a coach and two as a player for the Knicks four decades ago, there came the requisite promises -- and visual symbolism you couldn't miss -- about the Knicks finally seeing the light of day.
Jackson promised to penetrate the many "layers" of the Garden, determine who's with him and who's against him, and go about building a new culture -- gathering his newfound acolytes around the proverbial campfire and telling them how things will be.
For his part, Garden chairman James Dolan vowed to get the hell out of Jackson's way. In a rare spasm in which he found himself speaking publicly and answering questions from the media, Dolan admitted he was ceding authority to Jackson.
"Gratefully and willingly, yeah," Dolan said.
The only thing more overdue than those words are the actions that must follow them.
Jackson could've stood up on the stage and regaled us all day with stories about Jerry Reinsdorf and Jerry Buss and getting picked up at the airport one day long ago in Red Holzman's Impala. None of that would've changed how badly the Knicks have gone astray from their roots over the past dozen years or so -- how truly dysfunctional and lost they are as a professional sports franchise.
Nothing Jackson or Dolan said on Tuesday changes any of that. None of Jackson's championships or motivational quips or big words could change the fact that he's in charge of this mess now. Fixing it will prove to be the most vexing challenge of his decorated career.
If he's really in charge -- Dolan promised so and Jackson said he wouldn't be here if he weren't -- then that is both the blessing and the curse. Basically, if Jackson thought it was difficult to get Kobe Bryant and Shaquille O'Neal to coexist long enough to win three championships, wait until he gets a load of this place.
"That's what I'll be doing the next month and the next two months and in the offseason is finding out how all of this lays out," Jackson said. "And there's obviously layers – personnel, basketball and Madison Square Garden – and I hope to be able to move through the organization and find out who wants to be on the group and who doesn't as we move forward. And we'll want to share ideas."
Jackson had flown in from the 80-degree weather at his beach house in Playa del Rey, Calif., having won his five most recent championships amid the glitz and glamour of LA. So it was somehow appropriate that his meeting with Dolan -- and ultimately, their unlikely partnership -- was brokered by a titan of the music industry, Irving Azoff, who has managed, among others, the Eagles.
You may insert your ironic song title or lyric here -- the point being, we've seen all this before. All that's different is the leading man.
Larry Brown was welcomed to the Garden with open arms and much of the same sunlight. He inevitably became embroiled in a power struggle with Isiah Thomas and left with a lifetime of grudges and a lawsuit in his wake. Isiah eventually was shown the door, too. Donnie Walsh was next up, and did his part to restore some level of dignity -- cleaning up the mess from the Isiah years, reconnecting the Knicks to their proud past and to the basketball fabric of the city. He, too, left the Garden with his scars.
"This organization has suffered in the past few years from things that have just been created, by press, by lack of continuity, by lack of solidarity," Jackson said.
Everyone else who has been welcomed to the Knicks with the kind of fanfare Jackson got on Tuesday has figured this out eventually -- usually the hard way. For this to work, Jackson will have to be smarter than all of them. But by virtue of his mere presence on the stage on Tuesday, it's a fair bet that he is. Otherwise, as he mentioned, he wouldn't be here.
Don't underestimate him, and here's why.
Every coach or executive in pro sports operates at the whim of his owner; autonomy, therefore, is an elusive ideal. They also inherit the owner's bureaucracy. And so it is with Jackson, upon whom Dolan imposed only one caveat: Would he be comfortable working with Steve Mills?
Mills is a smart, connected executive who means no harm. Quite the contrary; he's a company man who wants the company to succeed. But to have Dolan's trusted lieutenant installed as the man responsible for executing Jackson's vision could be viewed cynically as a mere extension of the authority that Dolan vowed he's ceding to Jackson so willingly.
Time will tell. But if Jackson has taught us anything over the years, it's that a man of his considerable wisdom has already sized up that "situation," as he loves to call these predicaments, and decided that he's got it covered.
Knicks fans better hope so.
For now, all we know is that Jackson is in place as the supposedly unfettered decision maker, one who couldn't have weighed in more convincingly for the idea of keeping free agent-to-be Carmelo Anthony and building around him. On that, at least, Jackson and Dolan agree.
The combination will keep the Garden turnstiles spinning and create infinitely more excitement than a 27-40 team deserves for however long this season lasts. It will come with a temporary freeze on ticket prices for next season, Dolan promised. After that, New Yorkers will have to dig a little deeper for the privilege of witnessing basketball events in the World's Most Underachieving Arena.
It's a tried and true strategy, to give the paying customers hope where success cannot be delivered -- one that is magnified tenfold at the Garden, a rare money-making machine that can afford to pay a championship coach $60 million over five years not to coach.
It is up to Jackson to navigate the minefield that has tripped up so many predecessors and ensure that this isn't just another rearranging of the furniture, but a real success story. The learning curve that comes from translating his leadership skills from the huddle to the executive office is the least of his worries.
Figuring out how to create the kind of positive, constructive environment he instilled on the teams he coached and transfer it to the NBA's most dysfunctional franchise? That's the challenge. 
"I think we have a teamwork situation that's going to be really quite capable of making important changes as we move forward," Jackson said.
Oh, he has a situation, all right. The most difficult one of his basketball life.
CBS Sports HQ Daily Newsletter
Get the best highlights and stories - yeah, just the good stuff handpicked by our team to start your day.
Please check the opt-in box to acknowledge that you would like to subscribe.
Thanks for signing up!
Keep an eye on your inbox for the latest sports news.
Sorry!
There was an error processing your subscription.
The Lakers, Knicks and Magic are among teams reportedly interested in the former No. 9 overall...

With the trade deadline just two weeks away, the rumor mill is already heating up

The NBA has a 10-game slate on tap for Wednesday evening
The Lakers have been without two of their key vets since Christmas Day

Walker has been involved in trade rumors for well over a year

The Wizards won't move their star guard, but reportedly have suitors for Porter