Philadelphia 76ers tie NBA record with 26 straight losses
The Philadelphia 76ers lost their 26th straight game Thursday night, tying the 2010-11 Cleveland Cavaliers for the worst losing streak in NBA history.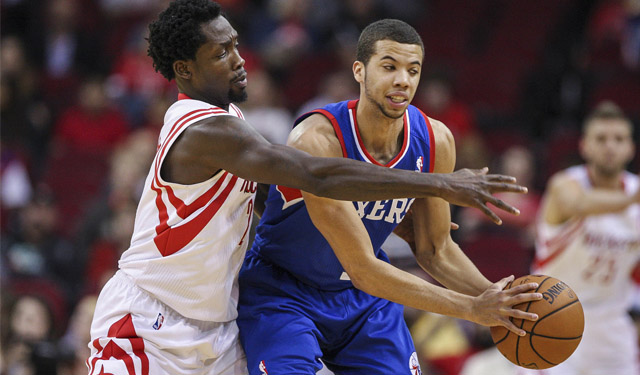 More NBA: Power Rankings | Expert Picks | Latest news & notes
Evan Turner crossed over Jerryd Bayless, got into the green paint on the floor, and absorbed body contact from Jerryd Bayless. He knocked down an awkward looking shot as time expired to give the Philadelphia 76ers the win over the Boston Celtics. 
That was back on Jan. 29. Since then, Turner was shipped to the Indiana Pacers and the Sixers haven't won a game. It's been 57 straight days since the Sixers put a notch in the win column and with their 120-98 loss to the Houston Rockets Thursday night, they tied an NBA record with their 26th straight defeat. The Sixers were supposed to be bad this season and maybe they were supposed to be this bad. 
When Sam Hinkie took over as general manager of the team and shipped All-Star point guard Jrue Holiday to the New Orleans Pelicans for the draft right of Nerlens Noel and a 2014 first round pick, the writing was on the wall for Philadelphia: this team was going to suck. There was no plan to try to improve upon the current roster and work their way up the Eastern Conference ladder. This roster was going to be stripped down completely and they were going to be really bad in the process.
While they've managed to avoid historically low win totals by getting to 15 wins, their 26-game losing streak ties the 2010-11 Cleveland Cavaliers as the worst streak in history. Their average margin of defeat during this streak is 17.0 points, three points worse than the 10-11 Cavs' 14.0 average margin of defeat. That Cavs team had a 55-point loss to the Lakers, while this Sixers team had back-to-back losses by 45 and 43 points, respectively. 
The 2010-11 Cavs ended their historic streak with an overtime win over the Los Angeles Clippers at home. The Sixers will have their opportunity to simply tie historic futility when they host the Detroit Pistons. A win in the next two games would avoid back-to-back winless games for Philadelphia as well. 
The Sixers are 0-3 against the Pistons this season, all by double digits for an average defeat by 14 points. It will be up to Michael Carter-Williams, James Anderson, Thaddeus Young, Henry Sims, and Hollis Thompson to avoid outright history. They haven't been able to avoid tying history in nearly two months. 
We've got all the scores, highlights and news for Thursday night

The Sixers big man got his first All-Star selection -- and maybe some revenge -- on Thursd...

It appears some players are not entirely taking the All-Star voting process seriously
There were some weird discrepancies between the fan, media and player votes

LeBron and Steph will be the captains for the 2018 NBA All-Star Game

Arron Afflalo was involved in an altercation with Timberwolves big man Nemanja Bjelica on...