PHOTO: Lance Stephenson poses with a cold hard million
Here's what one million looks like in front of the Pacers standout.
I always wonder what certain amounts of money look like. After "Brewster's Millions," that's usually the image that come to mind when I think of a lot of money, but that was $30 million. I wonder what $1 million looks like? 
Oh, good. Indiana Pacers forward Lance Stephenson is here to show me. From a now-deleted Instagram photo from Stephenson: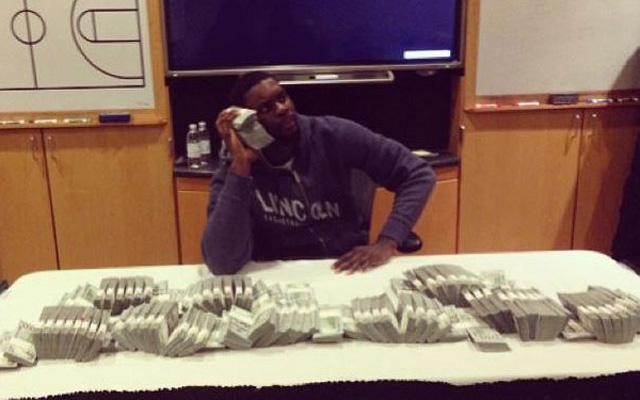 Another way of putting that is "more money than I will ever see in one sitting my entire life." But for Stephenson, it's likely to become pocket change this summer. Stephenson makes just over $1 million this year, but as an unrestricted free agent this summer, he'll be able to take a bath in the stuff like Scrooge McDuck come August. 
I do like how in the photo it looks like he's answering a phone made of money. 
"Yes, hello? Being rich? Lance here. See you soon." 
Oklahoma City has reportedly offered the MVP a five-year extension worth over $200 million

The big man was a big part of the Warriors' championship run last season

The Cavs jokes were out in full force after Golden State reportedly agreed to sign Antonius...
New York seems to be at the top of Irving's list of preferred destinations

Is it just a normal workout, or is LeBron continuing his recruiting efforts?

Chris Bosh answered on the spot about the LeBron James and Kyrie Irving situation