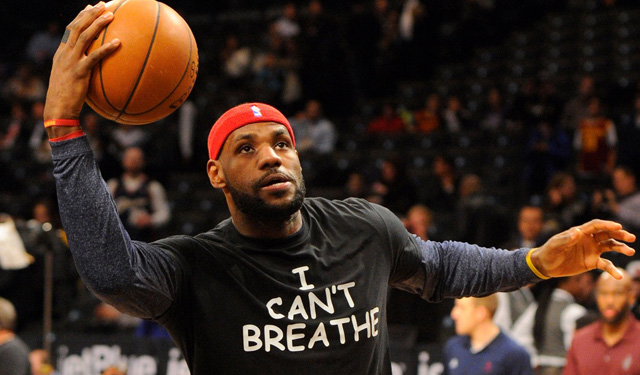 Two days after Chicago Bulls' star Derrick Rose wore an "I Can't Breathe" t-shirt in warm-ups as recognition of the protest of the death of a Staten Island man Eric Garner, Cleveland Cavaliers' stars LeBron James and Kyrie Irving decided to wear a similar shirt during Monday night's warm-ups in Brooklyn before they faced the Nets. Many members of the Brooklyn Nets, including Kevin Garnett and Jarrett Jack were also donning the shirts.
Garner died as a result of a chokehold that was administed by a NYPD officer back in July and a lack of an indictment of the officer has led to protests around the country. Following Rose's wearing of the shirt on Saturday, LeBron commented that he loved it and was looking for the same shirt.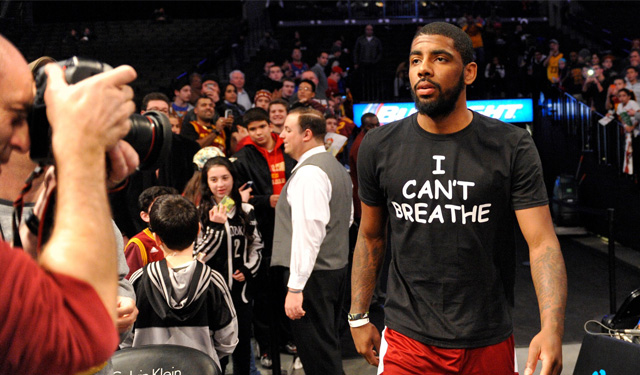 Rose spoke about his decision in comments on Monday, citing that he did it so his son can grow up in a safer environment. He said being a parent has changed him and that he may not have worn such a shirt prior to his son being born two years ago. Growing up in a tough environment, Rose said he understands what kids are going through with the current state of the world.
NBA commissioner Adam Silver told Yahoo Sports that he respects the players voicing their views on important issues but prefers they abide by the NBA's on-court attire rules.
On 'I Can't Breathe,' shirts, Adam Silver tells Yahoo: "I respect Derrick Rose and all of our players for voicing their personal views..."

— Adrian Wojnarowski (@WojYahooNBA) December 9, 2014
Adam Silver continued: "...on important issues but my preference would be for players to abide by our on-court attire rules."

— Adrian Wojnarowski (@WojYahooNBA) December 9, 2014
Nets' players (Garnett, Jack, Deron Williams, and Alan Anderson) posed with rapper and former Nets' minority owner Jay Z in their shirts:
Possibly the most powerful image of the night. via @NetsDaily pic.twitter.com/2uDR2jzeXU

— devin kharpertian (@uuords) December 9, 2014