PHOTO: LeBron James owns an Indians jersey with 'KING JAMES' on it
Cavs star LeBron James is supporting his team in Vegas, and he's making, uh, interesting fashion choices.
• 1 min read
LeBron James strolled into Cox Pavilion on Friday to watch the Cleveland Cavaliers play the Minnesota Timberwolves at summer league. He immediately attracted attention because he's the best player in the world, and then he inspired everybody to do a double-take: "Is he ... wearing a Cleveland Indians jersey with "KING JAMES" on the back?" Yes, yes he is.
.@KingJames is in the house taking in Samsung #NBASummer League action. You should be too: http://t.co/nSaIakq5i1 pic.twitter.com/l75NwpZeRa

— NBASummerLeague (@NBASummerLeague) July 17, 2015
James is seated with Cavs head coach David Blatt, assistant coach Tyronn Lue and general manager David Griffin. And yes, James is also wearing sunglasses inside. Because that is what all cool people do.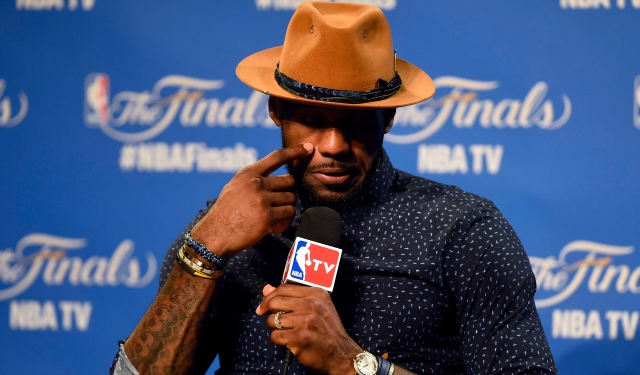 Thomas took to Twitter to let the Celtics know he doesn't want to ruin Pierce's night

The Hall of Famer was a seven-time All-Star with the Celtics, and was MVP of the 1976 Fina...

It's rare to see a legit punch in an NBA fight, but this was definitely one of them
We've got all the scores, highlights and news from an NBA Tuesday

The former Slam Dunk Contest champion will take his talents to Tri-State

Do NBA players have look-a-likes from famous paintings? We found out on the new Arts & Culture...