PHOTO: Who's excited to be a Boston Celtic?
The Celtics held a press conference to introduce the new players they acquired in a trade with the Nets. It was an, um, exciting day.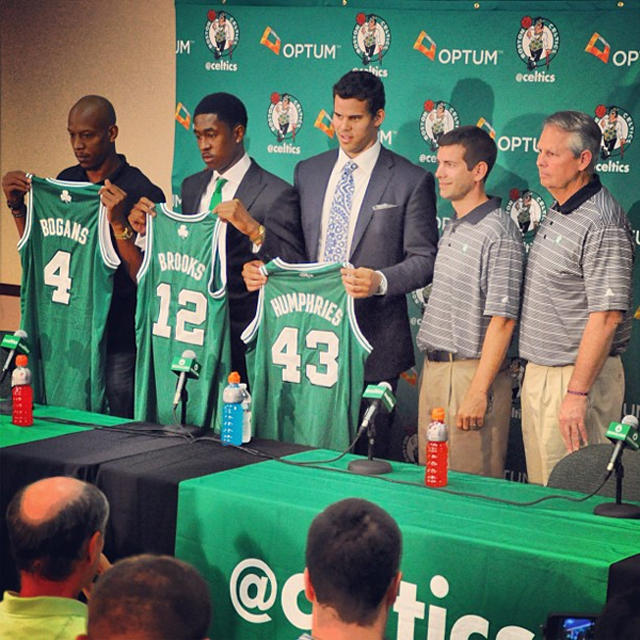 Police lineup or introductory press conference for the new Boston Celtics? 
This might surprise you, but this is indeed a press conference for the new era of Celtic basketball featuring Danny Ainge introducing Kris Humphries, MarShon Brooks and Keith Bogans who look... um, who don't, well, look all that excited. At all.
Humphries, Brooks and Bogans don't exactly join the Celtics in the best of circumstances. They're simply bit pieces in Boston's effort to begin a serious rebuilding effort. The Celtics traded away Kevin Garnett and Paul Pierce to acquire the trio from the Nets, so it's kind of understandable why there might not be that much excitement.
It's a transitional phase in Boston, and the looks on these faces really kind of says exactly what kind of transition it will be. 
One, two, three, ubuntu! Right guys? Right?
Picture via @celtics
Kevin Durant says he doesn't agree with what President Donald Trump agrees with

Evaluating where the future Hall of Famer might land up if he is freed from Chicago's rebuilding...

Adam Silver said his piece with the schedule out; we address that and what the slate looks...
The Hawks and Sharecare reportedly agreed to terms on a five-year deal

A look at the context of the schedule and who plays who when, and how far they travel during...

Durant took on rapper Lil Dicky and actually might have lost