Physical work done, Kobe Bryant now pushing to rejuvenate Lakers
Kobe Bryant scores nine points in his return. Now his next challenge is to get back into the Lakers' flow, and make them a contender again.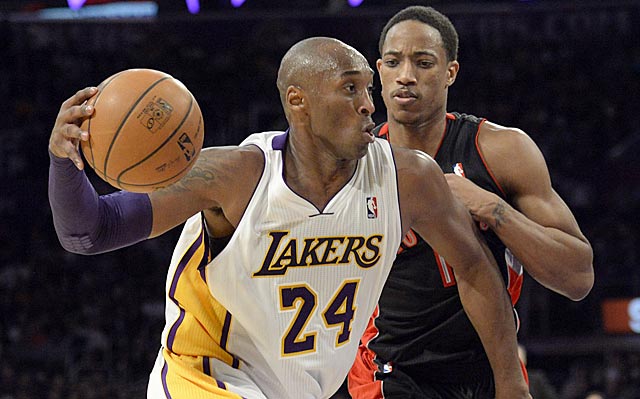 LOS ANGELES -- Standing in the very spot outside the Lakers locker room where he had climbed onto a golf cart eight months ago, his ruined leg unable to bear his weight, Kobe Bryant took a moment to reflect. Day after day, with no end in sight, he put in the work -- work that he wasn't sure he would be able to do.
That night in April, after Bryant's Achilles tendon had snapped and his hope for a sixth championship seemed to snap with it, someone told him in that hallway, "You'll get through this."
"Yessir," he said, without any wavering in his voice. But as Bryant told CBSSports.com on Sunday night after his first game back from a grueling rehab, that was where the certainty ended and the doubt began.
"It's such a long haul with no finish line," Bryant said after a sketchy return -- nine points and eight turnovers in 28 minutes of a 106-94 loss to the Toronto Raptors. "It's like, 'Can I do this thing consistently for eight months?' It's crazy. But I woke up every morning and just kept going at it."
Bryant didn't arrive at the finish line on Sunday night, only the starting blocks for a new journey. After so many months of rehab, after dealing with the humiliating feeling of not being able to walk, he finally decided on Friday that this game -- the 20th of a new Lakers season -- would be the one.
The opponent, of course, conjured visions of the biggest enemy Bryant will face in trying to reclaim his place in the game: his own legend. It was against Toronto that Bryant scored 81 points seven years ago, and he scored one-ninth that many in his comeback game. No Lakers starter scored in double figures, a product of what coach Mike D'Antoni called being "disrupted" by Bryant's return.
Bryant has always been chasing his own maniacal competitive demons, but now he chases something else he can't catch. Eight months is a long time to a 35-year-old basketball player in his 18th professional season. Eight months is a long break.
"I think the last time I had eight months off," Bryant said, "I was still in the womb."
When the break finally was over, Bryant liked some of what he saw. But there couldn't have been any clearer sign of what an out-of-body experience this was for him -- "weird," he called it -- than the fact that he needed to watch film at halftime to confirm he was moving as well as he thought he was.
"I'm still not sure exactly what I can do," he said. " ... You've got to test it out and keep pushing and pushing."
After three days of practice last week, Bryant woke up early on Friday and pushed himself in another training session. Around midday, he went to the Lakers' practice facility and put himself through another workout. After all this work, two-a-days weren't going to cut it. So Bryant subjected himself through another session that night.
"That kind of confirmed that it was about time for me to get my butt back out there," Bryant said.
In some ways, it was a case of careful-what-you-wish-for. The Lakers were out of sync, and Bryant was misreading everything on the floor -- passing the ball to places where he thought teammates would be, passing up every opportunity to finish drives at the rim.
"I felt that I was able to get into the lane," Bryant said. "If I felt like, 'OK, I want to penetrate now,' I felt like I could penetrate and turn the corner, which was a big question mark for me. And then once I got in there, I didn't make the proper reads most of the time. But the fact of the matter was, I was able to get in there. The reads you can improve on; the explosiveness, you can't. A little bit of it was there."
Now, the routine begins anew. Instead of training and rehabs sessions, Bryant's days fill up again with all the elements of the grind he has always embraced -- the film study, the diet and "those damned ice baths," he said.
"Now, I'm a fish back in water," he told me in the hallway of Staples Center. "Now, I just do my job."
But what is Bryant chasing now, if not his own ghost? What was the point of all the agony and rehab if the pundits are right -- if he's coming back to a team that can't win?
"To prove them wrong," Bryant said. "I mean, they've been wrong before, many times. Nobody's always right. So that's what we try to do. That's what I play for."
What Bryant was admitting was, he needs an enemy. From April 12 until Sunday night, the enemy was the surgically repaired tendon in his left leg. It was a well-defined foe Bryant knew would break eventually.
"You can't help thinking of all the support and the hard work," he said. "I've really, really worked my butt off this entire summer to get to this place. ... It makes you appreciate the game. It makes you appreciate this franchise and the city and everything that we've all been through. It certainly brings a mortality to everything, so it makes you appreciate it much more."
But now what? As Bryant emerges from rehab and jumps headfirst back into his basketball life, what forces him to climb into that ice bath? Who's the enemy now?
For Bryant, it's about proving he can do something with this Lakers team. And that this Lakers team can do something with him.
"I like this team," he said. "I think this team is full of competitive guys. It's amazing; everybody's on a one-year deal, but nobody's playing selfish. Everybody's playing for each other. Everybody's supporting each other. Everybody's willing and ready to compete every single night. I love this group."
He might be the only one.
"As far as that goes, it's like chopping a tree," Bryant said. "One swing of the ax is not going to get it done. You just have to keep at it and keep at it and keep at it and keep at it."
His first point came at the free-throw line, which is exactly where his last points came before he shuffled off the floor with his ruined Achilles last spring. His first basket was a double-clutch, left-handed leaner off the glass. Beyond that, nothing much went right. Playing basketball was so foreign to Kobe Bryant that he had to watch himself doing it on a video screen at halftime to believe it.
But the newness will wear off fast, and Bryant knows no other way to attack than just putting the work in -- chopping away at that tree. As far as I can see, this is the biggest one he has ever tried to cut down.
Our advanced computer model simulated Saturday's Thunder-Cavs game 10,000 times

The Jazz are reportedly looking into trading Rodney Hood before the Feb. 8 NBA Trade Deadl...

The Cavaliers are ready to reset everything if they have to. Their interest in Lou Williams...
It sounds like the Cavaliers are going to be active before the NBA trade deadline on Feb....

We've got all the scores, highlights and news for Friday night

George Hill, who is unhappy in Sacramento, could be a solution to Cleveland's backcourt si...