Pistol Pete to Ricky Rubio coin tricks: Journey down the rabbit hole
Pistol Pete Maravich was an amazing showman, who passed on his impact on the game to a couple of really fun point guards. Journey down the rabbit hole.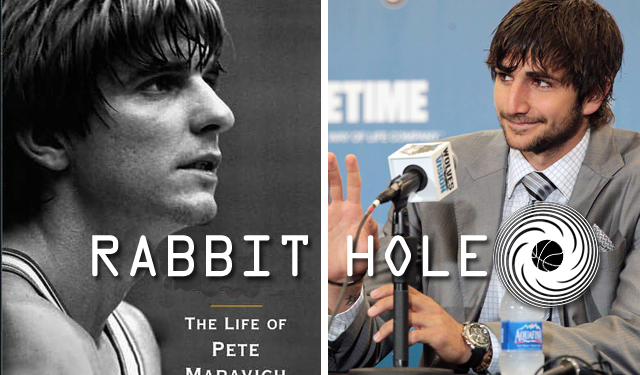 The presents have been unwrapped, egg nog has been consumed, and many of you found a way to squeeze some extra time off during a work week with a major holiday right in the middle of it. As you wait for the final weekend of the NFL season to finish up so you know where your team is playing in the playoffs/picking in the draft, you've got some more time to kill before you get off of the couch and to the mall to exchange some errant gift ideas. If you're looking to avoid that, here's a way to kill some more time on your Friday.
Let's journey down the rabbit hole and visit The Pistol this week:
First Stop: The Pistol was a showman
When I did the Rabbit Hole post on Wilt Chamberlain last Friday, I was in awe of what a showman he seemed to be both on and off the court. Showing his talents and setting individual goals that would delight the crowd when he hit those goals were big parts of the legacy that Chamberlain left behind. He wasn't the winner that Bill Russell was but he was quite the entertainer. Sometimes, we forget that the NBA has often been about entertaining us as a show, first and foremost. 
There may not have been a greater entertainer than what Pete Maravich gave basketball fans in the 60's and 70's. In the late 60's, The Pistol was a scoring machine at Louisiana State University. He averaged 44.2 points per game in 83 college games over his four years at LSU. Remember that he played in an era that didn't include the 3-point line, so he wasn't just launching from deep and getting extra points that way. He was giving the other team buckets like Uncle Drew.
Be still, Nick Young's heart.
Maravich used a deft touch for passing the ball and an incredible repertoire of shots guys wouldn't dream of attempting back in the 70's to average 24.2 points and 5.4 assists over his 10-year NBA career. The guy put on a show like no other.
(WARNING: Halfway through the video, they start playing Nickleback. I apologize for this but this might be the best mix out there that shows you the full entertainment of Maravich.)
There's so much fun going on in that video but the one play that always stands out to me is the fake behind-the-back pass. It's typically known as "The Rondo" now even though many players have done it before him. Jason Williams is the guy that brought back its popularity and made it more of a staple before Rondo made it a thing and basically trademarked it. Check out the Pistol fake in .gif form: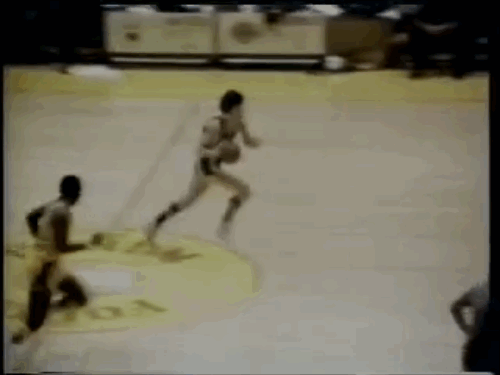 I'm not sure how many times we've seen this move pulled off in the NBA -- probably hundreds and hundreds of times. I'm not sure how many times we've seen this move with the fake happening at the top of the key before resulting in a layup. His first step after he gathers the ball is at the top of the key. His next step is launching himself from the free throw line for the layup. 
I could watch that all day.
Do your Pistol Pete homework
"You don't get here by just wishing." 
In the video above, Maravich utters that line when talking about the work he put into honing his craft as a kid. He said in the summer months, he would work on his game for about eight hours a day and it was four hours a day in the winter months. Granted, he had a little help because of his father Press Maravich, who was one of the most influential figures in basketball during the middle of the 20th century. But he still had to do the work.
Lucky for us, we can put in the same work like the Pistol did because he was so good about giving people instructional videos on how to improve their shooting and dribbling.
Pete Maravich produced hour-long videos in the 80's to show people how to work on their dribbling and passing. That's right; you can waste two hours online by just watching Maravich teach you how to pass the ball and dribble/spin the ball. This is why the internet was invented by Al Gore, right?
One of the best things about these videos is how Pistol tells you how easy everything is when he's doing it. He'll show you in slow motion how to do something and it definitely looks easy. Then he just starts doing stuff at a breakneck speed and it defies logic. Pete is also here to help us with our passing, so you can learn how to do that crazy wrist pass he's so good at doing.
What's great about these videos is there is a little bit of Uncle Rico's personality in Maravich whenever he's telling a story or talking about what a deceptive move something is. Around the 35:10 mark of the video, Maravich starts going into the art of the wrist pass and how you set it up. He talks about coming down on a 3-on-1 fast break and does a little dance.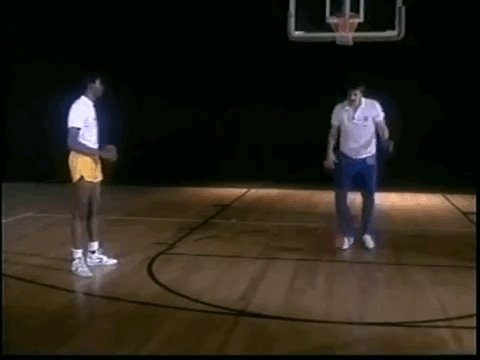 It's mesmerizing. 
Speaking of mesmerizing: Pistol Pete passing highlights
I would imagine like most people, you woke up this morning and thought to yourself, "I wonder if there is a YouTube video of just Pete Maravich passing the ball while R. Kelly's 'World's Greatest' is playing over the highlights?" You're in luck:
It's funny to think about how collegiate and professional basketball in the 60's and 70's were thought to be such a stiff game outside of the ABA, and yet Maravich was out there doing all of this stuff nobody had dare thought of or tried to do in games that mattered. Whether he maximized his talents or not is a good debate, but he certainly did his job of entertaining. 
Passing the showman ship down to other generations
When watching Pistol Pete highlights, the first player that comes to mind is Magic Johnson because he's probably the only other player in NBA history that had the flare for the spectacular in a similar way to Maravich. Magic was able to turn it into a more meaningful moment for fans because he brought Showtime into a winning culture. Every little bit of entertainment mattered. But we're not heading down the Magic Johnson path today.
Instead, we're going to show a brief glimpse into some of the magic that we saw from two other point guards with interesting style who were compared often to Pistol Pete because of the way they moved the ball.
There's a great YouTube account of just Jason Williams' mixes that include just about any highlight of his you could ever want to find. There's this great mix of his time with the Sacramento Kings when he really made his name and it's set to some Spanish rap. I have no idea if the Spanish rap is inappropriate because I don't speak Spanish. But here's hoping it's acceptable because the mix is too good not to post:
Some other great J-Will stuff that you can click and look at later is his episode of "ESPN The Life" from a decade ago, J-Will and Chris Webber on "Up Close", and a four-part, ONE HOUR AND 20-MINUTE VIDEO compilation of Jason Williams highlights from early in his career. 
And of course, you can watch Jason Williams go to the zoo because why wouldn't you?
Here's a ProTip for you: Don't ever play Jason Williams in H-O-R-S-E.
Ricky Rubio drops dimes/Euros like the Pistol
There are plenty of Ricky Rubio highlights to pass around (some pun intended there) here, but it would be too easy to find videos of Ricky Rubio slinging a basketball around the court. Instead, there's a much more impressive bit of video work that comes back from his days in Spain when he was a spokesman (spokesteen?) for McDonald's.
The marketing campaign was that Ricky Rubio was a phenom teenager playing professional basketball in Europe that just liked hanging out with his friends. All of these distinctions about him were accurate. What do you do when you hang out with your friends? You eat and you have fun, right? That's what these ads would show. A lot of the fun seemed to be centered around Rubio throwing coins into the pockets of his friends in spectacular fashion.
There's even a different version that involves throwing euros over metro cars and threw car windows. 
"Toma 1 Euro Ricky Rubio" McDonalds from Gabi Martin on Vimeo.
Can't get enough Ricky Rubio selling McDonald's food? This last one will probably give you your fix of that. 
That's not creepy at all. 
We've got all the latest scores, highlights and news from Wednesday's NBA games

LaVar Ball also made it clear he thinks his sons are being placed in 'a great situation'

The Thunder are just 12-14 on the season, despite the addition of Paul George and Carmelo...
The then-Heat teammates squared off during the 2011 ECF, but Erik Spoelstra put a stop to the...

SportsLine's Mike McClure, a DFS pro with more than $1M in winnings, gives optimal lineup...

Stephen Oh has his finger on the pulse of the Rockets and just made a pick for Wednesday night's...