Pistons decline to pick up Chauncey Billups' option
As expected, Detroit let Chauncey Billups become a free agent. Could this be the end of his career?
• 1 min read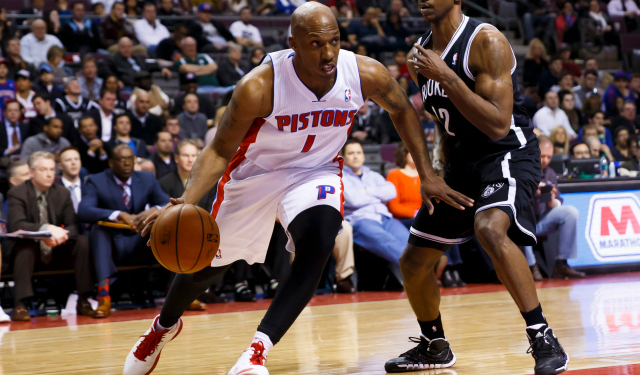 More Offseason Analysis: Coaching changes, news | Free Agency | Draft
The Detroit Pistons have officially announced that they will not pick up point guard Chauncey Billups' $2.5 option for next season, via Vincent Ellis of the Detroit Free Press. He signed a two-year contract last summer, but the team only guaranteed the first one.
Billups will turn 38 in September. He has played 17 seasons in the NBA. He's made five All-Star teams and won Finals MVP. He battled knee issues last year and hasn't been able to play more than 22 games in a season since 2010-2011. He is considering retirement, as he told 9news from his camp in Denver:
"You don't want to end the way that my last couple of seasons ended," Billups told 9NEWS.

…

"It's been very frustrating. But as we know, Father Time is undefeated. He's undefeated. But I can't be too frustrated, I got a lot of miles and a lot of use out of my body," said Billups.

…

"But I'm back from that now. Had the knee injury last year. Just getting older, it sucks sometimes you know," Billups said smiling.
He also told 9news that he feels as good as he has in more than two years, and would like to play one more season. It remains to be seen what the market is for Billups at this point, and whether or not there's a scenario that he's interested in. If he is healthy and wants to go out on his own terms, he might be able to stick around as a backup guard and a locker-room leader. 
Fergie: 'I'm a risk taker artistically, but clearly this rendition didn't strike the intended...

Victor Oladipo had a successful R&B album over the offseason and Jamie Foxx is a fan

Klay Thompson makes sure he stands out during All-Star Weekend
There's no shortage of moments to choose from

The Trail Blazers almost traded for Charles Barkley, but when they didn't, it put them in debt...

The self-proclaimed ASG snub Williams may be bitter about Butler requesting to sit out Sun...