Pistons' Jonas Jerebko will opt in for $4.5 million next season
Detroit Pistons reserve forward Jonas Jerebko will exercise his player option for next season and make $4.5 million.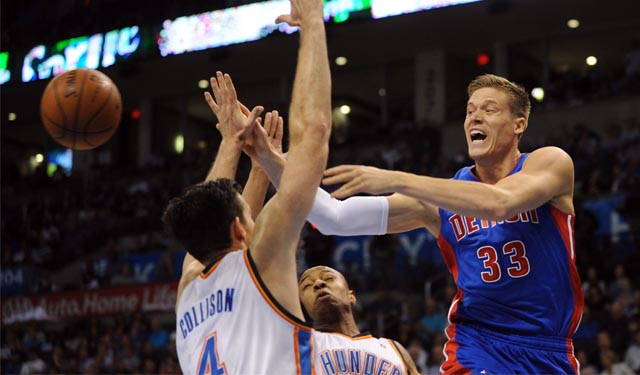 More postseason coverage: Playoff schedule, results | Latest news, notes
Detroit Pistons' forward Jonas Jerebko has had a tough go of it since sitting out his second season in the NBA with an Achilles' injury. After showing so much promise in his first season in 2009-10, Jerebko has struggled to show consistency on the floor or carve out a bigger role in the rotation for various coaches. But he'll still remain with the Pistons for next season despite having a player option he could choose to decline.
Jerebko told a Swedish newspaper he intends to pick up the $4.5 million player option to complete the four-year contract he signed back in 2011. With Stan Van Gundy taking over the Pistons, it has to be an attractive system and opportunity for Jerebko to make a name for himself once again. From the Detroit Free Press: 
Detroit Pistons forward Jonas Jerebko told a Swedish newspaper he would pick up the $4.5 million player option and remain with the Pistons for the final year of his contract.

"I feel like I can do much better than what I got the opportunity to show this past season," Jerebko told Borås Tidning. "I know I can do it better than I showed last season. I expect the next will be much better."
It's highly unlikely Jerebko wouldn't be able to make close to $4.5 million next season if he opted out of his deal and hit the open market. While it's been fairly confusing on why he hasn't continued to be a valuable role player, his last three seasons have been less than stellar. Following his intriguing rookie year, Jerebko missed the entire 2010-11 season with an Achilles' tendon injury.
That didn't stop Joe Dumars from re-signing Jerebko to a four-year, $18 million in the 2011 offseason. Jerebko has seen a decline in his minutes since the 2011-12 season and has fallen out of the rotation with a couple of coaches in Detroit. One bit of optimism regarding his career could be a possible newfound 3-point shot that would fit nicely into Van Gundy's attack. Jerebko is just a 32.8 percent shooter from downtown but he improved to 41.9 percent on 74 attempts in 2013-14.
Thomas took to Twitter to let the Celtics know he doesn't want to ruin Pierce's night

The Hall of Famer's jersey was retired by the Celtics in 1982

It's rare to see a legit punch in an NBA fight, but this was definitely one of them
We've got all the scores, highlights and news from an NBA Tuesday

The former Slam Dunk Contest champion will take his talents to Tri-State

Do NBA players have look-a-likes from famous paintings? We found out on the new Arts & Culture...