Pistons name Stan Van Gundy head of basketball operations and coach
After quick hiring process, former Magic coach SVG hired to oversee the rebuild of the Pistons.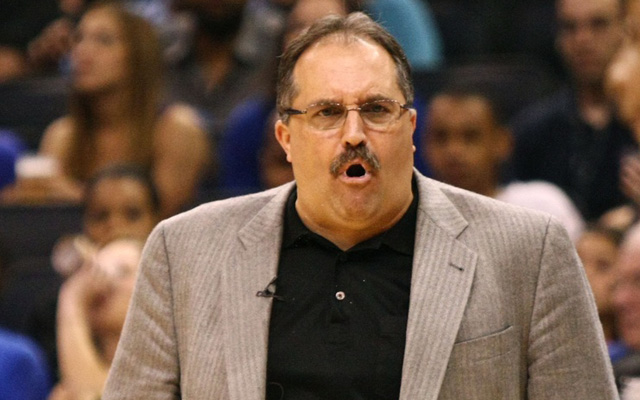 More NBA: Season Awards | Grades: East | Grades: West | Seasons in Review
The Detroit Pistons formally announced on Wednesday that they have hired Stan Van Gundy as head of basketball operations and coach. 
"Stan is a proven winner in our league.  He instills his teams with passion, purpose and toughness. He is a great teacher who will help our players grow and develop," said Pistons Owner Tom Gores.  "Stan is more than just a great coach, he's a great leader.  What I'm most excited about is how Stan can help us shape the franchise and instill what it means to be the best.  He's also a great communicator.  My time with Stan has me convinced that he will bring our players, team and community to a very proud place."
CBSSports.com's Zach Harper broke down what the deal means for SVG and the Pistons, and where they go from here: 
Assuming Van Gundy wants to keep rolling with his same system of work from his Magic days, having two interior big men on the court at the same time seems to be an unlikely scenario. Andre Drummond will be 21 years old when next season begins and the comparisons with young Dwight Howard are apt. They were both in their second NBA season at the age of 20 and Drummond's numbers are actually better in a few areas. It doesn't mean Drummond is the next Howard but Van Gundy knows how to develop a big man of similar athleticism and skills.

After that though, it gets a bit tricky. Van Gundy is saddled with Josh Smith earning $40 million over the next three seasons and Greg Monroe will be a restricted free agent this summer after not agreeing to a contract extension with Joe Dumars and company this past offseason. If we're going off of past roster and lineup constructions of Van Gundy in Orlando, Monroe would be sign-and-trade bait (albeit it's a bit trickier with his restricted free agency status) this summer. Unless he can develop a 3-point shot, he doesn't exactly fit into the stretch-4 position Van Gundy was so good at utilizing.
via Where does the Pistons' roster go with Stan Van Gundy in charge? - CBSSports.com.
Van Gundy is reportedly considering hiring his former boss in Orlando, Otis Smith, as GM to handle the day-to-day operations. The deal for SVG is believed to be five years, $35 million, one of the most lucrative in the NBA. 
Van Gundy coached the Magic to the Finals in 2009, turning them from laughingstock into powerhouse and transforming Dwight Howard from raw, undisciplined big man into a Defensive Player of the Year. Prior to that he was an assistant under Pat Riley at Miami and took over for the team in 2006 before "stepping down" as Riley took over. He has a 371-208 regular-season record as coach. 
A report last week indicated Charlotte is looking to move Walker, along with one of its hefty...

Barea responds by claiming that none of Wall's teammates like him; the Wizards continue to...

Cousins finished with 44 points, 24 rebounds, and 10 assists
Love left Saturday's game, which the Cavs lost 148-124, due to illness

Kidd was fired by the Bucks on Monday afternoon

We've got all the scores, highlights and news from an NBA Monday