Pistons' Smith upset with benching over perceived lack of effort
Josh Smith is being singled out by Maurice Cheeks and he's starting to get a little tired of it.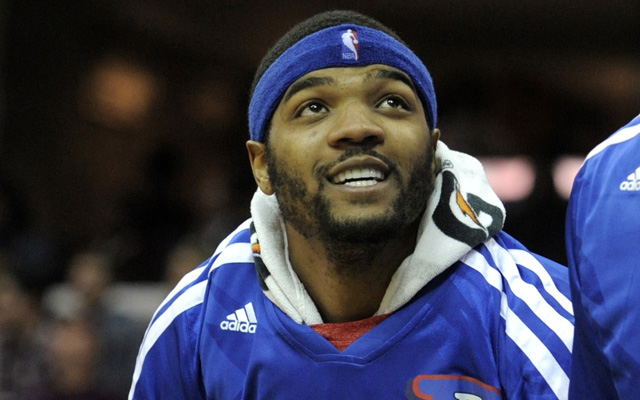 There's a little bit of controversy building in Detroit, where coach Maurice Cheeks and star forward Josh Smith have had several disagreements this year. In Saturday's blowout loss to Washington, Smth was benched for a second-time in the second half. The dispute stemmed from a perceived effort issue on Smith's part in Cheeks' eyes, and after the game, the Pistons' biggest free agent acquisition wasn't too happy about it. 
"It's an honor for me to play, you know what I'm saying?  So when anybody challenges -- or anything about the fact that, you know, about me not wanting to play -- then I take real offense to it," Smith said.

"I mean, it's unfair," he said.  "Like I told you before, I play this game hard, each and every day.  I'm gracious for the opportunity just to be able to play my dream.  When I was younger, I played this game for free, year-round.  This is what I love to do.  So why wouldn't I want to come out here and try to put my best foot forward every time I step out on the court?

"I'm competitive.  I want to win at everything, whether it's card games, whether it's playing a video game, talking trash to my friends -- I want to win bad.  And that's anything I do."

Smith added that he isn't sure whether that ultra-competitive nature sometimes gets misinterpreted.

"I'm an aggressive person," he said.  "I'm not passive.  Maybe a passive person that takes life that way won't understand an aggressive person.  An aggressive person that's of my caliber will understand it.  So I really can't worry about what people perceive of me, because it's just things that people might say.  They don't know me.  They don't know me on a day-to-day basis."
via Maurice Cheeks vs. Josh Smith? Pistons have first controversy, star takes 'real offense' | MLive.com.
Cheeks indicated there would be no further punishment for Smith, and he made it clear Smith wasn't the sole reason the Pistons lost their fourth game in five contests. 
It's been a disappointing season for Smith so far, averaging the lowest points he has since his second year in the league, and taking a bizarre 3.4 three-pointers per game. There have been serious questions about whether the frontcourt triad of Smith, Greg Monore, and Andre Drummond can play together (Hint: plus/minus numbers indicate they cannot), but Smith's play in particular has been poor. He's shooting 41 percent from the field, and most mistifying, a player that truly was one of the best defenders in the league two seasons ago has been woeful at that end. 
Whatever it is going on with Smith, Cheeks is sticking with his intention to call players out, whoever they are, on it. Smith has never been a problem guy in the locker room before, it would take a lot for him to actually become an issue for Cheeks by complaining to management, but there's also only so long that a star player on a young team is going to want to be singled out as the issue. 
Galin Dragiev has his finger on the pulse of Cavs basketball and just locked in a play for...

Coming off a win over the Spurs, the last-place Mavericks will try to get another upset victory...

Lonzo Ball and LeBron James will meet for the first time
Toronto looks different this season thanks to a new system and the emergence of several young...

December 15 marks the day that teams can begin trading their newly acquired free agents

Magic Johnson and Rob Pelinka wanted Ball to tone down his criticisms of Lakers coach Luke...