P.J. Tucker wants to return to Phoenix as a restricted free agent
Suns forward has terrific value on a minimum contract but is set to get paid.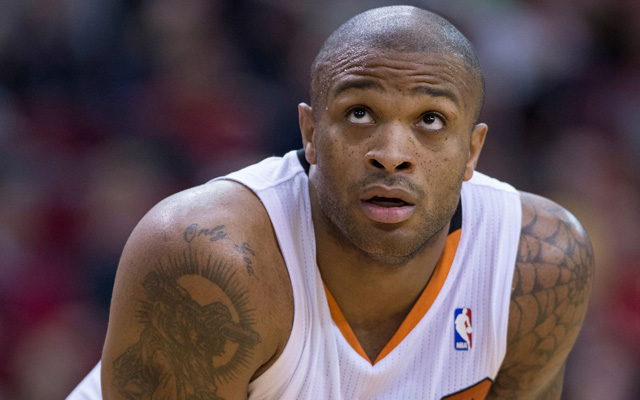 More NBA: Power Rankings | Expert Picks | Latest news, notes
Suns forward P.J. Tucker is a fascinating story. Drafted in 2006 by the Raptors, he was sent to the D-League and eventually released. He bounced around Europe for several years before landing with Phoenix. Now he's a starter for a team within range of the playoffs and is their tough, emotional leader. 
Coach Jeff Hornacek told me earlier this season that when the Suns are down at halftime, it's Tucker who lights a fire under the team. Tucker is set to be a restricted free agent this summer and with his skillset and toughness, he's going to get offers. He told the Arizona Republic this week he wants to return to Phoenix, however. 
For one, Tucker knows he will be making much more money next season after playing on a veteran's minimum contract for the next two seasons. It also played his hand that he wants and expects to be back with the Suns next season despite becoming a restricted free agent in July.

"Of course, why would I not?" Tucker said. "They brought me here. I think I exceeded their expectations and mine with what has transpired. Of course, I want to retire a Sun."
via P.J. Tucker wants to return but with a higher price.
Tucker also talked about how he feels indebted to the organization for the chance they gave him. But as you hear a million times from players, managers, and the like, the NBA is a business. If he gets a huge offer from someone, and the Suns don't want to match to keep their options open, it's going to get tricky. 
Now, what's a huge offer? Is he worth more than $8 million per season for 11.1 points, 7.7 rebounds, 2.1 rebounds and 1.6 steals on 39.6% from 3-point shooting this season, along with terrific defense? There are going to be teams that want him. How much the Suns do will determine if he's a Sun for life. 
The 76ers guard is in hot water after a controversial video surfaced showing him using a racial...

James Harden is the only player representing the best team in the NBA

Adam Silver sees a 1-16 playoff as a real possibility in the future if they can figure out...
Galin Dragiev is SportsLine's No 1. NBA expert and locked in a pick for Team LeBron vs. Team...

LeBron and Durant both responded to a newswoman's recent comments, telling them to 'shut up...

Mitchell's Slam Dunk Contest win was the icing on the cake of an incredible run of success