Playoff Assist: Danny Green makes the forgetful Heat defense pay
In the 2013 NBA Finals, Danny Green set the record for most threes in a Finals series by the end of Game 5. In Game 1 of 2014 Finals, the Heat forgot about him again.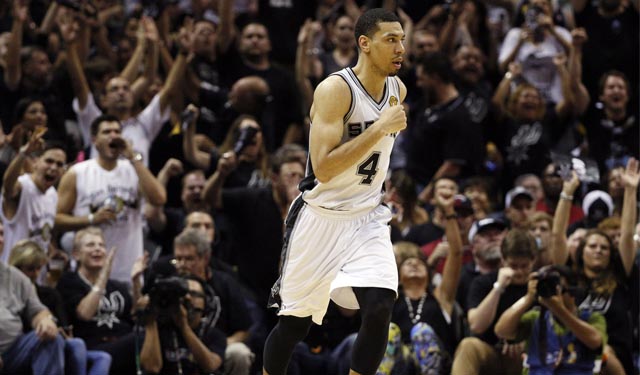 More postseason coverage: Playoff schedule, results | Latest news, notes
The Miami Heat defense isn't afraid to make a role player beat them. They play an aggressive style of defense that involves trapping, looking to take away the paint with help defense, and a swarming prevention on the perimeter that is hoping to force turnovers to get their stars a quick look the other way.
When Heat coach Erik Spoelstra talks about playing with "their identity" and playing "their game," it's all about an aggressive attack on both ends of the floor that is meant to overwhelm you mentally as well as physically. There's a "risk vs. reward" type of balance they must keep in check at all times in order to ensure they don't get ahead of themselves or put themselves in too big of a hole on either end of the floor. And most of the time, it works for them.
In the 2013 NBA Finals, San Antonio Spurs' sharpshooter Danny Green set the NBA Finals record for 3-pointers made in a single series after just five games. He made 25-of-38 from downtown in those five games and the Spurs held a 3-2 lead heading back to Miami. After Game 5 of that series, I did a video breakdown of how he was getting open. The main reason I could come up with was that the Heat just simply weren't covering him. It wasn't until the final two games, when he made just 2-of-11 from downtown, in which it looked like the Heat wanted to stay close to him.
It's a risk the Heat were willing to take for a while, but eventually they changed their ways and played leaving him open a bit more conservatively. In Game 1 of the 2014 Finals, Danny Green was mostly quiet until a fourth quarter explosion led to him helping erase a seven-point lead in the blink of an eye. The looks he knocked down in that fourth quarter run started looking a lot like what we saw in the Finals of last year -- open.
"They do some stuff different than other teams do," Tiago Splitter told the media on Friday. "They double team you, they force those turnovers. Sometimes they don't care if they leave a guy open, they want to force those turnovers. That's why we got so many open looks, but also so many turnovers. That's how they play. We have to figure out how to play stronger.
Yeah, most of the teams don't do that. They give you more space. Most teams don't do that."
It's true. They leave guys open, even when it comes to fantastic outside shooters because they're trying to anticipate a mistake in getting the ball to the open player or another offensive guy on the floor. Green talked about the Heat's smart, communicative defensive style on Saturday with the media (video via Matt Moore):
Green is absolutely correct in his assessment of the Heat's defense. The problem though for Miami is that they didn't do this at all during the fourth quarter run that allowed the Spurs to erase the deficit and pull way ahead of the Heat to close out the victory.
Let's take a look at the first 3-pointer Green hit. It came with just over six minutes left and the Spurs trailing by four.
Up until this point in the quarter, the Spurs had only scored in the paint or at the free throw line. They were starting to dominate in the paint with Splitter, Tim Duncan, and Tony Parker. With Duncan grabbing advantageous position inside and Boris Diaw at the top of the offense looking where the best passing angle was, he noticed Dwyane Wade collapsing in to take away the lob over the top.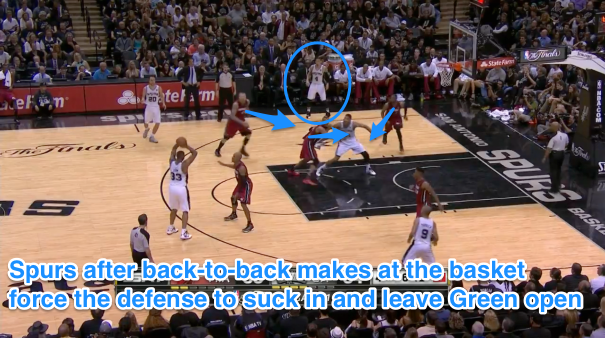 Three different Heat defenders are paying attention to Duncan. Diaw floats the pass over Chris Andersen to Green in the corner. Green struggled in the left corner this season, making just 35.9 percent of hose 3-pointers after making 47.4 percent of them last season. But in the playoffs, he's returned to form by making 6-of-11 (54.5 percent) including this shot.
The second 3-pointer came off an aggressive attack in transition with just under six minutes left and the Spurs losing by one point.
After Ray Allen missed a layup on the other end, the Spurs got on their fake horses and pushed the ball up the floor. Allen trailed Green on the play and Manu Ginobili astutely getting the ball to Green opened up a big 3-point attempt for him a few beats later.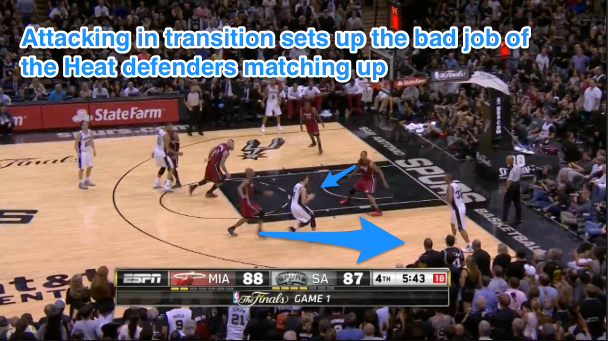 Green gets the ball and starts driving into the lane, only to be cut off by a helping Rashard Lewis. Allen is trailing the play and adjusts to defend Diaw after he receives the ball in the corner.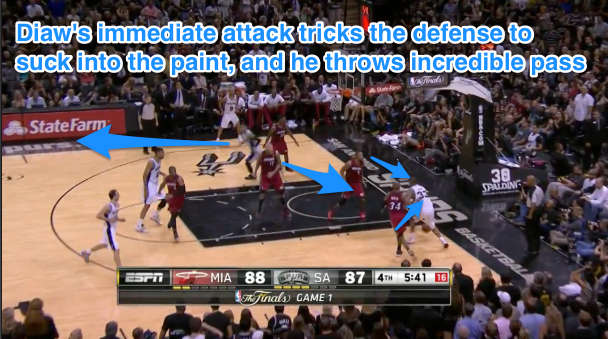 Diaw mishandles the ball a little bit after the pass and immediately drives the baseline. Lewis had switched onto Green as Andersen also sunk into the paint, but both players converge to cut off the basket from Diaw on his drive. This leads to Diaw wrapping a beautiful one-handed pass out to a wide-open Green on the left wing. How open was Danny Green?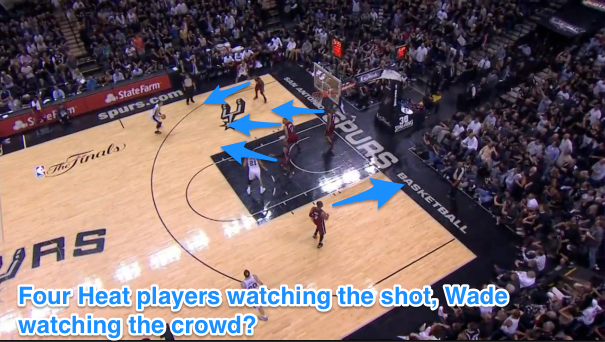 This is a lot of open real estate. This is the kind of unclaimed land that Tom Cruise and Nicole Kidman were trying to set up a homestead on in the movie "Far and Away" (How's that for an outdated movie reference?). All the Heat can do is either watch the open 3-pointer by Green or watch the crowd, but regardless they're left just hoping he misses.
The third 3-pointer of the corner came on what I can only describe as a Gregg Popovich magic trick. This offense set with about four minutes left and the Spurs up two points is just beautiful basketball that you should hope your team tries to emulate. 
It really is a perfect illusion, so let's speak about it as if we're old-timey magicians discussing the construction of an illusion. It starts with The Set-up: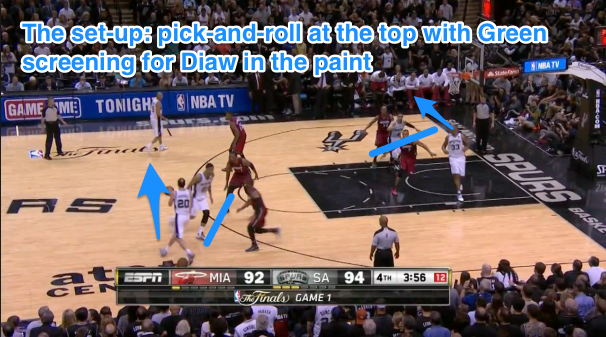 The set-up is a pick-and-roll hand-off play between Duncan and Ginobili off of a ball reversal to the right wing. The Heat trap these pick-and-rolls quite aggressively to try to make the offensive players uncomfortable and ultimately panic. Both Wade and Chris Bosh end up chasing Ginobili to the top as Green sets a screen on Lewis to get Diaw going back toward the left side of the floor.
Next is The Performance: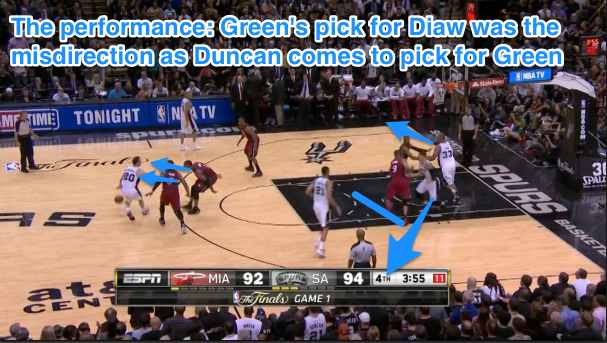 Green's pick for Diaw is nothing more than a way to confuse the interior defenders, Allen and Lewis. The roller the play, Duncan, is moving down to pick off Green's defender, whether it ends up being Lewis or Allen. With Diaw clearing to the other side, it leaves the Heat defenders with a decision to make on who chases Green whilst trying to navigate the Duncan screen.
Lastly, we have The Prestige: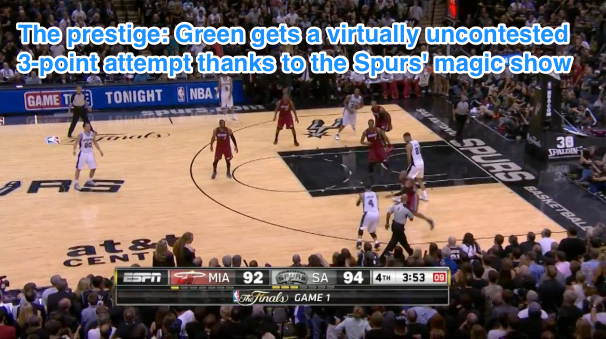 Bosh recovers to Duncan inside as Allen eventually gets around Duncan's hip to get out on Green. The problem is the illusion of any action inside ends up getting Green a 3-point shot that is pretty much uncontested. As Allen gets there with his hands not in position to contest the shot, Green is already squared up and in his shooting motion. Spurs go up five points and never really look back against a LeBron James-less Heat team.
Abracadabra, you're down 0-1 in the series, Miami.
Here are the three big Green threes together one more time.
This is the risk of the Heat allowing Green to continually get open. It nearly sank them in the Finals a year ago and it's something they have to be mindful of in this series as well. You can still play your game and keep your identity. You can still find ways to force turnovers and be aggressive. But you can't keep letting Danny Green get open for these shots.
They did a great job throughout most of that game of keeping Green in check, even though some of his misses were simply misses on good shots. But eventually those shots will fall and so to will the Heat if they don't stop letting Green get loose from them.
An Alabama native, Barkley campaigned for Jones leading up to Tuesday's election

Kerr knew just what to say after Jones pulled off an upset in Alabama

The future of the league was on display on Tuesday night
Check in throughout the night for the latest news and highlights from NBA games

The Lakers legend details why the NBA popularity will continue to rise

SportsLine's Mike McClure, a DFS pro with more than $1M in winnings, gives optimal lineup...