Playoff Assist: Dwyane Wade's scoring is pacing the Heat
Miami Heat star Dwyane Wade has given his team a nice, old-time boost on offense with the way he's attacking the Indiana Pacers.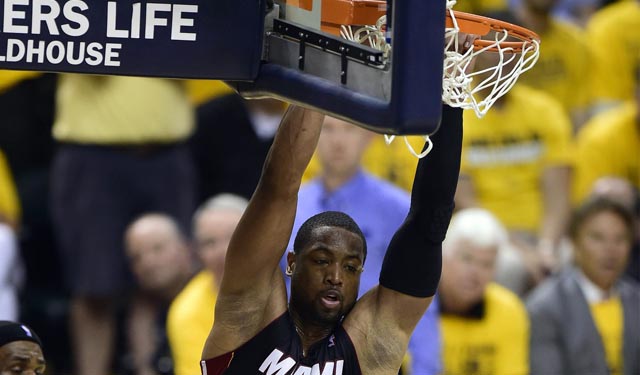 More postseason coverage: Playoff schedule, results | Latest news, notes
When Dwyane Wade has the ball and is looking to score, you want it to be a fluid experience within the construct of the Miami Heat offense. You don't want him doing a lot of troubleshooting with his dribbling -- ineffective crossovers, pulling the ball back out, and then trying something else to hopefully put his defenders on his heels. You want Wade moving toward the basket, getting into the middle of the opposing team's defense, and making them second guess what the next move could be.
That's when Wade is at his best. When he can be more of a north-south attacker instead of an east-west attacker, he's much more effective because his strength allows him to create space in the middle of the floor. Defenders bounce off of him, sometimes with the help of a guiding nudge, and he immediately employs his soft touch in the lane to drop some frustrating buckets. When he's playing like this, you can only hope for his knees to swell up, as perhaps Lance Stephenson might say. 
Throughout the first two games of the Eastern Conference finals redux against the Indiana Pacers, Wade has been the team's best scoring option. He's averaging a team high 25 points and shooting 64.7 percent. This is coming after he made a career-best 54.5 percent over the course of the season. He became such an efficient scorer in terms of field goal percentage because he understands his weaknesses. He's abandoned the 3-point shot almost entirely. He took only 32 attempts in 54 games. It's a good idea considering he's made only 28.9 percent of his career attempts.
In the first two games vs. the Pacers, he's showing an even greater understanding of how he should be attacking the basket. He rested up during the regular season and has had a good amount of rest through the first two rounds of the playoffs. Wade looks fresh on the court and he's been able to move. 
His ability to move fluidly right now and have some explosiveness (combined with his strength) is allowing him to get to the basket, which helps set up the jumper. That in turn puts the defense on their heels and gives him the ability to score with floaters in the middle of the paint to completely screw with the mind of the help defender. This way, they never know where to anticipate his next shot. If he reads that defender's guess properly, it means he'll have an even better look.
Looking at his shot chart, Wade's scoring efficiency is through the roof right now: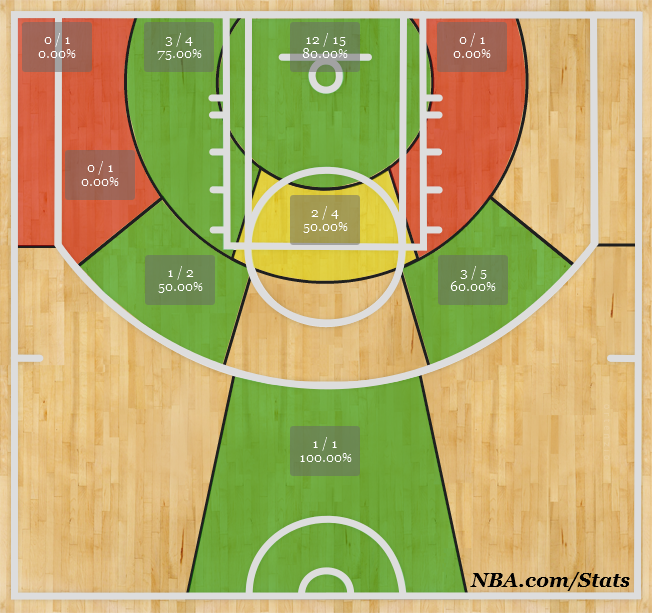 Let's check out his ability to attack the basket, get his jumper going, and barrage the middle paint against the Pacers.
Attacking the basket
Wade has made 14 of his 19 shot attempts in the paint in this series, which is a 73.6 percent success rate. Considering we all thought he was completely done as a consistent, impact star, this is encouraging news for those wanting the Heat to three-peat. For those who aren't too keen on the idea of a three-peat from this squad, Wade's play has to be a concern. Take a look at his scores at the rim.
He's not jumping over players and putting them on a poster like he did Anderson Varejao, but his explosive glides to the basket (only way I know how to describe them) are killing defenders. Wade has been extremely active both in the half court and in the open court. He's leaking out and getting ahead on the break for easier buckets. He's coming off screens and curls to get right into the paint and be one long stride away from the bucket.
With Wade able to go at a Pacers' defense who isn't used to players quickly getting to the rim against them, it's changing things for the Heat when they're stuck on offense.
Having the jumper going
Getting those looks inside will typically help your jumper too. Wade's only taken two 3-pointers this series and both were wide open. His attack with the jumper is still coming from the mid-range. The mid-range jumper is often regarded as the worst shot in basketball, but you'd much rather him taking these shots than hoisting up 3s he can't hit. Let's take a look at his jumper:
He's 4 of 8 on mid-range jumpers this series and he's showing a great rhythm on most of them. Not too many of the makes have come on bad shots. Those can usually encourage a player to think they're hot and can throw up anything in any situation, but Wade is staying mostly balanced and intuitive with how he's weaponizing the midrange area for his game. 
The middle of the paint becomes hardest to defend
Where he really makes the Pacers' defense uncomfortable is that floater zone he's employing so perfectly. Roy Hibbert is great at protecting the rim, but he's not an explosive leaper by any means. When Wade attacks the middle of the floor, which is happening a lot, he's pulling up a couple feet from the rim protector and pushing the shot while remaining perfectly balanced against his defender.
If you make the shot blocker hesitate, you can play off of that every time as long as you read his body position and momentum properly.
This is what Wade has done through two games. LeBron James will likely get going and Chris Bosh is sure to follow. We'll see a couple of role players step up and give the Heat a boost. With them being able to rely on Wade as much as they have, he's been their constant on offense. Hopefully his knee that he banged on the back of Paul George's head isn't going to start bothering him. 
This isn't the Wade most of us expected, but it's a pretty entertaining scoring attack to observe. It isn't as explosive as the old days, but he understands his game so much better now.
Here are the full lineups for the 2018 NBA All-Star Game

We've got all the scores, highlights and news from an NBA Tuesday

Players reportedly challenged Love for leaving Cleveland's game against OKC early
The Cavaliers are reportedly very close to acquiring the 10-year veteran point guard

Kobe Bryant is now an Oscar nominee. Here's how you can watch his short

Players such as Metta World Peace, Baron Davis and Nate Robinson have signed on