Playoff Assist: Heat's Chris Bosh gives the Nets a lot to think about
Miami Heat big man Chris Bosh is exactly what you want in a big man in today's NBA and he's making the Brooklyn Nets uncomfortable.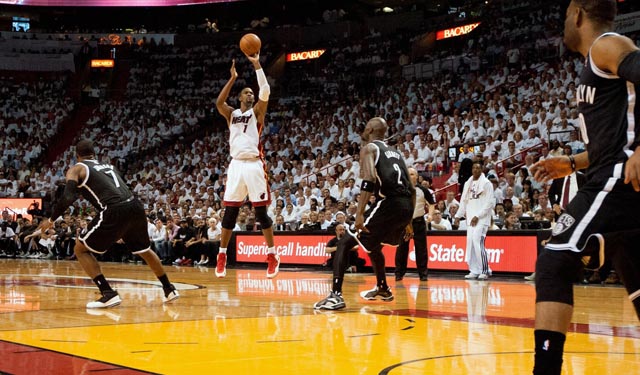 More postseason coverage: Playoff schedule, results | Latest news, notes
Miami Heat big man Chris Bosh has taken a lot of scrutiny since he joined up with LeBron James and Dwyane Wade in 2010. There was this bizarre need to discredit whatever the Heat were creating and since LeBron and Wade were the two best players of the lot, Bosh became the target. He wasn't your typical back-to-the-basket power forward, and when the Heat began featuring him almost exclusively at center, he certainly wasn't harkening back to the days of Hakeem Olajuwon and Shaquille O'Neal.
What he was doing though -- and what the Heat figured out fairly early on -- was ushering in the new era of big men in the NBA. It's great to have a guy who can back you into a disadvantage in the low block, turn his shoulder into yours, and power through for a shot at the rim, but we don't have many of those opportunities before. It has as much to do with the rule changes and defensive schematic evolutions of the game as it does with a lack of players being engineered toward low block dominance.
You can overload the low block with help now, giving the post player very little room to operate. You can have a secondary big man playing the shoulder turn, and the posting big man knows it. Being able to stretch the floor and bring a rim protector or shot contester away from the focused action of an offense looking to get quality shots at the rim is key. Considering Bosh's ability to roam, hedge, and cut off lanes on defense, his ability to disrupt the defense doing this on the other end shows just how invaluable he is, no matter what his individual numbers are.
In the Game 1 victory over the Brooklyn Nets, Bosh made the Nets incredibly uncomfortable when Miami had the ball. He had 15 points on 5-of-11 shooting, which doesn't sound overly impressive, but every shot he got was a quality shot and he kept secondary big defenders away from LeBron James inside.
Chris Bosh roams in space
Whether it was Kevin Garnett or Andray Blatche defending Bosh, he gave them problems. First, let's take a look at the way he moves in space on the floor and how it allows him to take a lot of quality shots. The amount of quality shots he takes allows him to keep an efficient Heat offense humming. The Heat were second in the NBA this season in offensive efficiency, scoring 109.0 points per 100 possessions. With Bosh on the court, that number was a 110.4. 
In Game 1 against the Nets, even the missed shots by Bosh seemed to be great, quality looks in which the Nets were breaking down defensively. Let's take a look at a few of his six misses:
The one consistent theme in these missed shots -- other than that they were missed shots -- is how good the looks are for Bosh on these plays. He's moving within space on the floor perfectly and missing attempts that you'd expect him to make quite regularly. While you can't expect him to make every shot, the fact that he could have had a much better game based on the looks he had is pretty frightening for the Nets.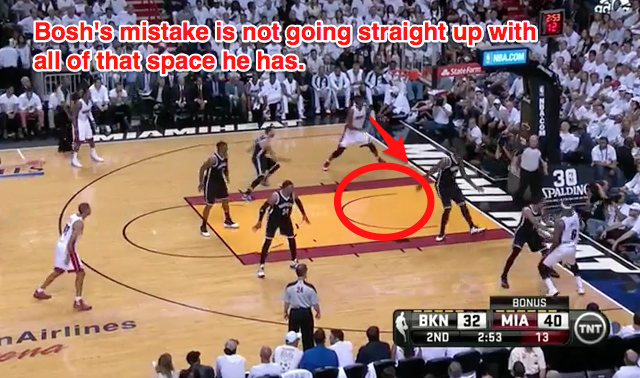 Blatche recovered on a roll by Bosh immediately into overloading the strong side to take away the baseline from James, except Bosh positioned himself in order to allow a quick passing decision by LeBron. Bosh normally scores on a play like this but for some reason took a gather dribble instead of going straight up. Blatche ended up getting back enough to contest the shot, but that's normally a bucket inside. If Bosh flashes middle instead of staying baseline, the help defense makes this a much tougher look.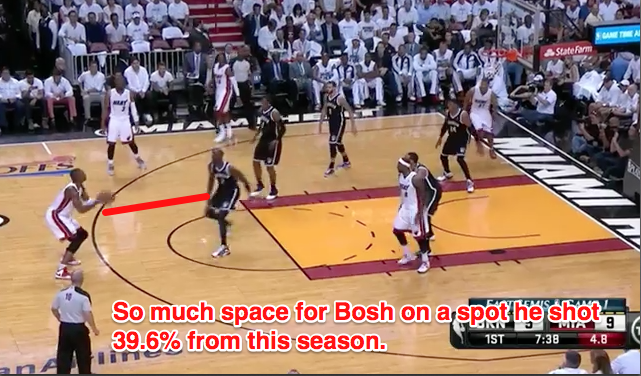 LeBron posted up smaller or weaker defenders all night long and was a real bully to them inside. Garnett has to respect the post-up, but he was sort of left in No Man's Land defensively because of Bosh's ability to hit that outside shot at the top of the key. This is essentially an open shot for Bosh at a spot he made 39.6 percent of his 3-pointers this season because Garnett never truly contests it.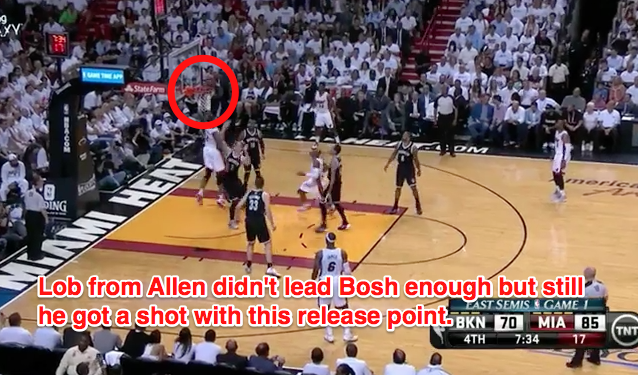 This quick lob play from Allen was actually a pass in which the Heat guard didn't lead Bosh enough on the pass. This allowed Mason Plumlee to get in the way a bit and make this a more difficult shot for Bosh. And yet, look at the release point on the shot. The fact that this doesn't go in seems like a fluke.
Yes, Bosh missed these shots above but showing how easy the looks were shows how little the defense was able to corral him. He beat himself instead of the defense beating him on these plays. Let's take a look at some of the makes from the Heat big man.
We're seeing a wide range of the ways in which Bosh can score in these few clips. He gets putback opportunities, dunks by slipping the screen, and secondary transition 3-pointers. He's getting these plays because the Nets are playing him poorly and he's making great decisions on where to move and when to move there.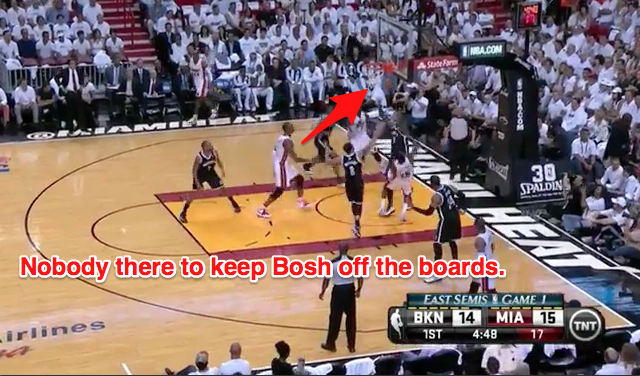 The Nets going small means that a dribble penetrator taking the only defensive big with him puts pressure on smaller guys who aren't used to playing inside. Once Garnett has to commit to Mario Chalmers, the only poor outcome of this is a miss so bad the Heat can't tip it in or a blocked shot on the layup attempt. Bosh could have walked on his hands into the lane and it would have been just as easy for him to get this tip-in.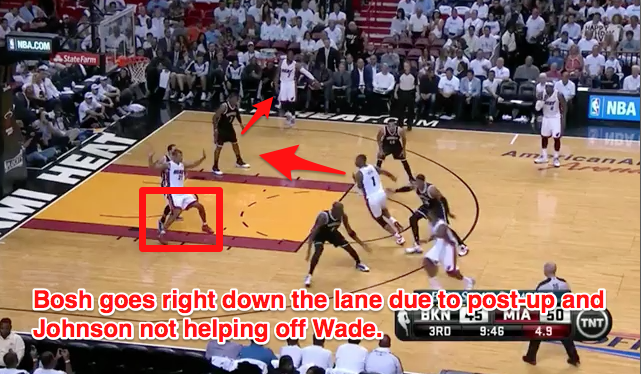 Bosh essentially ghost sets this screen and slips right into the lane as the Nets try to account for the pick while keeping Chalmers from getting into the defense. Shane Battier is occupying Deron Williams on the strong side block so he's not going to cut off Bosh, and Joe Johnson doesn't help away from Wade. This gives Bosh an easy dunk because he goes straight down the lane.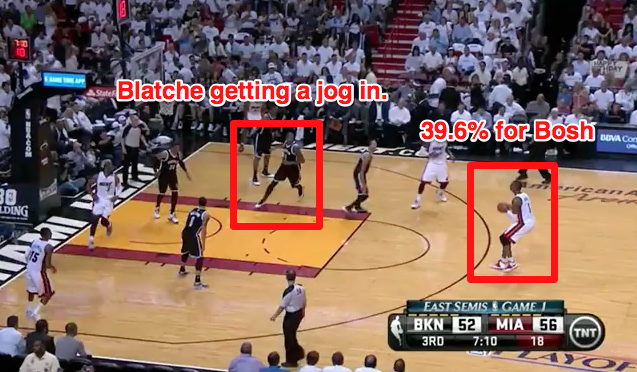 The secondary transition three is also a nice weapon he can use. With Bosh anchoring the defense inside, he's typically the last man back. As a big man, you're taught to sprint in transition into the paint and then find your man. This doesn't work against big guys who can knock down the spot-up three. Blatche is just jogging around as Bosh sets up from his sweet spot. 
You can make so many mistakes when trying to defend Bosh and he takes advantage of them. In Game 1, Brooklyn made a lot of these mistakes, whether it hurt them or not.
Chris Bosh provides space for others
Bosh doesn't just get good shots for himself with understanding the spacing on the floor. He creates the spacing for teammates to have an easier path to getting a good shot. It certainly helps having LeBron as the main focus of the defense, but Bosh is good at taking that focus off of James for split seconds here and there, which is all someone like LeBron needs. Let's take a look at some of the ways Bosh helped James in Game 1.
LeBron was 10-of-15 in this game from the floor and 6-of-10 in the restricted area. The Nets know they can't let him get to the basket, but when you're spreading them thin at all five positions, he has the ability to work his way in there when the opportunity arises.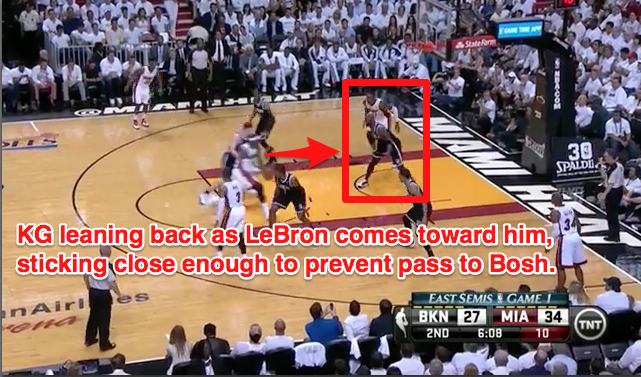 Bosh is waiting for a bounce pass from LeBron if Garnett commits to stopping the drive, but as James is gathering for the takeoff, KG is leaning back toward Bosh. This works a few seasons ago when Garnett had the explosiveness to still contest while doing this, but the instinct of staying back against the pass hurts him this time.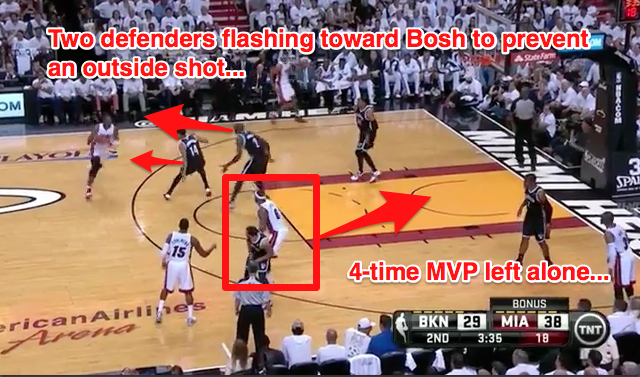 With Bosh becoming such a good jump shooter and extending that range to the 3-point line, you can get secondary transition situations in which the defense makes a mistake and scrambles one or two defenders his way on the catch. In this case, they left the four-time MVP alone around the elbow extended, which is not a great strategy.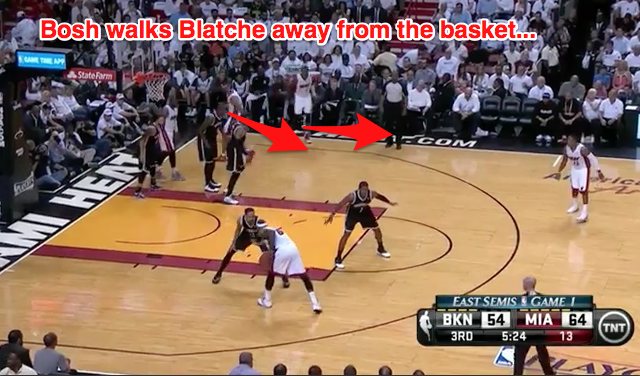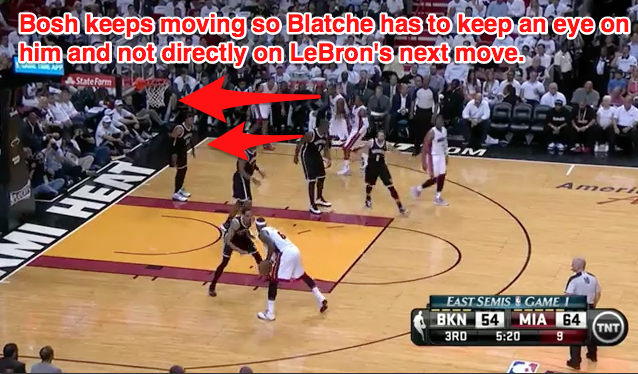 On this isolation play for James, Bosh completely takes Blatche away from being the big man in help defense. He walks him up the court away from the basket and then tries to sneak around him, causing Blatche to never really focus in on helping James. Even when the shot goes up, he's stuck to Bosh and watching. Some of that is bad defense (well, a lot of it is) but it's also a product of Bosh being someone the Nets struggled with keeping tabs on throughout this game.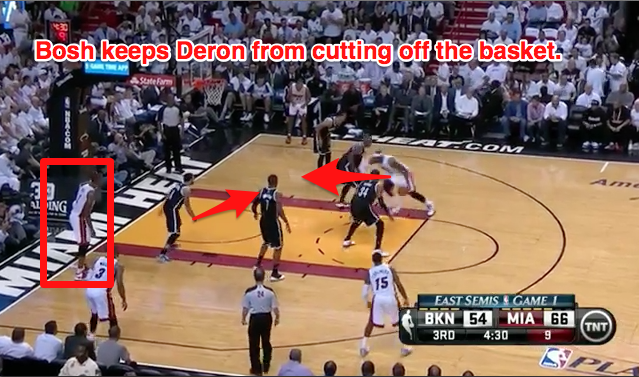 This last still is a switch in which Deron Williams is defending Bosh when he needs to flash to the middle to help Blatche, who is stuck on LeBron. If Williams over commits to the lane, Bosh can flash the baseline and get an easy bucket. If Williams doesn't help, James bullies Blatche away from him as he gets the shot off. It leaves the Nets completely screwed on defense.
This is all why the threat of Bosh is sometimes even more deadly than actual production. The defense has to respect his game and his scoring ability but he's never putting pressure on his teammates to make the pay. It's all about the greater good of the team and making sure every player is making the right decision. His spacing, movement, and skills help make the decision a lot easier each time.
Of all of the Heat players who played regular minutes this season, Bosh had the highest net rating for the team. The Heat use him well because they've adapted to today's NBA. He may not be the best big man in the league, but he's certainly the prototype for what you want.
Jordan Bell had himself a night against Portland

The younger Ball brothers are heading to BC Prienai, but that could spell trouble

Not many games, but still plenty of action and intrigue Monday in the Association
SportsLine's advanced computer model simulated Tuesday night's Lakers-Knicks game 10,000 t...

The Reno Aces are concerned about the new WNBA franchise stealing their thunder

Hinkie parted ways with the 76ers in 2016 after drastically changing the direction of the...