Playoff Assist: Joakim Noah always has the Bulls' defense covered
Take away Derrick Rose, trade away Luol Deng, and Joakim Noah will still be the driving force of one of the best defenses in the NBA.
More NBA: Power Rankings | Expert Picks | Latest news & notes
The rebirth of the Chicago Bulls hasn't gone as planned this season. After waiting 18 months for Derrick Rose to return to leading this team back to title contention, the high expectations and hopes were dashed with yet another knee injury to the star point guard. We wouldn't see another replay of 2011 when the Bulls looked so deadly and ready to pounce on the Eastern Conference title competition.
Rose went down and then in a move that didn't sit well with coach Tom Thibodeau or their best healthy player Joakim Noah, All-Star forward Luol Deng was sent to Cleveland in exchange for some draft picks and the right to give Andrew Bynum his walking papers. There were talks of wondering if the Bulls should tank out and try to grab a young star to throw next to Rose when he returned yet again from a knee injury. But Noah and Thibodeau would have nothing of it.
That's not in their DNA, which is evident every time you turn on a Bulls' game. The microphones around the court will pick up the gravely voice of Thibodeau barking orders on defense. They'll pick up Noah calling out coverages, screaming the plays of the opponents they've been told from the scouts and coaching staff, and clapping harassingly to punctuate extreme exertions of effort and defensive execution. 
It seems to be the only way Noah knows how to play: keep everything in front of you, communicate what you see to your teammates, and cover them until everybody is in position to contest the shot and end the possession. Instead of accepting that things would be hard, they've continued to make it their mission to make things hard on their opponents, no matter who is in the lineup.
Noah's defense has once again been superb, possibly earning him Defensive Player of the Year honors for the first time when the voting happens at the end of the regular season. Prior to the Deng trade, the Bulls were struggling to find their identity again in a post-Rose existence. They were 14-18, sitting sixth in an Eastern Conference that hadn't figured out how to win games yet.
The defense surprisingly struggled with Noah on the floor (relative to what they had been doing with him off the floor). They gave up 100.7 points per 100 possessions when he played (92.3 with him on the bench) and were actually a minus-3.1 points per 100 with him on the floor. But after the Deng trade, things flipped almost immediately with Noah increasing his impact on both ends of the floor. Since the deal, the team is 29-14, is tied for the third best record in the East, and is allowing just 95.6 points per 100 with Noah playing (they're a plus-8.1 with him on the floor).
Noah has picked up his defensive impact by making sure he keeps things in front of him, no matter what the situation is. Watch him on defense and you'll see it's rare when he doesn't have his teammates covered.
Isolation Defense
Noah is known for his ability to move like a small forward, which helps give him the ability to switch up coverages and matchups at a moment's notice. If his teammate can't get around a screen, he'll call out the switch and gleefully take on the challenge of keeping someone in front of him, even if it's a smaller, quicker guard. He takes an odd satisfaction in accomplishing that task.
The isolation defense is no different. It doesn't matter who he's defending, he's going to try to keep everything in front of him and contest the shot. You might as well give Noah a velvet rope and a clipboard to let people know they're not on the list for getting to the hoop. Against a power big man like Zach Randolph, the key to Noah's defense is keeping his balance while not allowing access to the rim. 
As you can see in the .gif below, Noah cuts off any chance of Mike Conley getting to the basket on the side pick-and-roll. Once that avenue is denied for Conley, he throws the safety valve pass to Randolph and allows the big man to go to work. Noah invites him to take the jumper, knowing full well that Randolph wants to be the bull in the china shop. 
As Randolph drives to the hoop, Noah beats him to the spot (this is a running theme) and remains straight up and balanced. Randolph trying to initiate contact and gain an advantage, loses his balance and ends up taking a tougher shot. That's simply due to the fantastic defensive discipline Noah displays.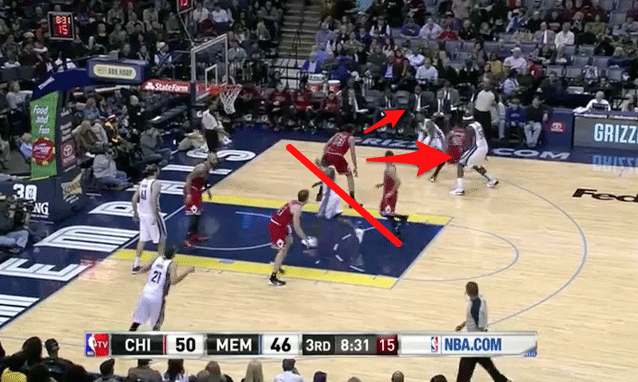 Everything with Noah ends up being about staying in front and taking away space for a comfortable shot. He's the basketball equivalent of the "close talker."
In this play against Thaddeus Young, Noah is alone on an island against a quicker forward. The Sixers don't exactly like to work for shots this season, and taking a contested jumper against the outstretched arm of Noah is ideal for the Bulls' game plan. 
Noah will give Young a deceptive cushion here, pretending there is enough space to get off a jumper. Instead, Noah keeps his hand up in the path of where Young would like to shoot the ball. As soon as Young gets into the shooting motion, Noah springs into a contest of the shot, remaining balanced even though he has to jumper forward a bit to block it.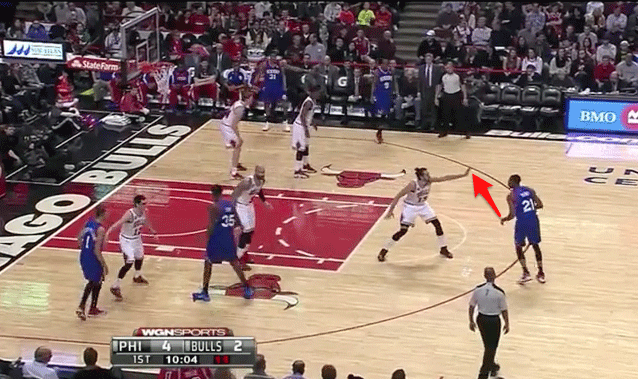 He uses his 7'1" wingspan perfectly here, never overextending to risk fouling the jump shooter.
As what happens often with Noah and the Bulls defense, the center has to cover so much ground on the ball and away from the ball that it can result in switches onto guards. Noah will take away so much of an offense's options, that the mismatch they believe they've created isn't actually a mismatch at all.
Noah does a wonderful job of playing Allen coming off the screen to allow Dunleavy to recover to his man. Once that happens, Noah is sending Tony Snell out to Shane Battier on the perimeter, which is a much easier and safer defensive option for Chicago. Noah takes on Dwyane Wade, who will try to drive past him. Once that path is cut off, the recovery and length of Noah allows for a contested jumper by Wade.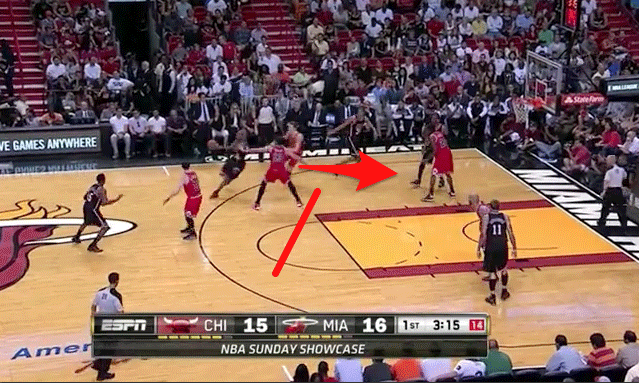 The entire time in this possession, Noah has complete control of the floor. He's not allowing anything on one cross-section of the half court, and takes away two different options for guards to score. That's a perfect job of swarming the ball and recovering to your man.
Post-up Defense
The knock on Noah used to be that while he was a fiery competitor and quite rangy on defense, he couldn't hold his own enough on the block consistently. That's no longer the case, as he's improved at keeping his position, beating guys to their spots, and challenging everything. It's rare you actually see Noah give up an easy basket out of a post-up.
This defense of Tim Duncan is perfect. It didn't matter where the future Hall of Famer wanted to go on the low block, Noah met him at the spot and forced him into a counter move.
Noah never allows Duncan to turn the corner and get into the restricted area. He absorbs the contact, while remaining balanced in his approach to crowding Duncan. He takes away the first area Duncan wants to get to, is waiting for him at the next spot, and eventually goes straight up to force the tough trajectory of the shot.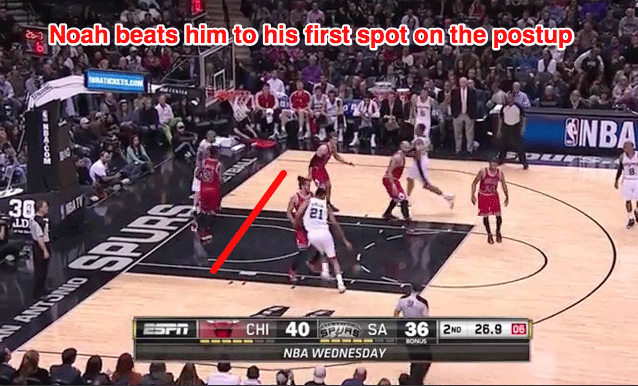 The way Noah keeps his balance on almost every defensive possession in which he's challenging a shot almost seems inhuman.
So often, you'll see a pick-and-roll coverage turn into a post-up opportunity because it gives the offensive set some room to establish position as the defense is recovering. Against the Pacers here, Noah brilliantly takes away any pick-and-roll action but in the process, ends up surrendering deep post position to Roy Hibbert. Instead of accepting that surrender and hoping not to foul a closer shot, Noah continues to work and force a worse shot.
Hibbert does exactly what you teach big men to do: he establishes position right in front of the rim. However, Noah has the leverage advantage on him and manages to push him a good eight feet away from the basket by the time he gets the ball for his post-up.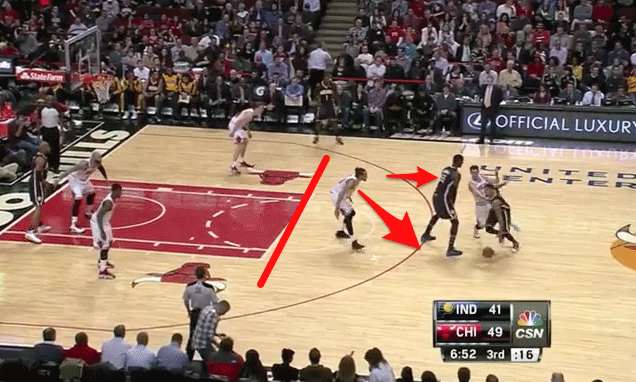 By the time Hibbert gets into his hook shot motion, Noah has defeated every counter move without biting on pump fakes. He's covered half of the floor, taken away advantageous position, and denied a good shot attempt. That scream you hear is the exclamation point to a job well done.
Pick-and-Roll Defense
Pick-and-roll defense is the most important defense a big man can play in the NBA. It's so hard to defend individually and it takes an entire team moving on a string, rotating, recovering, and then challenging shots. The Bulls do it about as well as you can possibly imagine, which makes me wonder what it would have been like to see Noah defend the Stockton-Malone pick-and-roll. 
The most important part of the coverage is making sure to never allow the ball handler to turn the corner on the secondary line of defense. With Noah, this almost never happens because of the way he keeps the play in front of him. The Bulls are willing to concede that jumper in the middle of the floor, especially when it's on the move. They can still contest it while making you take the worst shot in basketball.
Noah is helped a bit here by the rolling Hibbert taking away space for Lance Stephenson to operate. Had Hibbert waited a bit on the roll or gone off more to either side, Noah would have had more ground to cover. Instead, it's just him and Stephenson trying to get to the spot in the lane where the shot will go up.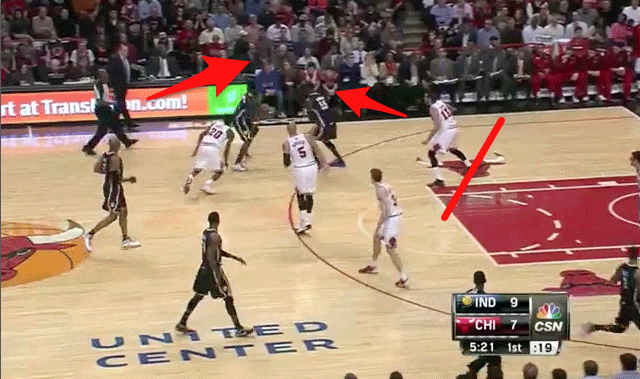 Noah never allows Stephenson to get deep into the paint and contests the shot perfectly. He's literally the last line of defense because nothing gets behind him.
When Noah cuts off the driving lane for the ball handler in a pick-and-roll, he's not just stopping dribble penetration; he's also looking for an opportunity to take the ball away and force a turnover. Against the Suns here, Noah cuts off the lane for Gerald Green while still maintaining the angle to recover to Miles Plumlee if the pass is deliver. Green has always been sloppy with the basketball and leaves it too far out in front of himself.
Like a drunken senator at an after party, Noah gets very handsy on defense. Leave the ball exposed and he'll knock it away. He's on pace to become just the ninth player since the rule changes in 2004-05 to record 100 blocks and 100 steals in a season. He currently has 90 steals with nine games left to grab 10 more.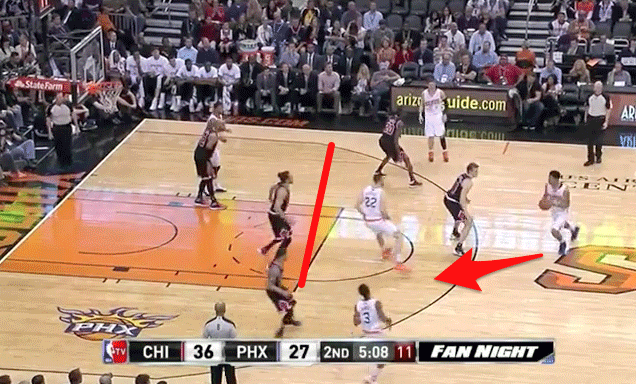 The perfect capper to this play is how quickly he recovers the ball and gets it ahead for a D.J. Augustin layup. 
Noah's weak side pick-and-roll defense is just as important and effective as his on-ball pick-and-roll coverage. The Bulls' opponents will often put Carlos Boozer or even Taj Gibson into the pick-and-roll because it's easier to get by them than it is Noah. This allows Noah to play free safety, call out everything that's going on, and provide weak side support. And Noah never stops talking on defense, a staple of a Thibodeau-led unit.
On this play, Noah has to manage to keep within contact of Duncan while still cutting Tony Parker off from getting a shot at the rim. He takes away the reverse layup while not allowing a drop-off pass to Duncan. Then he follows him back out, as you can here him calling out instruction for Gibson as he chases the smaller player.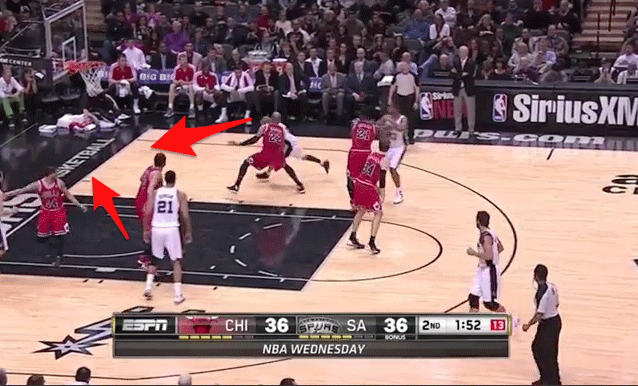 Once Parker finally gets a step on Gibson, Noah is there to challenge the play. Noah actually makes a bit of a mistake by flying toward Parker to attempt to block the shot. This gives Duncan an opportunity to catch the pass and score, except Noah recovers to block the shot with his quick second bounce.
Noah's effort is relentless and that's why this Bulls' team has managed to survive yet another season without their full complement of weaponry. They don't wilt or back away from the task at hand just because it's become harder. They simply soldier on to keep working and executing the wishes of their coach. Noah is an extension of coach Thibodeau on the floor in a way you just don't see with other defensive leaders and coaches.
At this point, you can take away just about anybody from the Bulls and they'll find a way to remain competitive with one caveat. You can't take away Noah from the Bulls and expect the same results. He's the heart and soul of that team. He's the best player on that team. He's the leader of that team.
We may not have gotten the rebirth of the Bulls this year but we also didn't see their funeral.
The former Clipper apparently had some tricks up his sleeve after a chippy game

The Rockets were apparently looking for Austin Rivers and Blake Griffin after a chippy gam...

If they don't meet in the Finals again, let's appreciate every one of the 27 matchups since...
D-Wade picked up the steal and got creative on the fast break as the Cavs headed into half...

Despite the embarrassing hiccup, the youngest Ball had himself a pretty great day on the c...

The players were both ejected in the closing seconds, then continued their discussion off the...