Playoff Assist: LeBron James should dictate the NBA Finals
The Miami Heat are underdogs against the San Antonio Spurs in the 2014 NBA Finals, but would they be if LeBron James was aggressive at all times?
More postseason coverage: Playoff schedule, results | Latest news, notes
Good or bad over the years, LeBron James has been incredible at providing the theater playoff basketball needs. He unloaded a 48-point special on the Detroit Pistons when he was only 22 years old. He battled with Paul Pierce in epic showdowns time and time again. He had an incredible meltdown in his final days in Cleveland that provided the drama, which fueled his free-agency circus.
When he finally teamed up with Dwyane Wade and Chris Bosh on the Miami Heat, he battled poor PR decisions, embracing the villain role, and finding his way through the playoffs only to come up short by his own doing against the Dallas Mavericks in 2011. Almost a year later, he stood there in Boston for Game 6, needing a victory to avoid his Miami stint becoming a legendary failure. A legacy was on the line as much as his own pride was on the line.
There he stood -- staring a hole through the world, breathing heavily as if he were looking to tear down the arena, and holding the game of basketball in the palm of his massive hands. It was the turning point in James' career. It was the 45-point, 15-rebound, five-assist massacre he delivered to the Celtics when people were waiting to burst into laughter at his failure. Instead of allowing them to laugh out loud, he left their mouths agape with the announcement that he wasn't interested in losing out anymore.
It hasn't been easy since, but it has been what fans and detractors have begged of him to prove. Be the best player in the world and have the success to back it up. He had to win and he had to win a lot. He had to win every playoff series after the Dallas debacle and he had to leave his mark on those series. Some say it's an unfair way to judge a player, especially in a team sport, but even though I agree with that, you still have to face facts: people judge you on winning. 
If you don't win when you're widely regarded as the best player in the world, then you being the best player in the world gets questioned. He proved it in 2012 when he won his first title. With a little help from the basketball gods and Basketball Jesus (Ray Allen), he got a chance to prove it once again in 2013 when the Heat beat the San Antonio Spurs in one of the best Finals series we've ever seen.
As we get prepared for the sequel to such an extraordinary NBA Finals, the questions about how LeBron James will be defended by the Spurs and what they'll try to get him to do on offense seem to be the main talking points. Back when James was swept by the Spurs in 2007, they forced him into jumpers and shots he couldn't hit with regularity. Before the 2013 Finals began, James had this to say about using 2007 as extra motivation in trying to defeat them:
"Well, I've lost enough," James explained. "I don't need any more fuel from losing. I've lost two Finals, so I don't need any more fuel from losing the Finals."
As the 2013 Finals unfolded, the Spurs dared LeBron to shoot jumpers. It was funny, too, because he had just gone on this dramatic quote binge before the series in which he promised the media that you couldn't make him do anything on the court he didn't want to do, something that wasn't the case in 2007.
"I'm a better player," James confidently stated, "and you can't dare me to do anything I don't want to do in 2013." 
Except that's exactly what Gregg Popovich, Kawhi Leonard and Boris Diaw dared James to do. They wanted him to prove he was the shooter they couldn't give space to. They wanted him to beat them with his jumper instead of beating them everywhere else -- with his passing, dunks, and by getting to the free-throw line. James eventually gave in and started shooting, and as he got more aggressive, the wins started showing up for the Heat at the most critical times. 
In the first three games of the 2013 NBA Finals, LeBron averaged 18 field-goal attempts (38.8 percent) and two free-throw attempts. Miami was 1-2 in those first three games. In the next four games of the series, James stopped feeling out the game so much and started asserting his dominance on the basketball world again. He averaged 24 shot attempts (47.9 percent) and 8.2 free-throw attempts. The Heat won three of those four games and closed out their second successive title.
LeBron and the Heat can't really afford to wait for him to feel out the game as he likes to do. While it makes for a calmer basketball sense from James and possibly a clearer head, the Spurs are a well-oiled machine that won't allow many lulls in a game for the Heat to get their bearings. The Spurs are going to come at you with their beautiful, perfect offensive attack that is as selfless as it is lethal. This means LeBron feeling out the game could leave his team in a hole pretty quickly.
It's important for him to get his teammates involved but it's also important for him to set the tone early against such a worthy opponent. Not that you need to teach James much at this point, but a shot taken by James is often going to be one of the best options on the floor, but it comes with a balance. If James has options and still chooses to take the shot, it puts the defense on its heels. If the shot is the only option given by the Spurs, it means he's playing into their hands on some level.
That's what LeBron being assertive right away and forgoing all of the "feeling out the game" stuff is so necessary for the Heat and their chances in this round. They don't have home-court advantage. They don't have Mike Miller for the crazy breakout game. They haven't consistently shown the crazy defensive intensity they need to employ. 
And yet, LeBron James can change all of that in one fell swoop. He can decide to dictate the game from the start and make the Spurs adjust to him. He can do exactly what Kevin Durant wasn't able to do in the previous round against the Spurs. If he does that, we're more likely to see a replay of the last four games of the 2013 NBA Finals than we are of the first three games, in which the Spurs mostly did what they wanted. 
Whether James comes through for his team and whether his team ends up securing the three-peat, when it's all said and done, we know LeBron is going to bring us good theater in these Finals. It's what his game has dictated since he came into the league.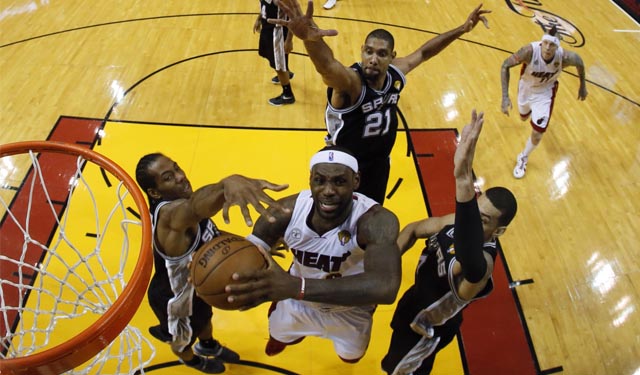 Stephen Curry, who grew up in North Carolina, wants to be part of the next Panthers ownership...

Vince Carter is destined for a Raptors reunion; he doesn't know when it'll happen

Thomas has a target date for his return, and with the Cavaliers scorching, this could be h...
LeBron James once again is using his platform to be socially active

Not many games, but still plenty of action and intrigue Sunday in the Association

Kobe Bryant had a solid piece of advice for back in 2016 when he left OKC for Golden State