Playoff Assist: LeBron James vs. Paul George in East finals
Checking out the Eastern Conference finals star match-up between LeBron James of the Miami Heat and Paul George of the Indiana Pacers.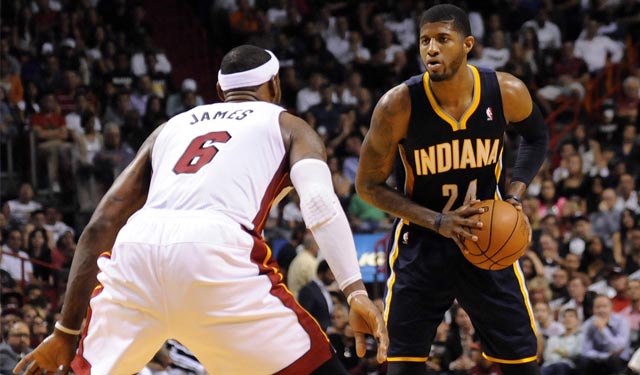 More postseason coverage: Playoff schedule, results | Latest news, notes
During the 2013 Eastern Conference finals, the Indiana Pacers pushed the Miami Heat to the brink, thanks to the emergence of Paul George from really good NBA player to budding star. Some of that was helped by signature moments like George dunking all over Chris Andersen, and the big three at the end of the third quarter, which even drew a hand slap from LeBron James as almost an acceptance into the club. George was becoming a household name before our very eyes.
This season, George has had expectations of coming through on that stardom and for the early part of the regular season he was making good on it. Some were calling him the MVP of the league after a month or two, but eventually the Pacers fell into a slump for months and George's play was a struggle. He and the rest of his team have been judged harshly based on these shortcomings, but all of that will go away if they can topple the Heat in the 2014 Eastern Conference finals, in which they have home-court advantage. 
How George matches up with the biggest star in the series and the basketball world, LeBron James, will be one of the determining factors in this series. The Pacers have been all but written off in these playoffs, but they're still standing in the Conference finals where they were expected to be. George will have to take his game to a higher level than what he's shown against the Heat this year if he wants to advance to the NBA Finals for the first time in his young career. 
If George can properly defend James and make him work for whatever he gets, whilst finding a way to score effectively and efficiently against James and other Heat defenders, the Pacers will be in a great position.
LeBron James scoring against the Indiana Pacers
Breaking news: LeBron James is really difficult to defend. 
To expect one guy to stop LeBron is unreasonable, but that doesn't mean George can't do things to make life difficult for James on the offensive end. James is crafty and knows how to put the defense at a disadvantage. Because the Pacers are so turnover-prone, it allows LeBron to get out on the break and get in position for easy buckets. It doesn't all come from layups and dunks, but from grabbing position by beating his man or a different defender down the floor.
It's what allows him to live around the rim against one of the best teams at defending the rim in the NBA. Check out his shot chart against the Pacers this season when George was on the court: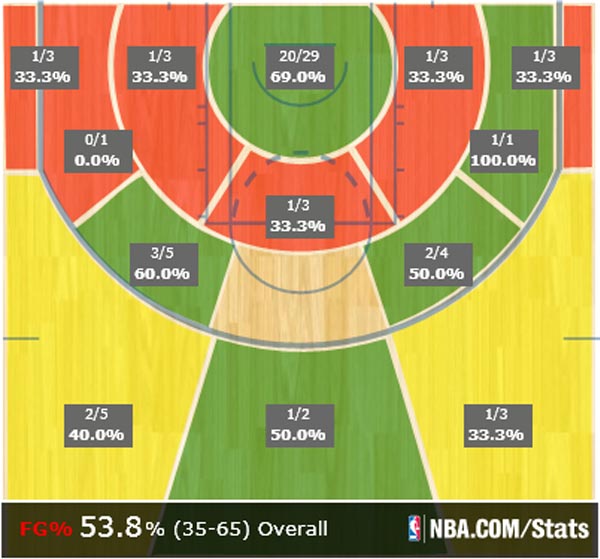 He made 20 shots just around the rim and did so at a 69-percent clip. That's remarkable against a team that possesses Roy Hibbert standing in front of the rim and David West clogging up the lane. The Pacers set their defense up to funnel guys to Hibbert, who is protecting the basket, and yet James has found a loophole with quick positioning and getting out and running. 
George can counteract this in a couple of ways. First, he has to run with James. You can't let LeBron leak out at the first sign of a turnover or a long rebound. A big part of this will be anticipating what's next on offense and seeing the floor develop. And if you can hustle down the floor, you can start fighting for position.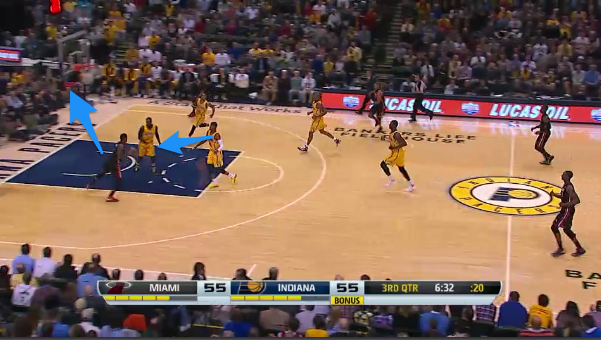 In the screen shot above, George was beaten down the floor and even though he had a man back, he's not hustling to help corral LeBron in the open court. James is a turn and jump away from getting an easy shot around the hoop because he can overpower his defender with nobody in front of him. You're not blocking LeBron when he has you on his hip, but you can probably get the block from behind or get in front of him with some hustle. George didn't do this, but it's something easily correctable.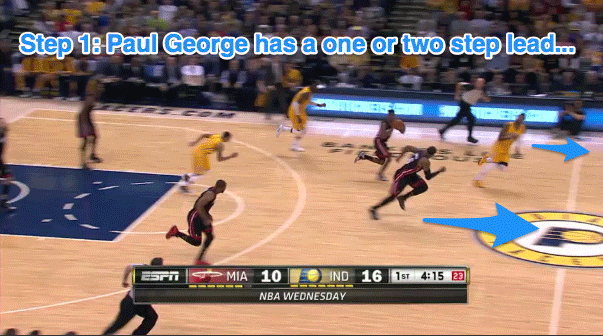 This was a steal in the half court that begins with George ahead of LeBron. You can see the step-by-step acceptance of not catching James, but it's hard to believe that this isn't just a matter of busting your tail to remain out in front of him. If you're trying to catch James in the open court, you're toast. And you're probably toast in almost any situation considering he's one of the best transition scorers in the league, but there has to be more effort than what's shown in this .gif of the open court runout.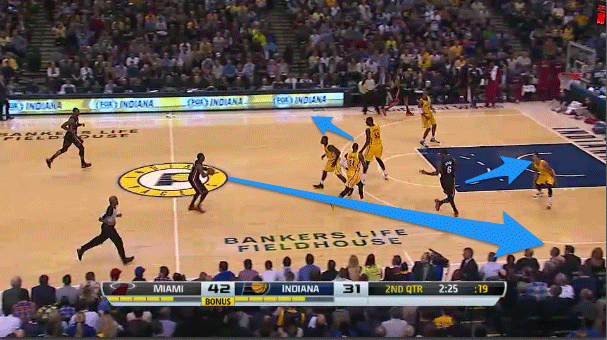 Here's another example of George not getting back as quickly as possible and it creating an easy shot opportunity. You can see George doesn't even have his head turned the right way as he jogs back to get James, who has sprinted ahead of him to establish deep post position. Mario Chalmers throws the ball ahead to Norris Cole in the corner, and then it's a quick, easy post-entry pass for a score.
If you cut down on the transition opportunities for LeBron, you take away the situations he scored the most on this season at 21.1 percent of his offensive possessions that ended in a shot, free throw or turnover. It's not just hustle though; you have to make shots to cut down on these chances, and that's the next place George can ensure he slows down the Heat's transition game. 
Paul George scoring against the Miami Heat
I've broken down before on here how the Pacers can get George some good 3-point looks in the playoffs. This is a particularly good strategy against the Heat for this series for a couple of reasons. George isn't someone you want creating much off the dribble because he's a little turnover prone and the Heat are great at pouncing on these situations. But if you have him coming off screens and knocking down threes, he's pretty hard to force into a bad shot.
Against the Heat this season, George was much worse on 2-point attempts than he was 3-point attempts. He shot just 41.1 percent on 2-point attempts, while knocking down 45.8 percent of his long distance shots. He took more shots from the corner than he typically does, and drilled them in the process. Take a look at his shot chart when LeBron was on the floor: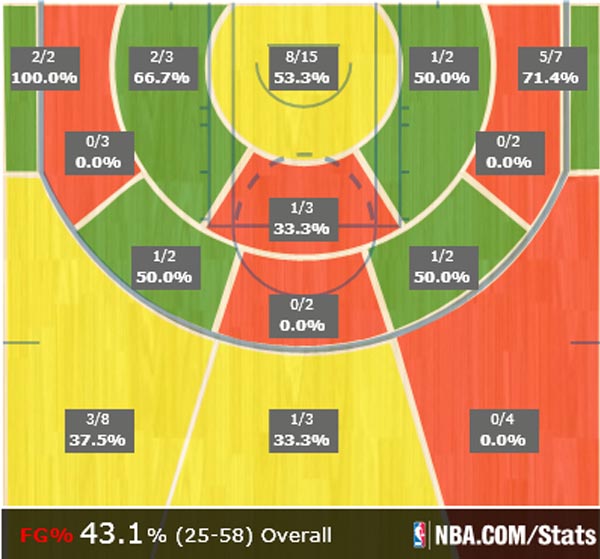 The Heat don't always have James on George during these games. They'll try Shane Battier, Ray Allen, Dwyane Wade and others as James plays free safety on defense. This is where George can put the most pressure on his opponents and force them to put LeBron on him and then run LeBron through countless screens.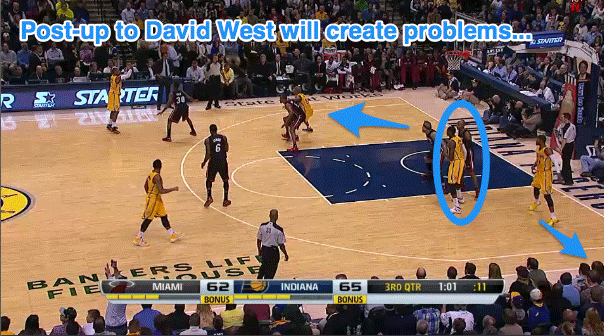 The Pacers love to play inside-out on offense, giving their bigs a chance to get quality shots inside while setting up certain shooters for open looks. George is so good spotting up and coming off screens that this is the best way to utilize his jumper. The Heat will overload the strong-side post help, but with Ian Mahinmi flashing to the middle, Ray Allen has to help off George in the corner to take away the paint. Nobody recovers to George or even has a chance to, and he's cashing in the chance.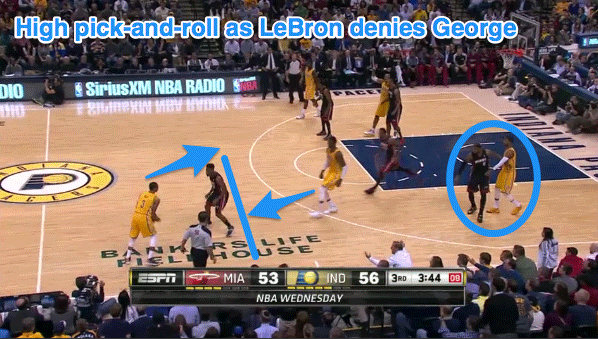 A broken play for the Pacers turns into a high pick-and-roll. George attacks the middle of the floor and once he gets through that initial level of defense, LeBron has to choose whether to protect the rim or play the corner three. You'll always protect the rim in this situation and George Hill has a choice between passing to Paul George or Lance Stephenson, who are standing in opposite corners. He makes the right decision.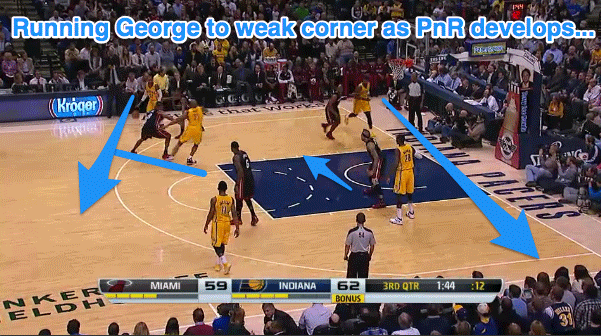 This is a basic thing the Pacers do, but because they're so interior-oriented on offense, they can run a pick-and-roll on one side while setting up a screen for the shooter in the weak corner. Here C.J. Watson runs a pick-and-roll with David West, but instead of getting into the middle of the floor, he recognizes it's going to be too clogged up. He kicks it to Orlando Johnson on the wing, as Mahinmi fights with Allen inside. The screen by Mahinmi keeps George free in the corner and he drains it.
There will be more to this small forward match-up this series than just LeBron in transition and George in the corner, but those are two areas these guys excel in on the court. If the Heat can take away the corner from George, Miami can take away a successful part of his outside attack. If the Pacers can limit James in transition, then maybe the Pacers can dominate the paint on both ends.
Regardless, we're getting two fantastic players at the same position looking to give us a show in different ways.
The Hornets are reportedly looking to move their franchise point guard

We've got all the scores, highlights and news for Thursday night

The Sixers big man got his first All-Star selection -- and maybe some revenge -- on Thursd...
It appears some players are not entirely taking the All-Star voting process seriously

There were some weird discrepancies between the fan, media and player votes

LeBron and Steph will be the captains for the 2018 NBA All-Star Game