Playoff Assist: Pacers' Roy Hibbert made better decisions in Game 2
Indiana Pacers' center Roy Hibbert halted a big slump by making better decisions in a much more comfortable environment in Game 2.
More postseason coverage: Playoff schedule, results | Latest news, notes
There really hasn't been a way to hide or gloss over the fact that Indiana Pacers' center Roy Hibbert has been in a gigantic slump for a few months now. Those who have watched him struggle to score against the frontcourt of the Atlanta Hawks in the first round while being a complete non-factor in Game 1 of the second round against the Washington Wizards are getting just a taste of his struggles since the beginning of February.
For whatever reason, Hibbert has slumped ever since the Pacers signed Andrew Bynum as a blockade to the Miami Heat possibly getting him. And while you definitely can't have Hibbert carry the burden of the Pacers' struggles by himself during the last three months (George Hill, Paul George, and the bench have all been bad during this time), not having the big man impacting the defensive end of the floor in the same way nor providing any sort of threat on offense has been troubling for Indiana.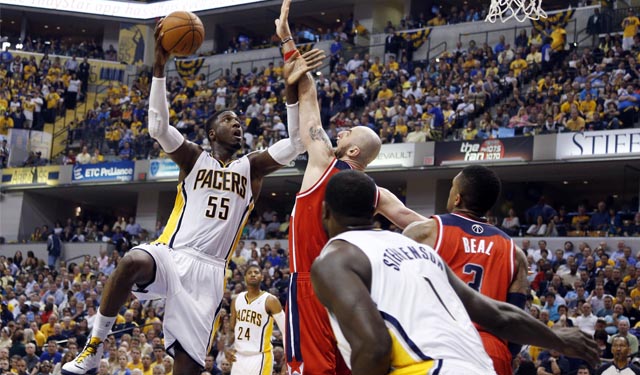 Since February 1 when the Pacers signed Bynum, Hibbert's value on both ends has fallen tremendously. Prior to the signing, the Georgetown big man had the highest net rating on the team with a plus-13.2 points per 100 possessions. With Hibbert on the court, the Pacers were scoring 106.0 points per 100 and giving up a paltry 92.8. It was sheer domination. After January was over, those numbers changed dramatically. After the Bynum signing, the Pacers scored just 99.8 points per 100 possessions with Hibbert on the court and gave up 99.9.
Hibbert went from the semi-decent post-up safety valve in the offense at 46.3 percent from the field to just 40.6 percent on his shot attempts. Everything positive for Hibbert decreased in a significant way and it only got worse in the playoffs. He had one acceptable game in the first round against the Hawks as Atlanta exposed a lack of comfort for Hibbert on the court when he had to defend someone on the perimeter. It permeated throughout his entire game and he was a wreck.
In the first eight games of the playoffs for Hibbert, he made just 35.6 percent of his shots and that was boosted by his 6-of-10 Game 7 effort. He made a lot of fundamental mistakes throughout his offensive possessions. Let's take a look at the spacing and balance issues he showed, along with some questionable decision-making:
As you can see throughout this video, Hibbert wasn't just missing his shots; he was missing badly and looked completely out of place on the court. While he's never been a dominant scorer for an extended stretch of games outside of the Eastern Conference finals a year ago, Hibbert has also rarely been this uncomfortable over the last three seasons. Let's dive in clip by clip here to point out the inconsistencies in what he was trying to do: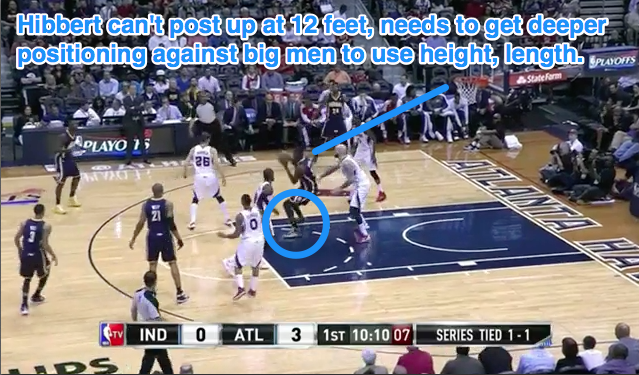 There is no need for Hibbert to be making a post move just under the free throw line. He doesn't have deep positioning at all on this play, which can actually be a problem with the way his body is structured. He may be bigger than everybody else, but his legs are so long that it doesn't give him the chance to get leverage on post position. He has a reach advantage but it doesn't do him any good if he's taking hook shots so far from the basket. He also was waiting way too long to look at the basket and seemed concerned about help defenders swiping at the ball.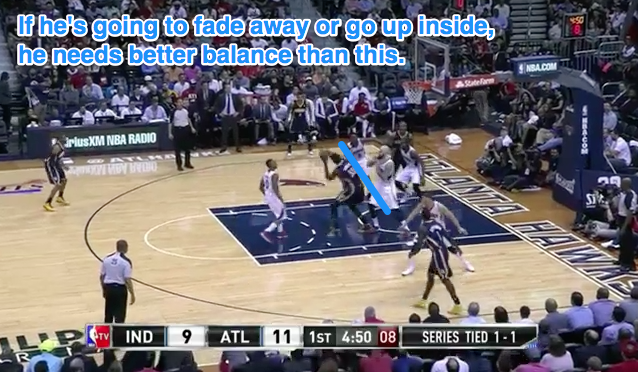 He has the proper post position you'd like from him and he's going up against a much smaller, shorter big man in Pero Antic. But look at how unbalanced he is. That's not a decent fadeaway form by any means. He's hunched over to the side, performing some kind of Jane Fonda warmup stretch before a workout. He needs to be going straight up on a move like this, which helps if he can maintain balance and leverage when he does actually win that battle.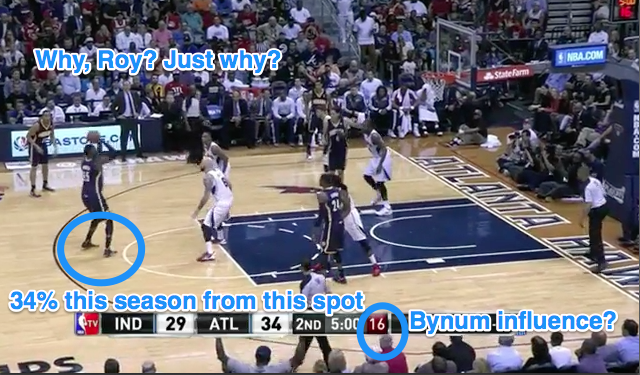 Remember when Andrew Bynum was the trailer on a play in Oakland for the Lakers, and he took a 3-pointer with like 18 seconds left on the shot clock? There isn't much difference. This isn't a spot on the floor Hibbert excels at, there are 16 seconds left on the clock, and it's not like he was in a rhythm. This is essentially throwing noodles against a wall to see what is properly cooked, except they slid right down to the floor.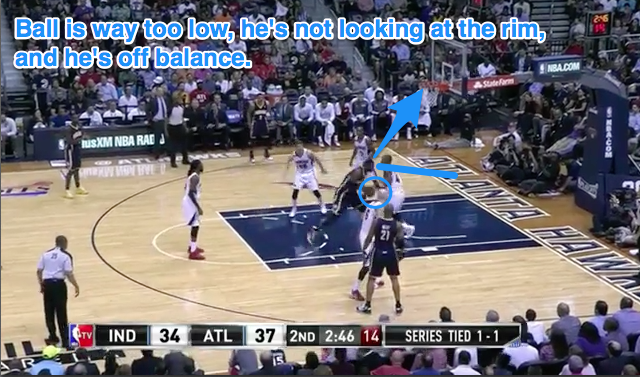 On this play, he's deep enough in the lane to make this a good possession, but he immediately ruins it with poor balance. He's gathering for his shot and has the ball down at his waist. He's not even looking at the basket. And he's hunched over as well. If he looks directly at the basket and goes straight up while keeping the ball high, Paul Millsap has no chance of affecting the shot.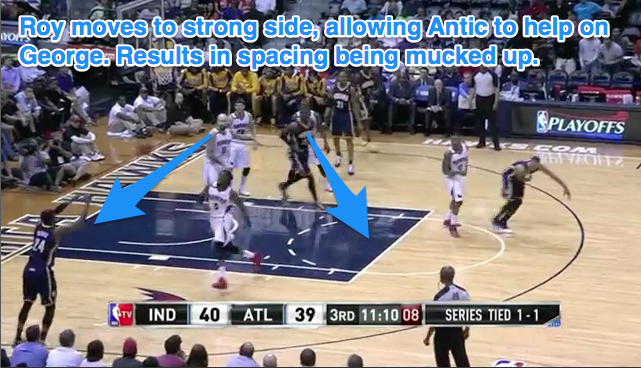 Hibbert eventually ended up taking a weird midrange jumper as the shot clock was expiring on this play, but it happened because of his poor spacing decisions. He needs to clear out to the weak side, but because it looks like he doesn't know where to go, he joins George on the strong side. This allows Antic to overload near the basket, which takes away George's chance of driving into the lane.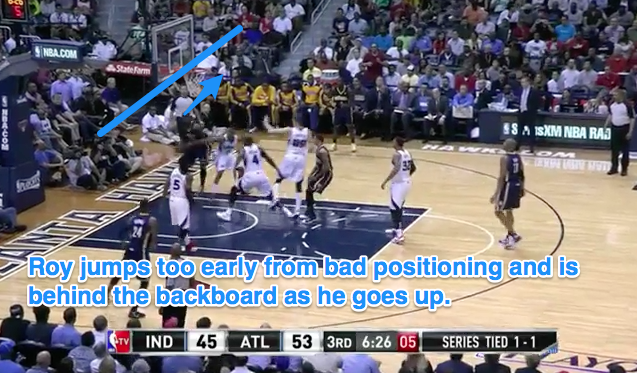 This was one play in which Hibbert stayed around the basket like you'd want a big man to do and he had a chance to get an easy score inside and potentially begin to reverse his fortunes. Instead, he was impatient with how he went up against the defense. He starts jumping from under the backboard, which doesn't work when you're not that athletic for your position. It doesn't allow him to go straight up and now he's taking even less leverage and spacing away because he has to jump to the side. The result is another miss.
In Game 1 against the Wizards, they didn't force the ball to him nearly as much but there were a few possessions in which his spacing was a big problem. 
In the first possession of this clip, even if George Hill decides to turn the corner on Marcin Gortat, Hibbert is occupying the low block and clogging up a driving lane. With the shot clock ticking down like that, he needs to clear away from the strong side. Once David West gets the ball, Hibbert is moving into the lane when his teammate has a chance to drive to the basket. 
On the second possession, Hibbert comes down the floor and just camps out in the lane. He spent so much time in the key on this play, he could have legally changed his residency to the paint. His lack of awareness and comfort in establishing possession keeps him from clearing the paint and they get an unnecessary turnover on a three-second call.
That's a lot of bad on his part, but it completely turned around in Game 2. In Game 2, the words of John Thompson III or the words of his teammates or the desire to stop being the butt of the playoff joke turned him around. He looked so much more comfortable on offense and it changed his body language. He hit shot after shot, lived in the paint with his attempts, and finally reminded people that he's not a bad player by any means.
Let's take a look at a few makes and see the changes he made:
The great thing about looking at Hibbert in this clip is you're seeing a much different player. In the clips against the Hawks, he looked like a big man who hadn't mastered coordination yet. In these scores against the Wizards, he looked comfortable in his own skin. Let's take a look at the key points of each possession in the video.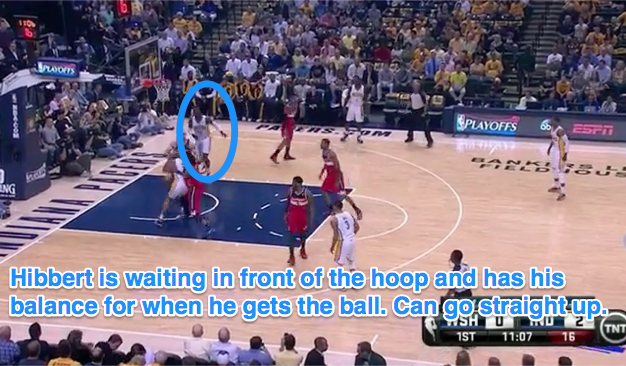 We're not seeing Hibbert waiting underneath the backboard here. He has a direct line to the basket and a good pass from West inside is going to allow him to go up with strength, length, and balance. This is what Hibbert always has to do when he's going up for shots: have strength, length, and balance.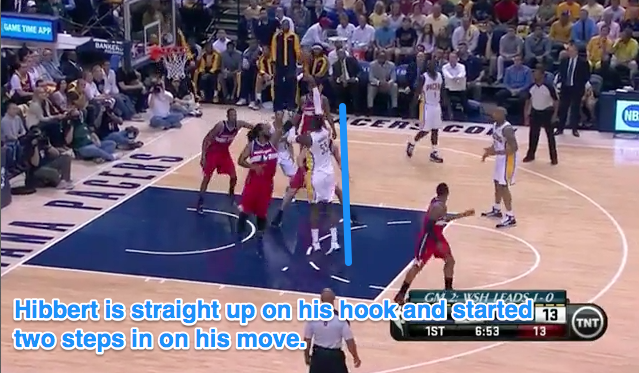 While you don't want him taking deep hook shots like in the first video, he's starting his move a couple steps in this time and going up with a straight-up form as he looks at the rim much earlier. These are the basic fundamentals that are so important for Hibbert because he's not going to win the positioning battle all that often.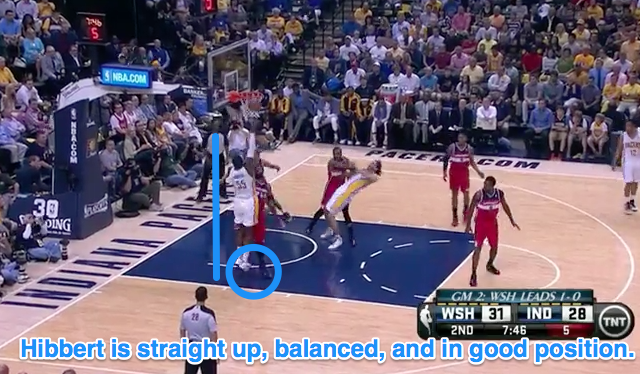 Once again, notice the deep post position on the play and the balance of his body. When you have a standing reach like Hibbert has, this kind of form on a half-hook makes it unblockable and gives him the confidence that he'll get the shot off without much resistance at the release point. At that point, it's just muscle memory.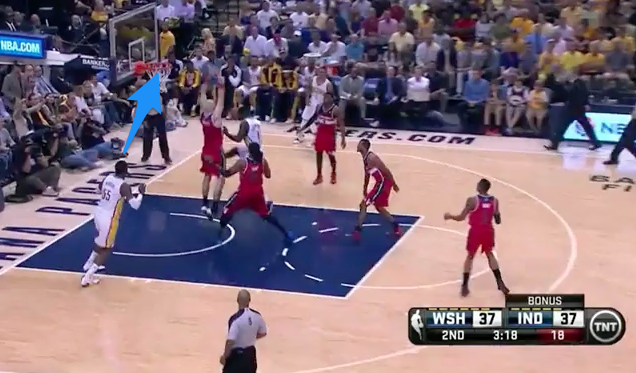 Hibbert's positioning on the court was so much better. He was waiting patiently on the weak side as dribble penetration happened and he wasn't putting himself at an awkward angle to get the shot off. Receive the ball, take a step toward the hoop, and go up balanced and strong.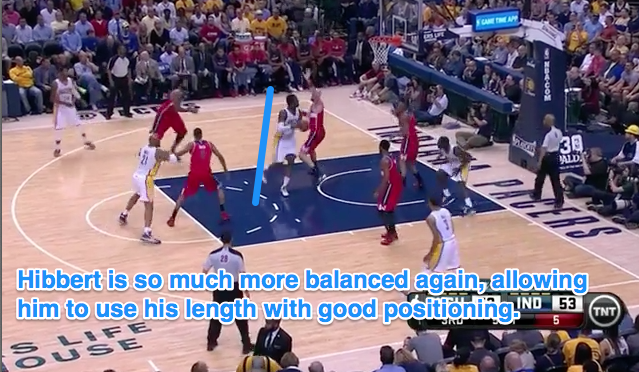 The balance on this running hook combined with the length of his release point put Gortat at a huge disadvantage. All Hibbert had to do was not trip over his own two feet and he was going to get a great shot off. He's also nowhere near the free throw line when he takes it, putting him at an optimal distance.
Hibbert was clearing out on this play, but as the help defender abandoned guarding Roy and went to double George, the Pacers' center went from clearing out the strong side to ducking in right at the basket. We haven't seen many dunks from Hibbert lately, but this was one set up by great spacial recognition. He'll have these chances as long as he understand the timing of the play and gets a good pass from his teammate. 
I'm not sure we'll ever know what the mental block for Hibbert has been. Rumors and theories are flying all over the place, but whatever reason for his slump has been compounded by poor decision-making with where he fits in on the court. As long as he's balanced, strong, and using his length while not clogging up the half court for his teammates, he can be a safety valve in this offense. They can go to him early to get his confidence up and then trust him to make a play here or there throughout the rest of the game.
There's no way to hide how bad he was over the course of three months, but there's also no reason to hide him on offense when he's using his physical attributes to their fullest capabilities. If this is truly breaking the slump and not just pausing it, the Pacers may end up being what they were supposed to be months ago.
Jordan Bell had himself a night against Portland

The younger Ball brothers are heading to BC Prienai, but that could spell trouble

Not many games, but still plenty of action and intrigue Monday in the Association
SportsLine's advanced computer model simulated Tuesday night's Lakers-Knicks game 10,000 t...

The Reno Aces are concerned about the new WNBA franchise stealing their thunder

Hinkie parted ways with the 76ers in 2016 after drastically changing the direction of the...