Playoff Assist: Paul George quieted his attack to lead the Pacers
Paul George struggled in the first half of Game 5 against the Miami Heat. In the second half, he had 31 points by getting back to basics.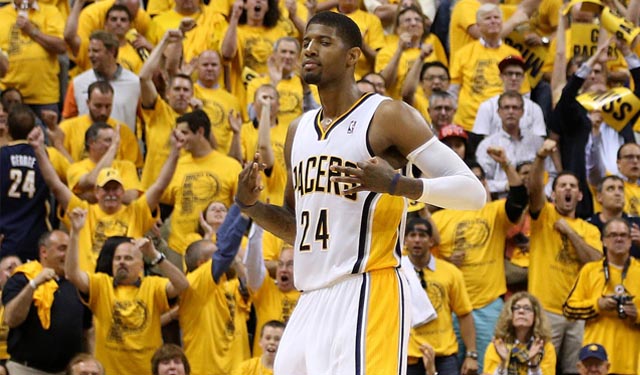 More postseason coverage: Playoff schedule, results | Latest news, notes
The Indiana Pacers were seemingly at the end of their season during halftime of Game 5. They had scored just 33 points in the opening 24 minutes against the Miami Heat and didn't have any semblance of an attack going. Their star Paul George had six points on 3-of-9 shooting, and had missed his last five shots going into the half. 
Things looked bleak for the Pacers, desperately in need of a win to extend their season. Indiana needs George to play like a superstar within the context of what they do. They're designed to be a bigger team than their opponent that finds a way to bully their way on both ends of the floor to a victory. But without a natural playmaker on the team (George Hill is more of a Mario Chalmers type of point guard and Lance Stephenson is just erratic enough not to be consistent), the Pacers almost need George to be LeBron James-like in the way he takes over games.
They want to play inside-out, but they need George to be a star in the playoff environment in order for them to challenge for the NBA title like they've hoped to do. George took that responsibility in the second half of Game 5. In reviewing George's change in the second half of Game 5, I was expecting to see some genius wrinkle to the game plan or George taking over with a lot of big plays he made.
Instead, we're simply treated to a simplification to his offensive game. The cliché of "letting the game come to you" is apt in reviewing this performance because you don't see a ball-dominant George out there hijacking the offense. Here are all 12 of his buckets in a variety of ways in which he scored in the second half:
You see balance in the way he scores against the Heat during these clips.
Three of his buckets come off of turnovers he forced, which was a great way to get back into the flow of the game when you're struggling. Four of his baskets came off him creating for himself. One of those was splitting the coverage on a pick-and-roll that gave him a layup, which was relatively uncontested. Another bucket was taking the smaller Dwyane Wade into the post and using his length to shoot over him with ease. The other two self-creations were him pulling up for jumpers off the dribble, which weren't ideal but they weren't highly contested either.
The other five shots he made came on catch-and-shoot opportunities, where George is at his best. Instead of pressing in this game, you could argue that at least 10 of George's buckets in the second half as he poured in 31 points to avoid elimination were high quality shots. As much as we can be entertained by hero ball or want players to take over in a "me against the world" mentality, finding ways to play to your strengths is the best way to have an impact in such a chaotic environment. That's exactly what Paul George did in the second half of Game 5.
It helps not having LeBron James on you due to foul trouble, but we've seen him go off before when guarded by the Heat's best player. The foul trouble alone didn't account for the big production from the Pacers' star. It was on him to find ways to contribute and contribute consistently. If he can continue to show this calmness in the face of elimination, perhaps the Pacers can survive one more time and get back home for Game 7 in Indianapolis.
The NBA All-Star Game is here. Follow our live updates to keep up with the action

Bryant says he was looking at schools in Chicago and was ready to meet Jerry Reinsdorf and...

The 76ers guard is in hot water after a controversial video surfaced showing him using a racial...
James Harden is the only player representing the best team in the NBA

Adam Silver sees a 1-16 playoff as a real possibility in the future if they can figure out...

Galin Dragiev is SportsLine's No 1. NBA expert and locked in a pick for Team LeBron vs. Team...