Playoff Assist: Shaun Livingston revived his career and the Nets
As we move toward the NBA Playoffs, Shaun Livingston has helped correct the Brooklyn Nets' season and lock them into a playoff berth.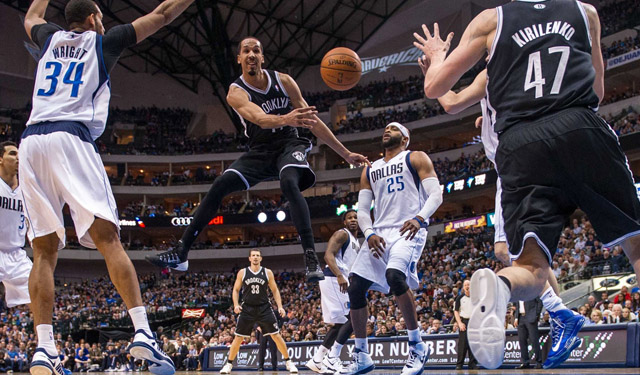 More NBA: Power Rankings | Expert Picks | Latest news & notes
By now, the tale of Shaun Livingston's NBA journey has been told and retold many times.
He was a can't miss, lanky point guard prospect out of Peoria, Illinois, who had his career severely derailed during his third season in the NBA. The injury is infamous and gruesome enough to not feel the need to make your stomach churn with it one more time because that's not the point of highlighting his game anymore.
He worked his way back over the next six seasons, proving to himself first that he could come back to the NBA and to NBA teams second that he wasn't a ticking time bomb waiting to find his way to the injured list again. He had a great 49-game stretch for the Cleveland Cavaliers last season, but it was a lot of meaningless basketball being played. When he joined the Brooklyn Nets for the 2013-14 season, he was going to be the primary backup to Deron Williams.
Due to injuries suffered by Brook Lopez and Andrei Kirilenko among others, the Nets had to reshuffle their philosophies on what they expected to do heading into this season. That meant going with smaller lineups and readjusting what was supposed to be a stacked, All-Star studded level team into a crafty, veteran squad of versatility. The Swiss Army knife, who has ended up being the key to the Nets' ability to do this and go from the cellar to a possible home court advantage in the first round, was Livingston.
Livingston's insertion into the starting lineup 40 games ago has given the Nets a versatile 6'7" point guard as the third ball handler in the lineup when a lot of teams are lucky if they have two. Using his great control of the ball, his smart decision-making, and his length, Livingston has been the perfect complement to a group of veterans buoyed by an unselfish do-it-all.
Let's take a look at a couple of areas in which the ninth year guard really helps the Nets.
Post-up
If you were debating with friends about who the most efficient post-up player in the NBA is, it would probably take you a really long time to get to Livingston as a possibility. And yet, he's ranked number one on Synergy Sports in points per possession on post-ups. There are two reasons he's such a good post-up guard. 
First, we're talking about a 6'7" point guard with a 6'11" wingspan. He's going to have the advantage in the post over pretty much every guard and a lot of small forwards, even though he's built like Olive Oil. He's so good at utilizing his length to get jumpers in the post and he's been the best at hitting those jumpers this season.
A perfect example is how he turns away from the possibility of help defense against the Cavaliers here and hits the baseline jumper over Matthew Dellavedova. He knows he won't be bothered on the attempt and can calmly find his release point and let muscle memory take over.
His footwork and balance are really exceptional for a guard on the low block. Even in this play in which his foot slips out from under him briefly, Livingston is capable of instantly regaining his balance and then using his length and patience on the low block to wait for the right moment to release the shot inside against a helping Anthony Davis.
Pick-and-Roll
That patience you see with Livingston in the post permeates to other areas of the floor as well. His work in the pick-and-roll from both a scoring and a passing standpoint has been excellent with a team full of spot-up shooters. In an excellent post on The Brooklyn Game, you can hear Livingston narrate some plays of his, including a pick-and-roll decision-making process. He talks about "deciphering where the help is going to be" when picking apart a defense.
As you can see on this play, the Nets run a pick-and-roll with Andray Blatche and Livingston, relying on their guard to know when exactly to deliver the pass. They get an And-1 out of the set, thanks to Livingston waiting for proper delivery and Blatche finishing against a much smaller player.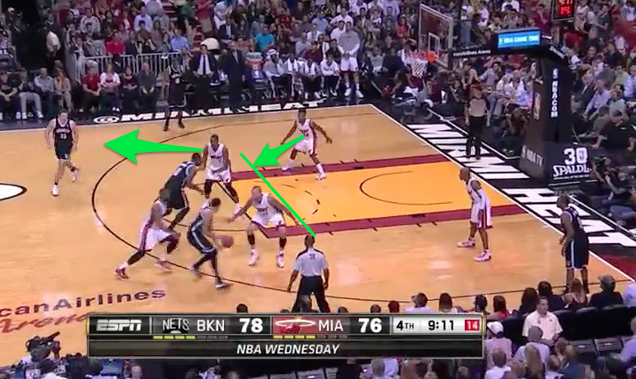 As Livingston draws his defender coming over the screen and the defender of the screener, he moves off to the side to allow Blatche plenty of room to roll to the hoop. Norris Cole has to help off of the weak side shooter and Chris Bosh can't drop off of Mirza Teletovic too much here.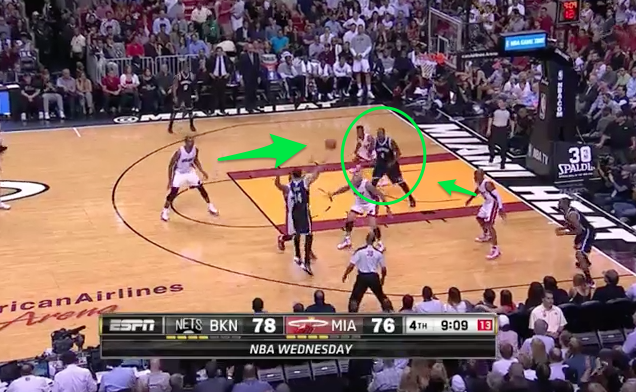 Instead of firing the pass as Blatche is diving to the hoop, Livingston waits for his teammate to park in front of the hoop and a much smaller defender with any help defense still having to mind the strong side shooter and Teletovic at the top. You're left with Blatche possessing about a 10-inch and 70 lbs. advantage on Cole right in front of the hoop.
Livingston is great at using his length to his advantage with his patience as well. In this pick-and-roll against the Pacers, he is able to navigate the length of the Pacers' defenders and draw them away from his intended passing target, Kevin Garnett. You typically wouldn't tell players to use the jump-pass but Livingston creates the necessary space to couple with his length to toss the pass without peril.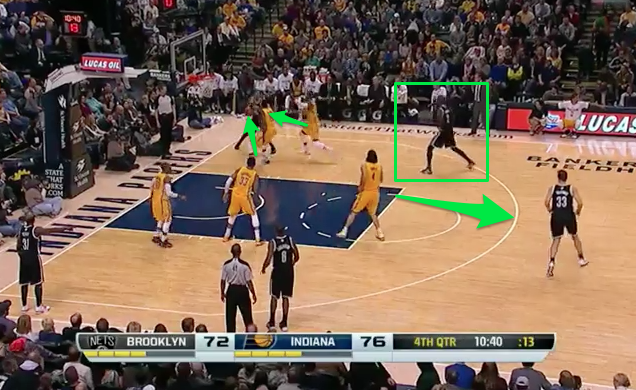 The key to this play is using the entire floor and not being flustered by the help defense coming. He wants the defenders to follow him all the way to the baseline and attempt to set a trap, so he can give Garnett plenty of room to get the jumper off.
The nice thing about knowing you have such a patient passer is it keeps the defense guessing on how he'll attack. When you can get them to hesitate, you allow room for a quick explosion to the basket. Livingston still has a good first step and his wingspan helps eat up space on the floor like Pac-Man going after those kernels of corn. 
Defensive versatility
Defense is really where you see Livingston put his length to good use. Because the Nets have primarily gone small since January 1, they've needed their wing defenders to help down, take away sides of the floor with their length, and cover a lot of ground to force turnovers. Since January 1, the Nets are 3.4 points per 100 possessions better defensively with Livingston on the floor.
At times, Livingston acts as both a free safety and a blitzing linebacker on defense. He'll play the middle of the floor to take away zones of the offense and then fly in to the post player to poke the ball away and force a turnover. While some players use it as a bailout once they're beat by an offensive player, Livingston uses the poke away from behind as one of his deadly defensive tactics. 
You can see in the following video just how clever Livingston is as a defender.
He seems to stalk the ball handler as his prey, just waiting to pounce and create a turnover. He'll flash to the hip of the offensive player and use those freakishly long arms to knock the ball away. And you can switch most screens with him because he has the length to at least battle power forwards on random possessions, where he uses his savvy and quickness to be a pest instead of getting sucked into a battle of bulk he doesn't possess.
He's also fantastic at challenging shots on the perimeter because of his height and wingspan. You really have to get the ball high on your release point to make sure to clear his hand, or risk having it sent off its course.
The reason Livingston has been able to revive, not only his career, but help revive the Nets' season after gloom and doom seemed to set in is he can always find ways to contribute. Whether he's attacking in transition, creating mismatches in the post on a shorter guard, picking apart defenses with his passing, or being a disruptive defender capable of changing the game on any play, his activity and versatility give the Nets so many options in their lineups.
Put him anywhere and he'll find production. Coach Jason Kidd has put him all over the floor this year and it's helped put the Nets back in the playoffs.
Butler suffered the injury on Friday night against the Rockets

The extent of Butler's meniscal injury isn't yet known, but there's reason for Wolves fans...

No timetable was provided for Butler's recovery
We've got all the scores, top plays and news from Saturday's NBA games

Galin Dragiev is on a 31-18 NBA run and just locked in a play for Thunder vs. Warriors on...

SportsLine's Mike McClure, a DFS pro with more than $1M in winnings, gives optimal lineup...