Playoff Assist: The absence of Patrick Beverley's pesky defense
The Houston Rockets are hoping to get Patrick Beverley back into the lineup sometime during the playoffs, and their postseason hopes depend on it.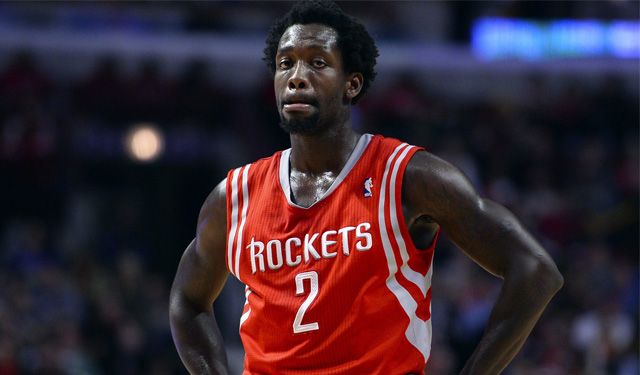 More NBA: Power Rankings | Expert Picks | Latest news & notes
The Houston Rockets haven't gotten their due on defense in the 2013-14 season. 
They play at the fifth fastest pace in the NBA and the fastest pace of any playoff-bound team. They currently sit 11th in the NBA in defensive rating, give up the seventh lowest effective field goal percentage, and allow the sixth lowest free throw rate to their opponents. This team has managed to make up for any shortcomings someone like James Harden might present defensively by squeezing the pick-and-roll attempts of their opponents.
Before Patrick Beverley tore his meniscus, the Rockets would use Dwight Howard and their pesky defensive point guard to take away scoring opportunities for the ball handler while forcing a turnover 17.1 percent of the time and not allowing them to score often. It's the type of ball pressure and annoyance that have become staples of Beverley's game since he caught on in the league last season. With the news that Beverley won't require surgery on his torn meniscus and could return to the lineup in the playoffs, the Rockets can hold out hope their biggest impact player on the team will be a useful weapon for them once again.
Beverley was instrumental in helping the Rockets get to where they are. Clearly, the style of play on offense, Howard's reemergence as one of the top players in the NBA, and Harden's scoring prowess are huge for helping the Rockets win games and all but lock up the 4-seed in the West. However, Beverley has had the biggest net rating on the team this season with a plus-9.0 points per 100 possessions when he's on the court.
He's a decent enough shooter, especially from outside, but where he makes his presence felt is on the defensive end of the court. He's infamous for crashing into Oklahoma City Thunder guard Russell Westbrook in last year's playoffs, and while some people were furious over his seemingly reckless play in that moment, it embodies the uneasy feeling of knowing he could take the ball from you at any time when he's out there.
The Rockets' defense is significantly better with him on the floor. When he's on the bench, the Rockets give up 103.6 points per 100 possessions, 2.1 points worse than the 101.5 they give up with him on the court. Only six teams in the NBA have a better defensive rating than that 101.5 number this season.
What's the secret to Beverley's success and impact on defense? The easy answer is he's really annoying. I say that with the utmost respect for his game. While he can be reckless at times, his job is to go out there and bother the ball handler. He's supposed to make you feel uneasy when you have the ball and not allow for comfort. He's constantly looking for the right moment to pounce, calculating the timing of a dribble or pass and judging the space he has to reach for the ball.
He's only about 6'1" but his 6'6.5" wingspan allows him to constantly be a threat to steal the ball. This season, Beverley racked up 74 steals in his 53 games for Houston. The Rockets are a team that struggles to force turnovers, possessing the NBA's 24th best opponent turnover rate. When Beverley isn't on the court, their opponents' turnover rate is 13.8 percent. When he is on the floor, that rate jumps to 14.9 percent.
Beverley is one of the few players on the Rockets capable of taking a possession away from the opposing team. With the help of ThingLink, I charted all of the steals Beverley has been credited for this season. They're broken down into three types of steals: passes stolen (P), dribbles picked (D), and loose balls picked up (L). The green icons on the image when you hover over the court will give you video examples of some of Beverley's steals:
Almost half of his steals come from passes. He's stolen 36 passes directly, and that's not counting the steals I classified as loose balls because the player with the ball jumped to pass and didn't have anywhere to go with it. Beverley tracked down those looping passes, but they were bad enough plays that they mostly felt like he was tracking down a loose ball.
His ability to steal on-the-ball passes -- passes made by the man he's guarding -- is unrivaled in the NBA. Any lazy pass is deflected and corralled. His technique is textbook, always staying low with his feet moving and keeping his hands in the way of passing angles.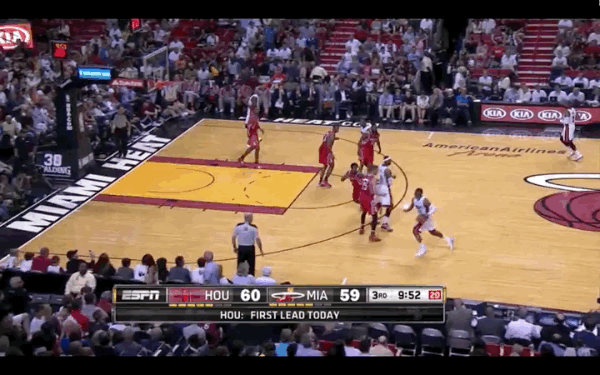 You can't leave your dribble unprotected against Beverley, which is probably why only 19 of his steals have come from ripping the ball right from a player's handle. But when you do let your guard down or attempt a crossover that is simply too slow or too high or too predictable against him, he's ready to poke it away and get the Rockets out in transition.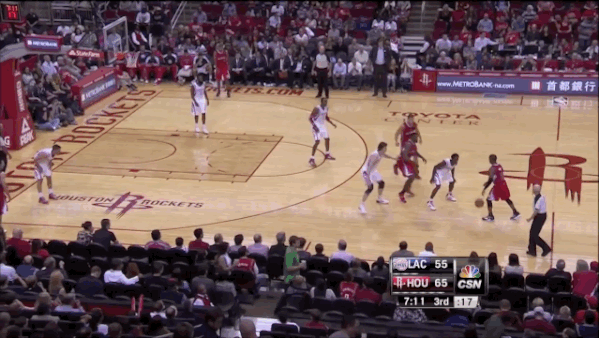 Beverley's impact, especially on defense, is significant for Houston. He's considered a week-to-week status right now for when he could come back, and the timing of when he comes back could be the difference between how we ultimately look at the Rockets' defense this season.
It's been good, but whether or not it can survive consistently without their 94-foot ball hawk seems to be up in the air. If they fail in the playoffs and can't get stops because either his ability to defend is hindered by his knee injury or he's unable to come back at all, will we believe they're an adequate defensive team long-term? Will we be able to consider them true contenders? 
The Rockets are 2-3 since Beverley went down against the Philadelphia 76ers. They're looking at a first round match-up against the Portland Trail Blazers, who sport a good, young point guard in Damian Lillard who is capable of going off even with top defenders guarding him. The season could be teetering or if Beverley returns and is healthy enough to have a positive impact, they could be ready to make a significant push in the postseason.
While it's hard to know where the Rockets are going or if Beverley will even play, we do know how they got to their current level of success. They have two stars, a chaotic style of play, and a defensive maven capable of changing a game in the blink of an eye.
Deciding who to watch on League Pass can be difficult, but these rankings promise to help

Veteran forward signed a one-year deal with the Knicks in offseason

Knicks forward had his truck stolen out of his driveway
The Celtics will send No. 34 to the rafters in Boston when they take on his old rival

It's never too early to look at June's NBA Draft

Cousins uses some colorful language to get his point across