Popovich calls out 'idiots' who tweeted about anthem singer
Gregg Popovich called comments made about 11-year-old anthem singer Sebastien de la Cruz unsurprising.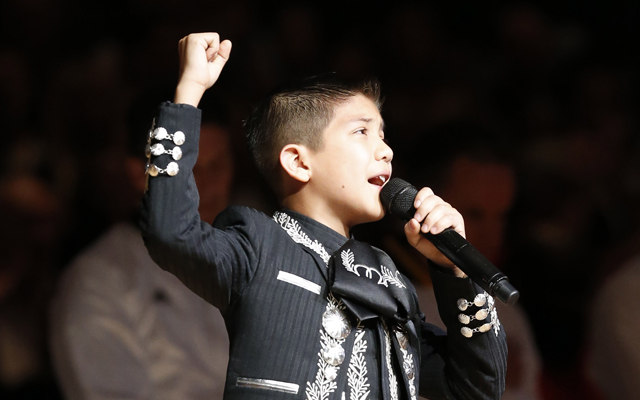 SAN ANTONIO -- After he sang the national anthem before Game 3 of the NBA Finals, 11-year-old Mexican-American Sebastien de la Cruz became a featured figure in Twitter's deepest, darkest, nastiest corners. 
Racist comments, questions of him being an "illegal" and everything you could imagine were sent out about the former America's Got Talent star. 
"Can't believe they had the nerve to have a beaner singing the national anthem of America #smh," wrote one user who goes by the handle The Great White, via the New York Daily News.
De la Cruz, who was born in San Antonio, was filling in for Darius Rucker, who canceled at the last minute. 
"With the racist remarks, it was just people, how they were raised," Sebastien told KENS-5. "My father and my mama told me you should never judge people by how they look."
Prior to tipoff, Gregg Popovich was asked about de la Cruz and the comments about his performance. 
"Well, I would like to say that I would be shocked or surprised by the comments," Popovich said. "But given the fact that there's still a significant element of bigotry and racism in our nation, I'm not surprised. It still plagues us, obviously. And what I was surprised by was how proud these idiots were of their ignorance, by printing their names next to their comments."
De la Cruz sang the anthem again before Game 4 -- completely rocking it, I might add -- and both Popovich and Erik Spoelstra walked over afterward to shake his hand. 
"[Sebastien's] a class act," Popovich said. "Way more mature than most his age. And as much as those comments by the idiots saddens you about your country, he makes you feel that the future could be very bright."
Cavs star chose to be very secretive when talking to Lakers rookie after Thursday's game

New York announced Porzingis would not return shortly after star forward left game

Teletovic missed the final three months of 2014-15 season with Nets recovering from same i...
Keep it right here for all of the news, notes, scores and highlights from around the leagu...

The NBA's City edition Nike jerseys are bold and very different

The Wolves may be smoke and mirrors, but the Pacers have the look of a team that can hang in...